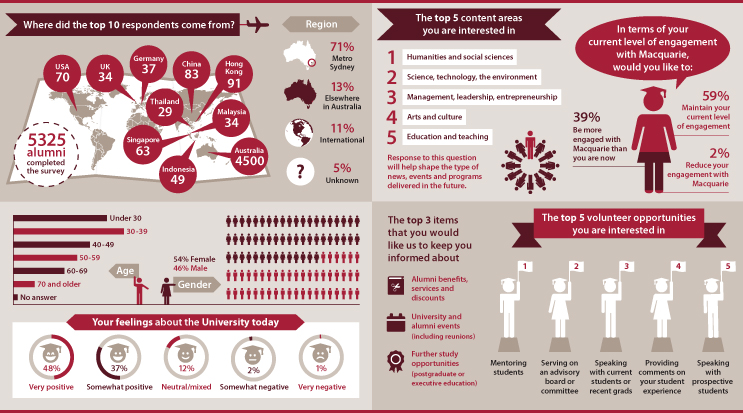 Alumni survey says: you want more Macquarie!
FEATURES
The results of the 2014 Alumni Survey are in and you've told us you want more, more, more!
5325 alumni responded to the survey we sent you earlier this year, including Chante Li, who was the winner of the $1500 travel voucher.
"Macquarie was more than just a university education for me, so I wanted to help the University to connect with its former students by participating in the survey," she says.
"I've never won anything before, so the voucher was a real surprise, and means I can take my parents somewhere they've never been."
Like the majority of respondents, Chante, who graduated with a Master of Accounting in 2010, says that she would like to hear about alumni benefits and discounts, keep up to date with university events and reunions and also be more informed about further career-building study opportunities.
The survey infographic has more detail on the results of the survey and how you have told us you would like to better connect with your University.
As with many other respondents, Chante says that once her career is further established she would like to explore ways of helping other Macquarie students succeed in their own field.
If you, like Chante Li, can't wait to be a mentor, offer an internship or share your experiences with prospective students, get involved with Macquarie today.