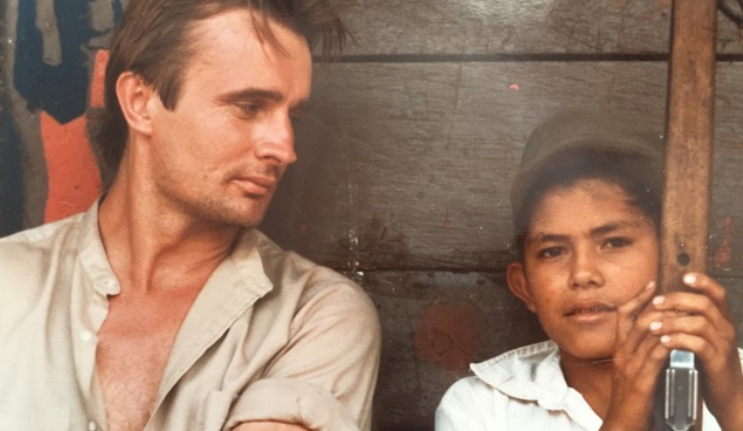 Alumni profile – Dr Jeff McMullen
ALUMNI FOCUS
An ABC foreign correspondent for almost two decades, prize-winning Four Corners documentary maker, long-serving Sixty Minutes reporter, and best-selling author, Macquarie alumnus Jeff McMullen has been a well-known and respected journalist for 50 years.
He covered the highest war on earth in the Himalayas, camped with a lost tribe of Stone Age Indians in the Amazon, drank mare's milk with nomads in Mongolia, swam with sea-lions and iguanas in the Galapagos Islands, climbed active volcanoes and was even stranded in Antarctica for 17 days after filming what was then the longest trek ever made across the frozen continent.
"I began to study part-time at the brand-new Macquarie University in 1968 while working as a very young ABC journalist because I wanted a broader understanding of the world around me," Jeff explains. "That same year I was assigned to Papua New Guinea as the youngest and probably the greenest ABC foreign correspondent.
"Macquarie's flexibility allowed me to study and advance my journalism [and] I still believe this is the key to the most valuable learning: Do not separate the theoretical from the real world. Build a body of work from the youngest age and find your own 'voice'. "
After three years of part-time study, in 1971 Jeff received a Commonwealth Scholarship that allowed him to study full time.
"I found I could complete about half the requirements for my degree in that vigorous year and shared with fellow students in the newly developing Communication and Media Studies how the profession of journalism worked."
However, he says that he missed his graduation ceremony in 1972 because he became the ABC's North American correspondent, based in New York but wandering far and wide.
Jeff says that the most valuable subject he studied was Cultural Studies, which compared the patterns of disruption of First Peoples around the world.
"This informed my understanding of the civil rights struggles in Australia, the USA, Guatemala and the Amazon that I have supported for some 50 years now," he adds.
Greatest achievements
Jeff says that his greatest achievements have been shining a light on issues few people understood, and seeing real change result from his and his colleagues' efforts.
"With my friend, the ABC cinematographer, David Brill, we gave the world some of the first films about the slaughter being carried out against First Peoples in the Amazon and especially Guatemala in Central America.
"When I testified before the House Armed Services Committee in Washington with our Four Corners documentary about the slaughter of 250,000 of Guatemala's First Peoples, the Maya Quiche, Congress suspended shipment of US helicopters to Guatemala's genocidal army.
"The truth sometimes has a power and a beauty of its own."
"Working with Australia's First Peoples to support pre-schools, art and cultural centres, celebrations of culture like the Walking with Spirits festival at Beswick in the Northern Territory, developing a literacy project and many small steps towards improving health, has been my family's contribution," he adds.
"My wife, Kim Hoggard and children, Claire and Will, have wholeheartedly given much of the last two decades to my effort to end the disadvantage experienced by our First Peoples. Traveling the country with elders to seek support for better health, addressing the crisis of over-incarceration and Aboriginal suicide, and especially in joining the stoic resistance to the injustice of the 2007 NT Intervention, has been a responsibility as I know what is happening but also a privilege to stand alongside people I consider my brothers and sisters. "
He says that throughout his career he has tried to use storytelling to let the world know about the horror of the 30 wars he has experienced, and "about the man-made famines in the Horn of Africa and the politics that shapes this contagion of silence and human suffering.
"I have filmed our own 'war' on the earth itself to highlight that our species is in a dangerous contest as we rapidly exhaust so many of the world's resources. We are at that moment in human history when our species must act wisely to preserve our own and so many other species.
"As David Christian would say in teaching Big History, it is these thresholds of change that are mightily important."
Full circle
Studying at Macquarie has become a family affair with Jeff saying that his two children graduating from Macquarie in 2017.
"My daughter Claire has completed a five-year Bachelor of Laws and Bachelor of Arts double degree with First Class Honours in Law, while my son Will has finished his Bachelor of Arts Degree majoring in International Law and Global Governance."