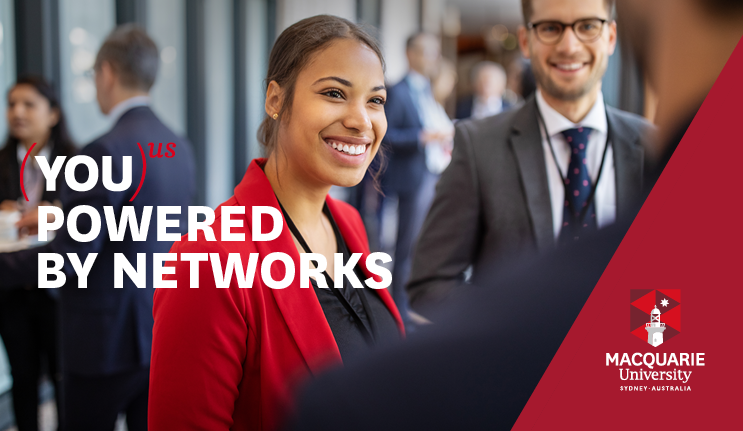 Event series powered by you
February 19, 2021
We're thrilled to reveal a new name and look for our popular alumni events, held regularly around the globe.
When you attended Macquarie, you became a lifelong member of our community. A community that offers benefits and opportunities – powered by our connection to industry, experts and researchers. We believe You to the power of us is as important to you now – which is why our alumni program is set up to empower you at every stage of your life.
Our Powered By events are a celebration of this collaboration and connected intelligence. Each of the four series is designed to build a vibrant and engaged alumni community. To connect you with opportunities and experts to further your career. To invite innovators, ideators and business leaders to inspire. To extend our global community so you can benefit from the power of this collective.
You may have known our events as the Global Alumni Impact Series, Pioneer or Backpack-to-Briefcase. Now you'll quickly recognise the same events with a name and look that resonates with the Macquarie community and extends on our philosophy that connections can open doors and last a lifetime. That's You to the power of us.
YOU TO THE POWER OF US – POWERED BY CONNECTION
Take advantage of the economic, social and technological change around us with the help of our global alumni network.
YOU TO THE POWER OF US – POWERED BY INNOVATION
The world's leading minds are constantly exploring ways to make the things around us better, faster, smarter and more effective. Immerse yourself in innovative ideas that are changing the world for the better.
YOU TO THE POWER OF US – POWERED BY IDEAS
Progress is a noisy, chaotic place where people meet and ideas are born. In this series of enlightening events, the best and brightest from Macquarie and across the world share ideas that will power the world forward.
YOU TO THE POWER OF US – POWERED BY NETWORKS
Opportunities can take us a long way from where we started. The connections we have and the networks we build are more important than ever. No matter what city you're in, you can join forces with people from your 200,000-strong alumni network.
Together, we can create new opportunities, new ways of thinking and new solutions – powered by connection, innovation, ideas and networks.