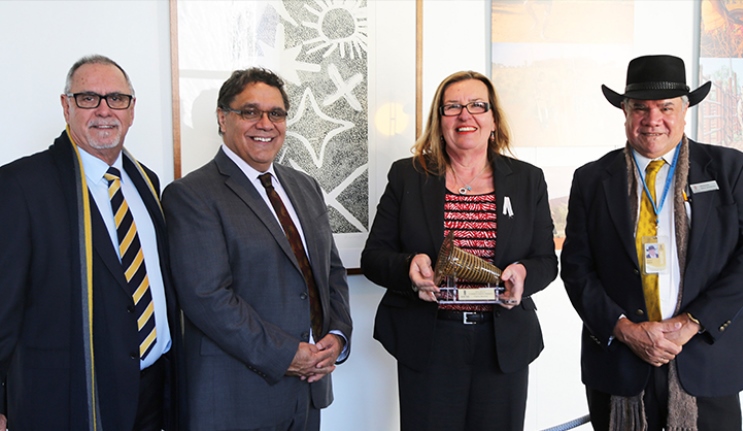 2015 Stanner Award – AIATSIS Principal Mr Russell Taylor AM, Deputy Vice-Chancellor (Indigenous Strategy and Services), University of Sydney Professor Shane Houston, 2015 W E H Stanner Award winner Dr Virginia Marshall, and AIATSIS Chairperson Professor Mick Dodson AM.
ALUMNI FOCUS
Dr Virginia Marshall, the first Indigenous woman to receive a PhD from the Macquarie Law School, has received the Stanner Award for her thesis on Aboriginal water rights.
The manuscript was the unanimous winner in the competition, which was open to all aspiring Indigenous authors of academic works.
Through her research, Virginia is aiming to foster a deeper understanding of Aboriginal water rights and interests, and she is currently building on her thesis research to deconstruct the notion of aqua nullius. She has been invited as Keynote Speaker to present her work at the Institute for Marine and Antarctic Studies/University of Tasmania Indigenous Peoples Water Governance Conference in February 2016, and says that Macquarie Law School's scholarship award played a vital role in opening the door to this long-overlooked issue.
"It was a recurring theme that Aboriginal community representatives and expert Aboriginal speakers on water issues were frequently overlooked as presenters at water conferences across Australia," Virginia says. "The game changer is receiving the Stanner Prize, which squarely addresses the national significance of prioritising Aboriginal water rights for major policy reform."
"Macquarie has a very inclusive culture, and is open to diverse viewpoints from people from a range of nationalities and cultural backgrounds, particularly Indigenous Peoples," she explains. "This is an area of emerging research in the area of Indigenous land and water rights, and it was vital to have the freedom to express ideas in a contemporary university that is open to exploring new thinking."
Since her thesis 'A web of Aboriginal water rights: examining the competing Aboriginal claim for water property right and interests in Australia' was added to Macquarie University Library's online collection in January 2015, it has received 930 hits and 231 downloads.
"It is an indicator of the growing interest in, and importance of, the issue of Aboriginal water rights," Virginia says.