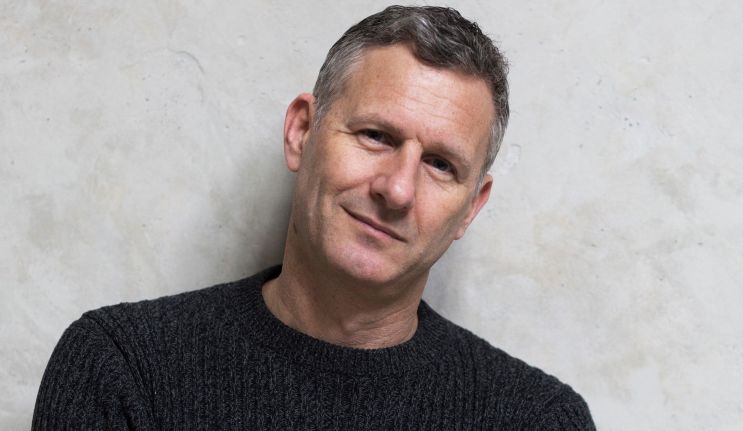 Adams hills
ALUMNI FOCUS
November 29, 2020
Talking to Adam Hills, you just get a big smile on your face. He is the most genuine, good-natured guy, who makes you feel like the world is ok. Even during a pandemic. Sure, things have changed – we've all had to go with the flow, keep our heads above water and even (here comes that dreaded word) pivot – but talking to Adam, you just feel like some things don't change. The good things. The important things. Work, friendship, being there for others and yes, a sense of humour.
Border control
Adam shares his time between home in Melbourne with his family, and London for his now-iconic Channel 4 comedy show, The Last Leg. He'd just finished a series on 20 March this year and was ready to catch a flight home the following day when the news hit that Australia had closed its borders.
'I wasn't entirely sure I was going to make it to Melbourne at that point – all citizens were told to come home, and anyone who wasn't a citizen wasn't allowed into the country – but I made it back,' says Adam, who then had to quarantine for two weeks at the other end of the house from his wife and children.
'My wife and I didn't go near each other – it felt like we'd had an argument, but I wasn't entirely sure what the argument was!'
As well as The Last Leg, Adam had spent the first quarter of the year doing work-in-progress shows around England in preparation for the Melbourne Comedy Festival, which was cancelled. As was his coverage of the Paralympics in Tokyo. 'I've lost a fair amount of work, especially live work, but I'm fortunate I've got a TV job that has kept going.
'It's certainly a time when everything I learned at Macquarie University is helping,' he says good-naturedly. 'If all this falls through, I've still got a Bachelor of Arts in Mass Communication!'
'On a serious note, I've used my studies in writing, editing and journalism during this time to write a kids book. The deal just happened to come through during lockdown, but it's made me appreciate all those skills I picked up at university.'
He certainly hasn't let the time go to waste. Apart from the children's book, he's writing a TV show, and while he was back in Australia, he made some TV shows that will go to air next year as well as some Zoom gigs and work with Mental Health Australia.
'We've all learned things from having to adapt, and some of those things we'll take with us when things return to some state of normal. The great thing about being in a creative industry is that you're surrounded by creative people who will come up with creative ways to get around the limitations imposed by the pandemic,' he says.
The show goes on
The series of The Last Leg, which Adam was meant to return to the UK for, was filmed remotely from his garage. 'It was a pretty big change, especially the technical side. My co-hosts were in London and the North of England, and I was in Melbourne. To avoid the two-second delay between us and the studio in London, the technical guys put us on a phone line. It was a pretty amazing technical pivot to make that work.'
There was more change in store for Adam, who wrote the show during the week via Zoom with his co-hosts. Then, because of the time difference, he would stay up all Friday night, rehearsing at 3 am, rewriting if necessary and then filming the show at 7 in the morning before having breakfast and finally going to bed.
Adam is now back in London for the final series of The Last Leg for the year, which is being filmed without an audience, something that has its ups and downs. 'You don't get that instant feedback like you do from a crowd, which is always fun, but then it's more relaxing because you can make the jokes you want, rather than the jokes you think the audience is going to go with.
'As a result of COVID, we've had to adapt the shows; the Zoom gigs were great too,' he says, referring to the online gigs, Easey comedy at home. 'They started out for an audience of 16 because that's all we could manage under the restrictions, but we've all done comedy festivals in front of very few people before – the smallest crowd I ever played to was four people, so 16 is fine.'
The shows were filmed and put up on Zoom, which another 200–300 people watched each night. Adam says, 'The amazing thing was, a lot of people were watching who had never seen stand-up before or who were unable to get out to see stand up; and not necessarily because of the pandemic. There were people with disabilities who couldn't get to a club or people in remote towns who'd never seen live comedy. It made it accessible to a whole new audience.'
And, of course, it kept a whole lot of people in work. Self-deprecating as ever, Adam notes, 'Part of me feels like it's my own stupid fault if I haven't got any work because I should have chosen a proper job, however, there are a lot of people associated with the entertainment industry who work really hard and do have proper jobs – roadies, sound techs, carpenters, builders, lighting assistants.
'Everyone in the arts downplays what it is that they do for a living, and yet, what kept us all sane during lockdown? TV shows, comedy shows, benefit gigs, charity gigs online and watching comedians, musicians and other artists on YouTube.
'The arts should be looked upon like any other job and given the same amount of support,' he says, referencing the difficulty many in the arts faced accessing government support due to the freelance nature of the industry.
Keeping it real
Job losses, job uncertainty, lockdown, they're all incredible strains. Adam was in Melbourne during the second lockdown and left just before it ended. Then, he arrived back in London just in time to go into his third lockdown for the year. 'It's been really tough, to be honest. I'm lucky I've had my work to keep me occupied,' he says soberly.
'I'm hoping to make it back home to Melbourne for Christmas, but at the moment I'm on a waiting list for a seat. I'm just hoping the Aussie government allows more of us to come home, otherwise it'll be a lonely old Christmas in London for me.'
Not one to shy away from the hard conversations, another of Adam's talents is bringing the less than perfect parts of life into the open, having a bit of fun with them, and taking away any awkwardness or stigma. Not surprisingly, with mental health sharply in focus during lockdown, Adam was keen to contribute to the conversation.
He says, 'Mental Health Australia contacted me about how I was maintaining my mental health in lockdown, which turned into Heads Up With Adam Hills. I then thought, what if I interview other people about their mental health and what they were doing too?
'So I spoke to people like Julia Morris, Peter Helliar, Tom Gleason, Kate Miller Heidke, Adam Reynolds from the South Sydney Rabbitohs and Natasha Stott Despoja. I tried to get as large a cross-section of people as I could, and Mental Health Australia lined up interviews with people like Julia Gillard.'
It was all a lot of good fun, but there is a warmth and empathy to Adam's interviews that make you feel like we actually are all in this together. As he explains, 'There are two battles going on at the moment: one is trying to combat the virus and stay safe, and the other is maintaining your mental health, especially when you're in lockdown.
'It doesn't matter who you are or what you do for a living, being confined to the house against your will because of something you can't shout at like a virus is really draining, and it places a lot of pressure on people.
'People living on their own were craving human contact, and people like myself with kids and a partner were craving some time on their own. We've all had up days and down days – and hours. It's a struggle.'
In the videos, Adam shows great insight into other people and how they cope, and in so doing inspires others to look after their mental health. A lot of people commented that it was good to know that others were struggling and having the same troubles they were; it made them feel better about their own experience.'
Most of all, he was reminded of the importance of human contact. 'That's probably the thing I've learned most,' he says. 'If you're having a tough time, reach out.
'A friend of mine recently shared that she was struggling, so I dropped her a line, and we went for a walk. She kept thanking me, but I was like, 'No, thank you for letting me know you're having a tough time; otherwise I wouldn't have known. It's about accepting that it's ok not to feel ok.'
As Adam says on the show, 'Look after your mental health, Australia.'
Words: Megan English
iview.abc.net.au/show/adam-hills-the-last-leg
comedy.com.au/tour/easey-comedy
mhaustralia.org