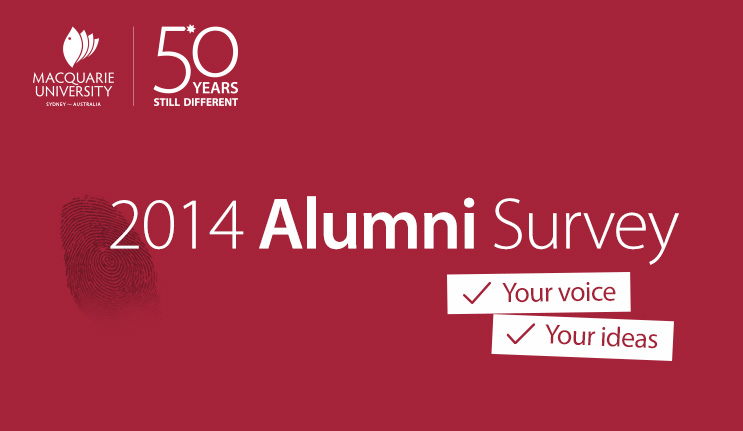 A year at a glance
ALUMNI FOCUS
2014 is shaping up as Macquarie's biggest ever: it is our 50th anniversary and a range of events and activities will be held throughout the year to mark our Jubilee.
"We invite all of our alumni to get involved in the celebrations," says Bruce Mortimer, Director Alumni Relations. "You can help celebrate our past by sharing your stories and images as part of the 50 Stories of Macquarie project, or you can help us build a better future for our graduates by responding to our alumni survey, joining our Careers Fair or volunteering at a graduation ceremony."
"The year's only just begun but it's already been significant for our alumni: 15 members of our alumni community received awards in the 2014 Australia Day Honours List. These were in addition to awards received by the Hon Michael Egan FAICD, Chancellor of Macquarie University, Distinguished Professor Charles Throsby and Emeritus Professor Anthony Blackshield.
"And in April, we will hit another milestone when we welcome our 150,000th alumni member," Mortimer says. "Our alumni are increasingly making their presence felt in Australia and around the world, and we look forward to seeing our newest graduates make their own impact in their chosen field."
Alumni survey
In early March we will be inviting you to participate in Macquarie's first ever Alumni Survey. This will give you the chance to have your say and tell us what you want and expect from the alumni program. The responses from this survey will help shape and guide Alumni Relations so that we can provide information and benefits that interest you. Be sure to update your details with us so you can play a part in the shaping of your alumni program – and go in the draw to win a $1,500 STA travel voucher!
Within the survey, you will also have the opportunity to tell us what you'd prefer to hear about. Prefer science over sport? No problem! With our new preference centre, you'll be able to personalise your communication.
Global Alumni Impact Series
Our always popular Colloquium Series of lectures and events has been renamed the Global Impact Alumni Series, and is being expanded to include webinars and international events. We are currently finalising an exciting program for 2014 and will be in touch with further details soon.
In the meantime, we are pleased to continue to take advantage of our park-like surrounds and invite you to Cinema in the Park for a screening of Wolverine on Friday 7 March.
Graduation volunteers
The first set of graduations for the year have just wrapped up, with more than 800 new graduates warmly welcomed to the alumni community by 10 enthusiastic volunteers. There will be more ceremonies in April, and we warmly invite interested alumni to volunteer at graduation events and help 'show the ropes' to a new generation of graduates. Express your interest here.