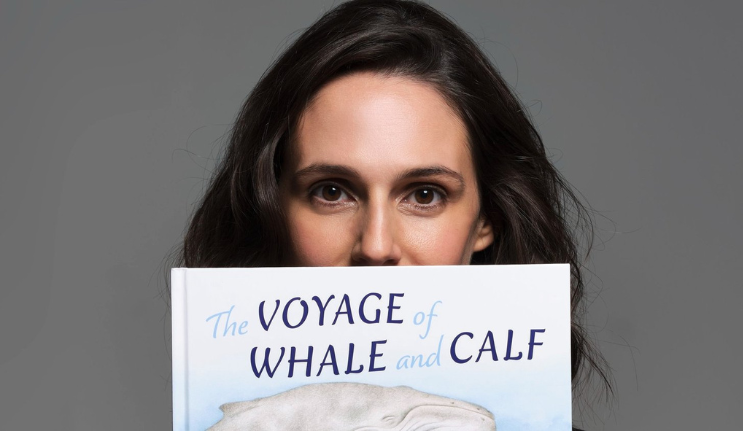 A whale of a time
ALUMNI FOCUS
As a young girl growing up on a farm outside Canberra, with family trips to the South Coast her only connection to the sea, Dr Vanessa Pirotta dreamed of one day working with whales. A Masters and PhD in Biological Science from Macquarie University later, marine biologist Dr Pirotta has well and truly exceeded her childhood ambitions. Still, at the heart of her research, her pursuit of innovative technologies and her passion for communicating science – not to forget her many accomplishments and blossoming career – is a deep commitment to wildlife conservation. And a love of whales, of course. The only question remains, where to next for Dr Pirotta?
Whether sharing her research on using drones to collect whale snot at TedX, teaching computers to look for illegally smuggled wildlife or harnessing the power of citizen science, inspiring schoolgirls in STEM or launching her new book, Dr Pirotta's enthusiasm for science and wildlife conservation, both marine and terrestrial, shines through in everything she does.
You can hear it in her voice and see it on her face as she discusses the multiple projects she has on the go and the energy that accompanies everything she does. 'Caring about the things I'm working on allows me to not only achieve great outcomes for the project but, most importantly, for wildlife,' she says with a gentle – and lifelong – conviction.
You can easily imagine a young Dr Pirotta in front of the television, watching the videotape her mother had given her of Free Willy over and over. 'It was the closest I got to the sea,' she remembers, 'and my first introduction to whales and dolphins. I wanted to be a dolphin trainer.'
And so, while completing an undergraduate science degree at the Australian National University in zoology, evolution and ecology, specialising in marine science and 'hassling the marine scientists' for more knowledge, Dr Pirotta worked at the zoo in Canberra. But it was still a long way from the sea and, as she recalls, 'I was desperate to find my place in marine science; it was where I was meant to be.'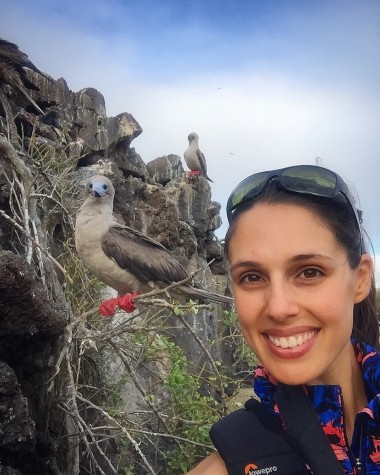 After a volunteer placement at a facility in Coffs Harbour working with dolphins and sea lions, incredibly, Dr Pirotta was offered a position to become a dolphin trainer and jumped at the chance to move north. But, she was only there for a year when her mother passed away suddenly. 'My life completely turned upside down,' she says of this time and her decision to return to Canberra to be close to family.
Dr Pirotta soon found work as an environmental assessment officer in the federal government but remained committed to her ultimate dream. 'I was still hassling academics,' she explains with a laugh, 'including my future PhD supervisor at Macquarie, Professor Rob Harcourt, to see if there were opportunities to further my education in the marine space.'
And so began her connection with Macquarie University. 'Fortunately, I was able to lead a research project looking at trying to prevent whale entanglement in fishing as part of a collaboration between MQ, the Department of Primary Industry and Energy, the NSW National Parks and Wildlife Service and Taronga Zoo, which I'm still affiliated with 10 years on through the Marine Predator Research Group at Macquarie.'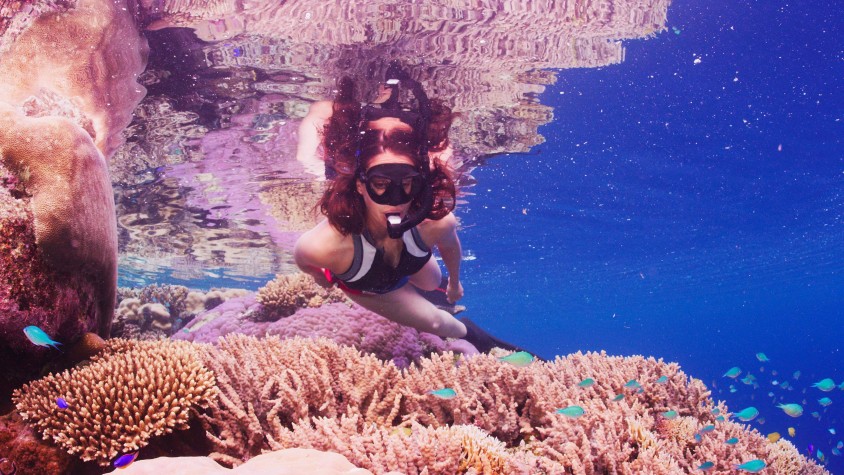 She also developed this work into a Masters of Research project, which involved travel to the Kingdom of Tonga and has since informed whale swimming guidelines. 'This work then went into my PhD on whale conservation and the application of new technologies to assess whale health, harnessing citizen science to mitigate some of the big epigenetic impacts on whales like shipping.
'It was a very broad PhD with great practical applications,' she says, noting she has been able to take the skills she learned during her PhD and apply them to a diverse range of projects and work in both marine and terrestrial wildlife conservation.
'Skills in project management, being able to work with a variety of collaborators and different stakeholders, managing environmental issues, and learning to speak to the media and present ideas, are skills I use every day, and it all started at MQ. It has also led to so many new opportunities – it's exciting being able to make a difference in new areas that I'm passionate about.'
Currently leading the MQ-affiliated citizen science project Wild Sydney Harbour, where the general public can gather information about wildlife and connect with scientists, Dr Pirotta is also running multiple other projects while continuing her whale research, which focuses on Migaloo the white whale.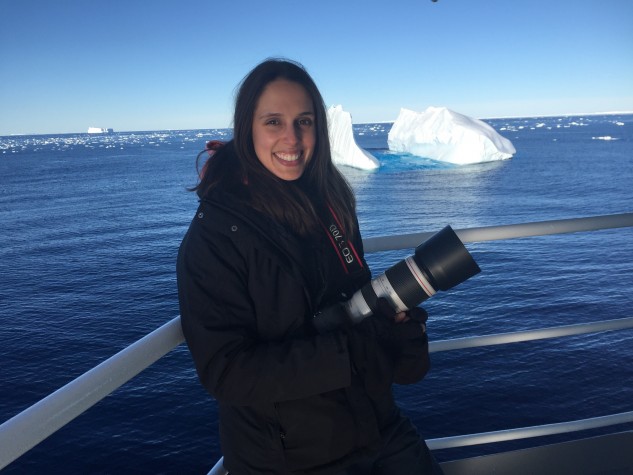 'In everything I do,' she explains, tying her work together, 'there's the theme of using and adapting innovative technologies to ask questions about animals to aid conservation. So, for example, how do we interact with whales in ways that aren't going to hurt them, or how do we get ahead of wildlife traffickers by using 3D technologies?'
It's a career she couldn't have envisioned for herself, sitting in front of the television before the advent of social media. Now an official Superstar of STEM and one of the Australian Financial Review's top 100 Women of Influence to boot, she thrives on communicating science to the general public and championing STEM for young women and girls, as well as STEAM. 'I give a nod to the arts,' she says, as a lot of her work is visual and very artistic.
Being visible in her field is particularly important to Dr Pirotta. 'Growing up, I don't recall seeing anyone do what I'm doing, especially not a woman,' she explains. 'The only person I remember was David Attenborough – I've written to him three times and he's written back to me; he's great,' she adds with characteristic enthusiasm.
But, during her studies, Dr Pirotta suddenly found people wanted their daughter to see her doing different things, like driving a boat, for example. 'That really struck me,' she says. 'I thought it was just what I did, but it's become an opportunity to connect with young people, showing them what scientists look like but also that scientists can be adaptable, work in challenging environments, and do great things.
'It has become really important to me to be a role model for the next generation, highlighting that the jobs of tomorrow don't even exist yet, and by having those transferable skills, which I gained at Macquarie, you don't have to be locked into one role – you can surprise yourself and have a dynamic working life.'
One that now also includes being an author, with the recent release of her first children's book, The voyage of whale and calf. Australian libraries have been quick to pick up the beautifully illustrated story that is the first to document humpback whales migrating, breeding and feeding from Hervey Bay, down through Sydney and on to Antarctica.
'Based on my work in the field, it documents a year in the life of a humpback calf, and the realities and challenges the mum faces, subtly touching on pollution, the different environments and changes in climate,' she says of the topics close to her heart, especially as an Antarctic Science Foundation Ambassador.
With so many incredible projects on the go already, it would seem the world truly is her oyster. So, what's next for Dr Pirotta? 'I like to let the passion lead what I do,' she says with a bright smile. 'I'm not sure what the future holds, but as long as it has the key theme of wildlife conservation with a marine focus, whales especially, watch this space because saying yes to new opportunities is something I'm always excited for.'
Dr Vanessa Pirotta graduated from Macquarie University with a Masters of Research (2015) and PhD (2019) in Biological Science, and is an honorary postdoctoral researcher at MQ. She is a wildlife scientist, science communicator and woman in STEM. Her research uses innovative technologies for wildlife conservation, and her most well-known research involves using drones to collect lung bacteria from humpback whales to assess whale health.
In addition to whale research, Dr Pirotta is the chief investigator on a major illegal wildlife trafficking detection program using artificial intelligence and X-ray technology, a collaborative research program with the Australian Federal Government, Rapiscan Systems and the Taronga Conservation Society Australia.
A passionate science communicator who loves making science accessible to everyone, Dr Pirotta's work as an early career researcher has been recognised by the Australian Financial Review as one of the top 100 Women of Influence and is one of Science & Technology Australia's Superstars of STEM. 
She is an Antarctic Science Foundation Ambassador and leads Sydney's newest citizen science marine program, Wild Sydney Harbour, which aims to connect the community with the marine life in their blue backyard. An emerging author, her first children's book, The Voyage of Whale and Calf, is available through CSIRO Publishing.