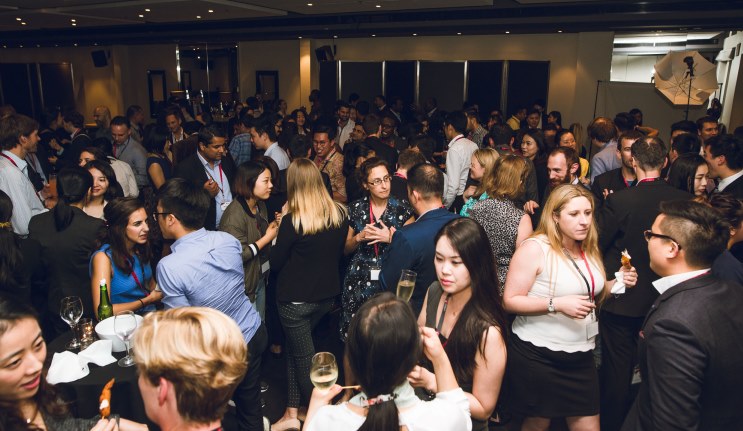 Macquarie University alumni at the Backpack to Briefcase event in October 2017
ALUMNI FOCUS
Arts & culture
,
Economics/finance/investment
,
Education & teaching
,
Getting Involved
,
Global
,
Health/Medicine/Wellbeing
,
Humanities & Social Sciences
,
Law/Security/Intelligence
,
Management/Leadership/Entrepreneurship
,
Media/Communications/Marketing
,
Science/Technology/Environment
,
Sport & recreation
,
Supporting
/ December 1, 2017
Over 3,000 Macquarie alumni have shown their professional and social spirit by attending over 27 Macquarie alumni events held in Sydney, across Australia and across the world in 2017.
The Macquarie University Global Alumni Impact Series continues to offer a range of thought-leadership discussions featuring alumni and industry experts.  Topics included:
Alumni Networking Receptions were also popular with alumni in Seoul, Beijing*, Shanghai* and Hong Kong* coming together to refresh old friendship and create new connections.
Faculty, Schools and Discipline-themed events were well supported with alumni from MGSM, Faculty of Human Sciences, Faculty of Medicine and Health Sciences, Macquarie Applied Finance Centre (MAFC) and the Department of Educational Studies (Trendsetter Lecture) enjoying the opportunity to hear the latest trends, best practices and network with their peers.
Younger alumni in Sydney had the opportunity to hear alumni and industry speakers offer their tips and techniques to jump the professional ladder with two events in 2017.  Alumni were given a free masterclass in Is LinkedIn Your Best Friend? and Does Your Network Work For You?
Initiated this year, Sydney and Melbourne hosted Pop Up Drinks events for informal catch ups and networking over a casual drink.  The Pop Up Drinks were promoted through the Macquarie Alumni Facebook Group which saw alumni living in Sydney or Melbourne but some 'just travelling through' joining the get-togethers.
The 2017 alumni events year began on 5 March with a reunion celebration for the Golden Jubilee Symposium: celebrating 50 years of students.  The inaugural students (and alumni) of Macquarie's first ever lecture were welcomed back to campus, enjoying presentations and discussions in the same lecture theatre (Theatre Room 1, now called the Peter Mason Theatre, in E7B).
* Held in late November 2017, video and images available soon
For invitations to 2018 Macquarie University Alumni events, please update your contact details or follow us at Facebook, LinkedIn, Instagram, Twitter