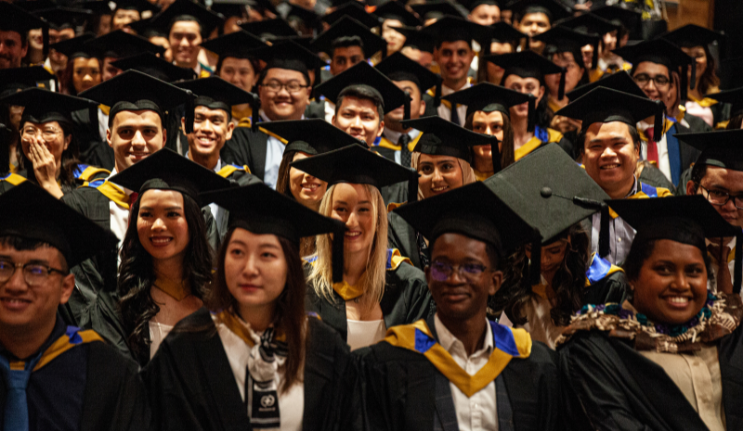 12 things You Need to Know as a MQ Alumni
FEATURES
June 9, 2023
1. If you're a graduate, You're an alumni!
Remember that joining the alumni community at Macquarie does NOT require signing up. Once you have completed your studies, whether with a degree or diploma, you automatically become a valued member of the alumni community at Macquarie.
2. Networking events do work!  As recent graduates, we may think that networking events are overwhelming and not worth attending. However, this couldn't be further from the reality. Networking events are typically characterized by a friendly and relaxed atmosphere, where you can easily strike up conversations with like-minded individuals. Rest assured, the MQ Alumni staff is always available to support and guide new graduates in their networking endeavors.
MQ Alumni staff are always available to assist new graduates in networking. Check out all alumni events now!
3.    Young Alumni Advisory Board (YAAB) events are a great way to start building your MQ alumni community.
If you are a recent graduate and under 35, I highly recommend joining this group. The YAAB helps young alumni get started in the workforce and create a welcoming community for new alumni.
Follow their LinkedIn group and connect with your peers.
4.     Creating a LinkedIn profile is key.
Consider your LinkedIn profile as a virtual resume, providing an excellent opportunity to connect with individuals and highlight your career accomplishments. Check out Beckham's tips on optimizing your profile, and stay in touch with fellow MQ Alumni through the Macquarie alumni LinkedIn network group.
Our Careers team can also provide assistance if you need more information.
5.       Advancing your career and study – support and discounts for alumni
At Macquarie University, we offer discounts to our alumni who wish to pursue further study. This includes a range of postgraduate courses across the University and additionally includes many short courses at Macquarie University Business School. You can find all the information about alumni education and career benefits.
6.       You have access to the library for free.
As our graduates, you are entitled to free lifetime membership at the Macquarie University Library. Sign up now for your free membership!
7.       Enjoy discounts and benefits – sports, merchandise, and education
Sport and Aquatic Centre membership Alumni discounts!
As an alumni, you are eligible for a membership discount at MUSAC. This facility is open every day, offering a range of amenities including a gym, pools, social sports, and programs.  Take advantage of this opportunity to stay active and enjoy our exceptional facilities.

All alumni are entitled to discounts on Macquarie merchandise. To obtain the discount code, please refer to our Macquarie Matters Newsletter. With this code, you can purchase MQ branded items and show your Macquarie pride while enjoying exclusive savings.
8.       Connect at casual and regular catch-up events for Alumni
If casual events that are perfect for recent graduates. These gatherings offer a relaxed atmosphere for alumni to connect and socialise. No matter where you are, you can find events near you.
9.       MQ Alumni communities all around the world for you
By joining our alumni pages and connecting on LinkedIn, you can connect with fellow alumni from around the world. Whether you are planning to move overseas or simply want to expand your network globally, this is a valuable resource to stay connected. Take Joya's story as a good example!
10.   Keep your details updated to unlock opportunities
At Macquarie University, we recognise that life is a journey filled with new adventures and transitions. That's why it's essential to keep your contact details up to date with us. By doing so, you'll ensure that you receive the latest updates on alumni events and relevant information happening in your area. Take a moment to update your details now for you open doors to a world of possibilities and connections within the Macquarie University alumni community. Don't delay—update your details today and embark on a journey of lifelong learning, networking, and success.
11.   You are always welcome on Campus! 
You are always welcome to revisit our campus without needing a formal invite. Book a campus tour and rediscover the familiar sights and new developments.
Haven't been on campus for a while or no longer in Sydney? Reach out to the MQ alumni team or one of your academics, and they will be happy to host you on campus.
12.   Fill out surveys; they help both you, Macquarie and future students.
Participating in surveys such as GOS (Graduation Outcome Survey) or MQGDS (Macquarie Graduate Destination Survey) provides valuable feedback to the university, allowing them to enhance the educational journey for future students. Your input is essential in making a difference and improving the overall student experience. You will also have the opportunity to win prizes with the completion of these surveys, so keep an eye on your inbox and help to contribute to positive changes for future students.
Article by Anna Chandler, Bachelor of Arts 2023, who is currently working as the Alumni Administration Assistant.