Undergraduate Research in Australia
First Australasian Conference of Undergraduate Research (ACUR)
The first Australasian Conference of Undergraduate Research was held at Macquarie University in Sydney on 20th September 2012. This one-day conference included poster presentations and spoken papers by undergraduate students from all disciplines and from across Australasia. The conference follows successful undergraduate research conferences in America (NCUR – now in its 29th year) and in the UK (BCUR – now in its 3rd year).
What is an undergraduate research conference?
An undergraduate research conference is just like any other academic conference but each presentation is delivered by undergraduate students presenting work they have done either as part of their course or as part of an internship.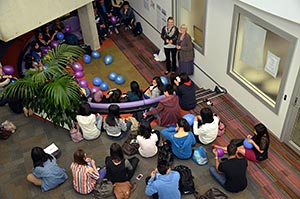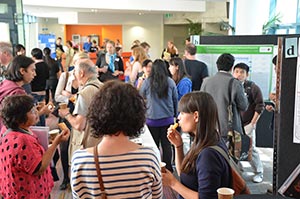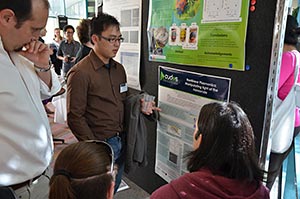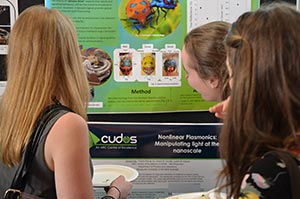 ACUR 2012 SPOKEN presentations
Click on the titles below to read the abstracts.
Stream 1
W6D Lotus Theatre

Stream 2
X5B T1 Theatre

Stream 3
W5A Price Theatre

Stream 4
Y3A T1 Theatre

Morning presentations

8:30 – 9:00

Registration
For ALL Presenters
(in W6D Lotus Theatre)

9:00-9:40

Welcome by Prof Angela Brew & Introductory Speech by Prof Mick Healey on "International Perspectives on Undergraduate Research and Inquiry: Nature and Vision"
(in W6D Lotus Theatre)
Watch the opening address

9:40-10:00

Should an alternative conscious state assessment be taught to undergraduate paramedic students?
Christian Winship,
Monash University

Guarding Against Crime: Real-Life Cases of Australian Guardians
Zarina Vakhitova,
Griffith University

Mediating Weeping Woman: A live/digital performance study
Kate Maguire-Rosier,
Macquarie University

Too White to be Black, too Black to be White: an exploration of Aboriginal identity in contemporary Australian cinema.
Sarah Henderson, UTS

10:00-10:20

The value of the cranial-caudal mammographic view in breast cancer detection: a preliminary study
Phuong Dung Trieu, University of Sydney

How does law based community service learning benefit community and academic stakeholders?
Hamish Clift, QUT

Speaking the Blue Mountains
Rhiannon Hall,
University of Wollongong

Performance in the construction of religious identity
Lydia Gore-Jones, Alexandra Wrathall and Natasha Langley, Macquarie University

10:20-10:40

An investigation of the experiences of radiologists participating in Multi-Disciplinary Breast Cancer Teams
Samantha Alcantara, University of Sydney

"All In A Day's Work": An Exploratory Study of Workers' Experiences of Therapeutic Intervention with Suicidal Clients and Clients Who Went On To Commit Suicide
Maria Chan, UNSW

"Silence here you're not allowed to speak"- theatre and identity in reunified Germany
Emily Collett, Macquarie University

We are what we know: the role of language in the social identity of Italo-Australians
Mary Giordano, La Trobe University

10:40-11:00

Driving Errors in School Zones: Observing the Influence of Traffic Light Intersections.
Bree Gregory, Macquarie University

"Her is going to bed now": Investigating input-based explanations of why children produce non-nominative subjects
Cory Bill, Macquarie University

11:00-11:30

Morning Tea (30 min)
In Y3A Foyer

11.30-11.50

The Tomb of Memi: A New Approach to Research, Learning and Teaching in Egyptology and Archaeology
Nicole Leong, Macquarie University

The Transmission of Gesture: The Effect of Modelled Actions on Gesturing and Task Performance in a Spatial Direction Context.
Elizabeth Austin, Macquarie University

A Compact Spectrograph to Search for Extrasolar Planets
Carlos Bacigalupo,
Macquarie University

Soft as Silk and White as Snow: Feminism, Mythology and "Affect" in Eliza Keary's "Little Seal-Skin"
Sarah Kelly, Monash University

11:50-12:10

An Encounter with the Australian Navy in Australian Indigenous Rock Art
Jessica Viney, ANU

The Impact of Nicotine on Goal-Directed Behaviour
Andreea Heriseanu, Macquarie University

Shock waves in dense interstellar clouds
Andrew Lehmann, Macquarie University

The Fires of Passion: Simile and Emotion in Ovid's 'Metamorphoses'
Gabrielle Gillmer, ANU

12:10-12:30

Jews and Judaism in The History of the Patriarchs of Alexandria
Annie Thompson and Alex Thompson,
University of Sydney

Cultural Influences on Remembering and Reminiscing
Emma Nile,
Macquarie University

Determining physical characteristics for pre-planetary nebulae
Shane Vickers,
Macquarie University

"10 Years on from 9/11" Muslim women media advocates reflect on Challenges and Achievements
Widyan Al Ubudy,
University of Wollongong

12:30-12:50

Pinning it down: Double shank pins as evidence for Paeonian trade networks and cultural interactions
Candace Richards, University of Sydney

'Beware the Jabberwock': Fear Renewal in Adults Using An Indirect Learning Paradigm
Isabella Jacomb, Macquarie University

Optimising adherence to group exercise interventions for the prevention of falls: systematic review & meta-analysis
Lucy McPhate, Monash University

"The World in a Grain of Sand": Contrary ideologies and their ecological implication in William Blake's "Songs of Innocence and Experience"
Erin Corderoy,
Macquarie University

12:50-13:10

Was Trojan Women the greatest anti-war play of all time?
Jessica Alexander-Lillicrap, ANU

13:10-14:30

Lunch
and
POSTER PRESENTATIONS
in Y3A Foyer and Café
(see list of POSTER presentations below)

Stream 1
W6D Lotus Theatre

Stream 2
X5B T1 Theatre

Stream 3
W5A Price Theatre

Stream 4
Y3A 212

Afternoon presentations

14:30-14.50

Spatial variation in benthic infauna with respect to coastal development, Smith's Lake, NSW
Louise Tosetto,
Macquarie University

What's the Law Got to Do with Corruption in Indonesia? A Case Study for Systems Theory
Samuel Chan, ANU

Exploring indigenous early childhood education from a New Zealand perspective
Jess Buchanan and Cushla Dargan, University of Canterbury

14:50-15:10

A measure of abundance and diversity of invertebrate communities across roadside and non-road side environments in open, dry sclerophyll forest (Smiths Lake, Australia)
Julia Wyllie, Macquarie University

The Relationship Between Human Rights and Democracy: Do Democracies Guarantee Human Rights in Asia?
Courtney Lor,
Macquarie University

Us and them: Identifying an ideology of segregation
Graeme Hadfield, Macquarie University

Sedimentation tank design for disadvantaged rural communities in the hilly regions of Nepal
Emilia Wisniewski, University of Melbourne

15:10-15:30

Ménage à trois: the problem with 'three-ways' involving predatory wasps
Gurion Ang, University of Queensland

International Law, Palestine and the Two-State Solution: A Critical Legal Analysis (working title)
Ademir Hajdarpasic, Macquarie University

Ancient Erotic Satire: Straton's The Boyish Muse
Marguerite Humphries, ANU

The effects of climate change and sea-level rise on Ricketts Point Marine Sanctuary
Micala Witton, RMIT

15:30-15:50

Volatilised free-base cocaine effects reward processing in the honey bee (Apis mellifera)
Catherine Radford, Macquarie University

The "Fuzzy Wuzzy Angels":looking beyond the myth
Emma Rogerson, University of Wollongong

Utility, sexuality, creativity: the search for meaning in a public loo
Raina Rabin, UTS

Alternative Waste Management in Metropolitan Areas
Kylie Bishop, RMIT

15:50-16:10

Foraging site selection by Perameles nasuta in relation to the density of trees in a wet sclerophyll forest.
Catherine Stuart, Macquarie University

Transition Japan: the Transition Town Movement in a Japanese Context
Jacqueline Lau, ANU

Change and Continuity: The Sydney Gay and Lesbian Mardi Gras through Tradition and Postmodernism
Eloise Flanagan, UTS

Trouble in the pipeline: Lead contamination of grazing lands adjacent to the Hunter Valley's Chichester Trunk Gravity Main Water supply system
Paul Harvey, Macquarie University

16:10-16:30

Optic flow in stingless bees Trigona carbonaria
Kate Hardwick and Karen Bulmer , Macquarie University

Chinese Postmodernism: an evaluation of an empire's new export
Nathalie Jones, UTS

The Challenge of Change: Acceptance, faith and homosexuality in the Catholic Church
Rayan Calimlim, UTS

Australian drought and climate change in the Southern Hemisphere
Guy Leech, ANU

16:30-16.50

Poissonality: something fishy going on? The role of rearing environment in determining personality in crimson spotted rainbowfish (Melanotaenia duboulayi)
Larissa Trompf, Macquarie University

An Evaluation of the Use of Social Networking Sites: Singapore General Election 2011
Lijuan Abigail Wong, RMIT

17:00-17:45

Prize Giving and Wrap Up
Concluding Speech by Prof Mike Neary on Student as Producer: Why Student Research is so great!
(in W6D Lotus Theatre)
Watch the prize giving and closing address

17:45 – 18:30

Refreshments/Chat
(in Y3A Foyer)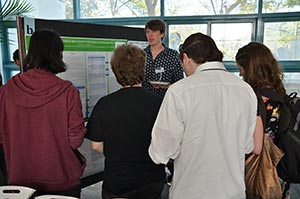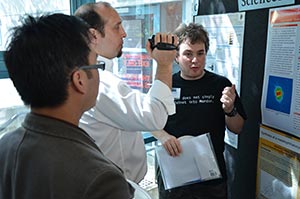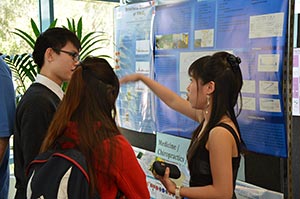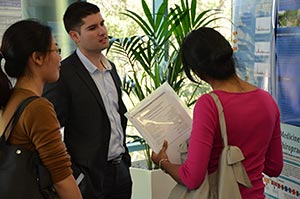 ACUR 2012 POSTER presentations
Click on the titles below to read the abstracts.
Stream 1

Stream 2

Stream 3

Stream 4

Sciences

Medicine/Chiropractics/Health and Engineering

Human and Social Sciences

Media/Literature, History and Linguistic/International/ Cultural Studies

1st round of presentations
13:10 – 13:30

Biological Changes in the Hippocampus Following Chronic Methamphetamine Use: A Proteomic Approach
Melanie Sauer,
Macquarie University

First Experience with AIDR 3D for dose-reduced scanning of cardiovascular computed tomography (CVCT) images
Rong Hui Chia,
Monash University

Person Information Management and Social Media
Yu Zhao,
University of Sydney

Hag Horror & Hagsploitation Cinema
Alexandra Breitsameter,
University of Wollongong

Peptide Array Analysis of uPAR Interactome
Samyuktha Anand,
Macquarie University

Sex-dependent effects of maternal overnutrition on offspring metabolic development
Krystle Fredericks,
Sydney

School and Play – A Brighter Learning Way for Queensland's Children
Kevin Bell,
Griffith

Skeletons in the Closet: Embracing our colonial identity
Imogen Bailey,
UTS

The effect of Isoprene on Species Distribution: basal isoprene emission from Angophora costata and Eucalyptus haemastoma
Nathan Bell,
Macquarie University

Radiation dose to the thyroid gland from supraclavicular fossa irradiation in breast cancer patients
Juan Phoon Carinne Ho,
The University of Sydney

Lesbian mermaids? The Vagina Monologues runs aground
Jessica Durham,
Monash University

Black or Red: Dual Social Theory in the Casino
Johanna Deutsch,
University of Technology Sydney

The Impacts of Marine Microplastics on Salp Feeding in the Tropical Pacific
Wing Yan Chan,
The Australian National University

Scapular dyskinesia: Its relation to shoulder pain in overhead throwing athletes - a systematic review
John Infante
Macquarie UIniversity

Equality - Not Such a Queer Idea
Liana Hampson,
UTS

The Objectivist Lens in the Search for Origin: Dante and Modernist Poetics
Ronald Lee,
Monash University

2nd round of presentations
13:30 – 13:50

Molecular dissection of neuronal diversity in the medial septum of the rat brain
Rong Xian Chia,
The Australian National University

Structural Evolution of YMnO3
Basilia Sethu,
Australian National University

Psychological resilience to organisational change: Need for closure, social identity complexity, and organisational identification
Matthew Hull,
Macquarie

Lights, Camera, Reaction!
Tom Macken,
UTS

Photovoltaic Cell Efficiency on Venus
Emily Haag,
Australian National University

Building community capacity at the end of life: an Honours study of health promoting palliative care in the Australian Capi
Jason Mills,
Australian Catholic University

The Influence of Father's Challenging Behaviour on Childhood Anxiety Disorders
Rebecca Lazarus,
Macquarie University

IDEAS IN HISTORY: A look into the treatment of homeless youth
Shilaneh Sharify,
UTS

The effect of voltage on a conductivity gradient in a nanochannel and its application to protein trapping.
Helen (Hye Jeong) Jeong,
Macquarie University

Infection Control in the Pre-hospital Environment
Lydia Muller,
Central Queensland University

Understanding youth participation: Exploring refugee young women's perceptions.
Laura McKenna,
Australian Catholic University

Bioarchaeological Fieldschool in Amarna, Egypt
Scott Allan,
Macquarie University

Does this lighting make me sexier? Using harlequin bugs to investigate links between the design and presentation of iride
Laurie-Anne Keller,
Macquarie University

Flavonoid intake: developing a food frequency questionnaire
Keren Papier,
Griffith University

Tension of \'Two Worlds\': Tradition and Modernity
Vivienne Rontziokos,
UTS

The Nurses Walk: Colonial Hospitals and Postmodern Realities
Esther Cheung,
UTS

3rd round of presentations
13:50 - 14:10

Bioengineering by oysters: amelioration of desiccation stress on intertidal invertebrates in a warming climate
Dominic McAfee,
Macquarie University

Boosting Influenza Responses in Older People Using a Brief Bout of Exercise
April Pascoe,
University of Sydney

Bon Voyage: An Inquiry into Australian Border Protection and Quarantine
Dominic Smith,
UTS

From Progress to Process: Locating the Transformation of Progress Within Australian History
Thomas Grainger,
UTS

A Double Heterodyne Interferometer / Polarimeter for Plasma Diagnostics
Jack Muir,
The Australian National University

Proteomics and interactomics of uPAR-associated lipid raft microdomains in colorectal cancer
Ilze Simpson,
Macquarie University

The Factors Influencing Attachment Anxiety and Forgiveness: Angry Rumination, Depressive Rumination and Emotional Reactivity
Elijah Ward,
Macquarie University

Government House: An Allegory of the Interplay of Modernism and Tradition Within Australia
Ashleigh Best,
UTS

Synthesis of Ruthenium Phthalocyanine Complexes
Marshall Nelson,
UTS

Antibiotic resistance in Mycoplasma genitalium
Kaitlin Tagg,
Macquarie University

In Space, No One Can Queer You Scream: Artefacts of Tradition and Modernity in Autonomous Space
Alison Whittaker,
UTS

Pearls, Sex and Protectionism - Aboriginal-Japanese Sexual Relations in the Northern Australian Pearl Industry, 1918-1939
Annelyse Davison,
University of Wollongong

Nonlinear plasmonics: manipulating light at the nanoscale
Vincent Ng,
Macquarie

Compressive strength of alkali-activated geopolymer mortars using fly ash and ground granulated blast-furnace slag
Lindsay Grogan,
RMIT University

Deceitful Skin: Rethinking Sex, Bodies and Children in Queer Studies
Jonathon Zapasnik,
Australian National University

Power of Language in bringing about social inclusion for people with autism
Yvette Hopper,
University of Wollongong

4th round of presentations
14:10 – 14:30

Root-Architecture-Regulator peptide activity: structure-activity studies of MtRAR1 peptide and variants
John Rivers,
Australian National University

Waste Management in the Torres Straits: A Systems Approach to Warraber Island
Erin Hughes,
University of Queensland

Colette: The renunciation of love – The case of Fred Peloux
Emily Lau,
Macquarie University

In silico resistance gene search in Eucalyptus grandis genome
Peri Tobias,
Macquarie University

Cognitive Load Measurement through Muscle Actions
Ling Luo,
The University of Sydney

Manga: a Gateway to Further Japanese Education
Rebecka O'Malley,
Macquarie University

Jet Launching during Common Envelope Interactions, and the Shapes of Planetary Nebulae
James Tocknell,
Macquarie University

Exploring the Role of Cytochrome P450s in Pollutant Degradation and Resistance
Katelyn Richards,
The University of Queensland

Consuming Nationalism: The Evolution of the Australian Retail Industry from Rural Stores to Selling in a Modern World
Madeleine Causbrook,
UTS

Testing assumptions of Motivation-structural Rules with Dogs (Canis familiaris)
Penney Wood,
Macquarie Unversity

A Penal Colony- The Simultaneous Roles Played by Traditionalism, Modernism and Postmodernism in Societal Situations
Sally Alrich-Smythe,
UTS

Further Mathematical formulations of the Titration Curve
Vincent Aw,
Australian National University

Social networking in Port Jackson sharks
Nathan Bass,
Macquarie University