Undergraduate Research in Australia
Posters in Parliament: Celebrating Undergraduate Research
Parliament House, Canberra, 22 September 2014


All Posters in Parliament 2014 presenters
On Monday 22nd September 2014, 38 students from 16 different universities across Australia presented their research in the Mural Hall at Parliament House. Visitors included The Hon. Robert French AC (Chief Justice, Federal Court of Australia), Mr Ken Wyatt AM MP, The Hon. Mal Brough MP, Mr John Alexander OAM MP (Member for Bennelong, NSW), Mrs Jane Prentice MP, Ms Sharon Claydon MP, Senator Bridget McKenzie, Senator The Hon. Penny Wong, Senator The Hon. Scott Ryan, Senator the Hon. Kate Lundy (ACT), Mr Warren Mundine (Chair of the Indigenous Advisory Council) and other Senators and Members of Parliament as well as key high education leaders and members of the ACUR Steering Group. "Posters in Parliament" was an exhibition and celebration of Australian undergraduate research. Visitors commented "Fabulous inspiring futures", "Outstanding examples of inspired brilliance", "A great showcase of young talent" and congratulated the organisers on this "Great initiative with many collateral benefits". This event also attracted the interest of ABC 666 Canberra Drive radio programme, which invited some of our presenters to their studio for an interview the same day.
Posters presented were chosen by universities across the country and students came from far and wide to talk about their research. From fighting fires, parasite host-finding behaviours, aerial unmanned vehicles, corrosion protection to schizophrenia, childbirth trauma, language development, media relations and international currencies, the topics covered a wide disciplinary spectrum.
The event aimed to raise the profile of undergraduate research within the Australian community. Undergraduate research engages the brightest and best of our young people to produce new knowledge during their undergraduate years. It attracts the most capable students and engages them in doing exceptional things within their normal courses of study.

Macquarie nominees Chi Yhun Lo and Caroline Valim
Macquarie University nominated Linguistics students Chi Yhun Lo and Caroline Valim to present at Posters in Parliament. In his reflection Chi writes:
"I was selected to be a poster presenter at the inaugural Posters in Parliament session and was fortunate enough to present my work to the Hon. John Alexander and the Hon. Ken Wyatt - the first Aboriginal person to be elected to the Australian House of Representatives. Both showed great interested in my project, as both had a personal connection with hearing impairment, and were aware of how greatly it affects the wider community. In particular, Ken Wyatt impressed me greatly, as his knowledge of hearing was superb, even using the scientific term of 'otitis media' to describe ear infections! In general, hearing impairments affect aboriginal communities disproportionately, and Ken Wyatt was very receptive to the potential improvements with accessibility to LiSN & Learn as a result of my research study. He was incredibly encouraging, and adamant that I send him a copy of my published paper as soon as I can. In all, I hope the event will continue in the future, as it will help draw further connections, interactions, and initiatives between students, universities, politicians, and the government. Both ACUR 2014 (Australasian Conference of Undergraduate Research 2014 on 18-19 September) and Posters in Parliament were a resounding success. These first few steps into the world of research have given me a boost in confidence, and has furthered my drive to continue down what I hope will be a long and fruitful career as an auditory research scientist. I have seen first-hand the benefit of undergraduate research programs, and I hope that both ACUR and Posters in Parliament continue well into the future, growing larger, and ever more ambitious!"
The organisers of the event Prof Angela Brew and Lilia Mantai were "simply amazed" by the dedication, competence and passion the presenters showed at Posters in Parliament. They commented "Posters in Parliament was very efficient in bringing together faculty, students and policy makers. These students are some of Australia's most talented people who will help to transform Australia in the future. They are those that will become the innovators, the future research leaders, and leaders in cutting edge industries. It is worth noting that many Nobel prizewinners engaged in research during their undergraduate years."
Posters in Parliament was organized by the Australasian Council for Undergraduate Research (ACUR) which was established in 2014 at Macquarie University with the intention of holding a high quality conference of undergraduate research each year at a different university. Funded by the Office of Learning and Teaching and following the inaugural events in 2012 and 2013 at Macquarie University, the 2014 conference was held last week at the ANU. ACUR is supported by a high level Steering Group with representation from 31 Australian and 4 New Zealand universities and 14 other organisations worldwide.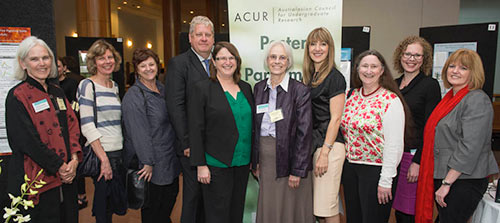 ACUR Steering Group representatives
Posters in Parliament mirrors developments internationally in presenting high quality undergraduate research to Members of Parliament. For example, Posters on the Hill is held annually in the US Congress and annual exhibition of undergraduate research posters is also held in the UK Houses of Parliament. These events are viewed as a way of highlighting undergraduate research and attracting publicity and national support.
We would like to thank our sponsors: Macquarie University, Australian National University, Council of Australian Directors of Academic Development (CADAD), Emeritus Professor Adrian Lee, Office for Learning and Teaching (OLT), Higher Education Research and Development Society of Australasia (HERDSA) and Coop Bookshop.
Professor Angela Brew, Chair, Australasian Council for Undergraduate Research
Ms Lilia Mantai, Executive Assistant, Australasian Council for Undergraduate Research