ARBORETUM
Teaching Gardens
There are a number of gardens within the Macquarie University campus that have been developed in conjunction with the curriculum, to assist with undergraduate teaching.
Bush Tucker Garden
The Bush Tucker garden features plants native to the greater Sydney area, some of which were used in traditional food and medicine by the Darug and other Indigenous people. The garden is located at the eastern end of campus between Wally's Walk and building E7B, near the thermal storage tower.
Warning: Many plants used for bush tucker require extensive preparation including pounding, soaking and roasting, before they are edible. We discourage people from harvesting food from the garden.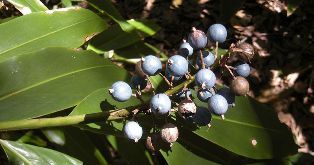 Native Ginger (Alpinia caerulea); Photo: Ethel Aardvark (Wikimedia Comons)
Frank Mercer Biological Sciences Garden
The Frank Mercer Garden, in the courtyard of the Department of Biological Sciences, is a key component of the Evolutionary History Walk as it features a number of garden beds specialising in different groups of plants and their characteristics. As an example, the monocot bed includes members of the grass and palm families, but also includes the Kangaroo Paw and an unusual species (Ruscus sp), from the northern hemisphere in which flowers are produced from the middle of their leaf-like structures. Other beds feature the plant groups; ferns, cycads, ericales and dicots. In the centre of the courtyard is a North American Tulip Tree, Liriodendron tulipifera, a shapely tree with spectacular green and apricot coloured flowers in Spring. A pond feature provides an additional teaching resource and aesthetic qualities to the courtyard.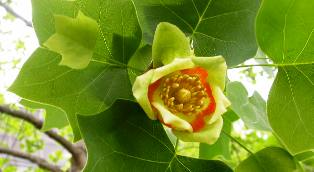 North American Tulip Tree (Liriodendron tulipiferum); Photo: Samantha Newton
Jim Rose Earth Sciences Garden
The Jim Rose Earth Sciences Garden showcases the biogeography of plants and is a key component of the Evolutionary History Walk, as well as a key teaching garden for Botany, Geology and Palaeobiology students. It is also a lovely place to sit in all seasons.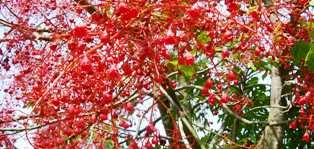 Illawarra Flame Tree (Brachychiton acerifolius) in flower; Photo: Alison Downing
Indian Spice Garden
The Indian Spice Garden features trees, flowering shrubs and herbs and spices of India. Many of these plants are used in Ayurvedic medicine, the traditional medicine of India, which has been in use for more than 3,000 years.
This garden is a loose association of plants of the Indian subcontinent. It does not conform in design or content to any garden in Indian history, but rather features individual species that are important in Indian culture.
The garden supports many herb and spice plants, but also supports a number of pretty and fragrant flowering plants.
Rabindranath Tagore
Rabindranath Tagore lived from 1861 to 1941. He was born in Calcutta, in the Bengal region of India in the north east of the subcontinent. He was a polymath, excelling in multiple fields of art and science, and was best known for his contributions to literature and music, particularly poetry. He was awarded the Nobel Prize for Literature in 1913. Among his many achievements he was the founder of the Visva-Bharati University, which is located in West Bengal. It would be easy to spend an hour exploring his life and work.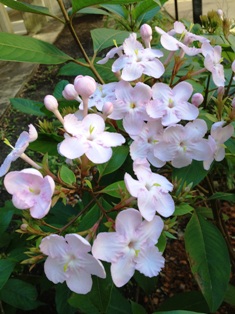 Luculia 'Pink Spice'; Photo: Payel Ray