(L-R) Artist Lara Went, Campus Life's Sophie Curtis and Macquarie student Dylan Barnes.
Our monthly photo highlights of life at Macquarie. Got something to share next month? Tell us.
---
Brought together by Burrumering
The University recently welcomed back artist and Worimi woman Lara Went (main picture) for the official opening of University's Burrumering murals (see This Week, May 2020) which she created with the assistance of Macquarie student and fellow artist Dylan Barnes.
Nicole Gower, Vice-President People and Services, and Leanne Holt, Pro Vice-Chancellor Indigenous Strategy, were among the guests at the special ceremony. Campus Life Director Pete Boyle – who also co-chairs the new MQ Inclusion Committee – spoke to guests of the great work being done in Campus Life, and across the University more broadly, in building meaningful connections with our land's traditional custodians.
"Campus Life is honoured to acknowledge and celebrate the history of the Dharug Nation and peoples through the Burrumering, and we continue to work with Walanga Muru on embedding Indigenous knowledges and perspectives into our everyday work," Pete said.
---
What's green and engineering a better planet?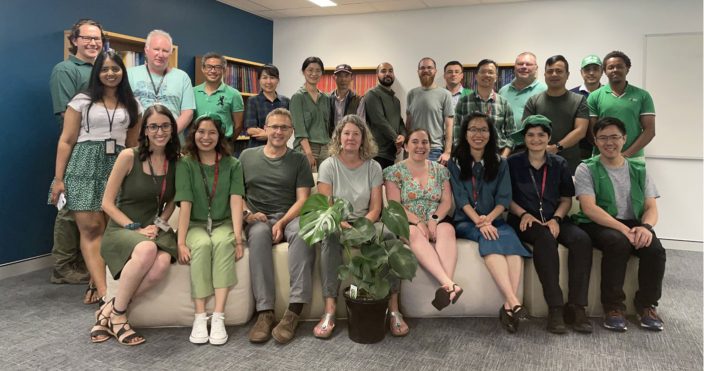 Our School of Engineering, that's what.  The team came together on 4 March to mark UNESCO World Engineering Day for Sustainable Development – a day to highlight the vital role of engineering and technology in creating a better future.
"This year's theme – Engineering for a Healthy Planet – really puts a focus on the great work our multidisciplinary research teams are doing to create solutions for the world's most pressing environmental and social challenges," says Dean, Professor Darren Bagnall. "From reducing our reliance on fossil fuels in the Macquarie University Sustainable Energy Research Centre to the life-changing health innovations people like Noushin Nasiri are developing in emerging fields like biomedical sensing and nanotechnology, we're working with a great sense of purpose."
---
WHO chose MQ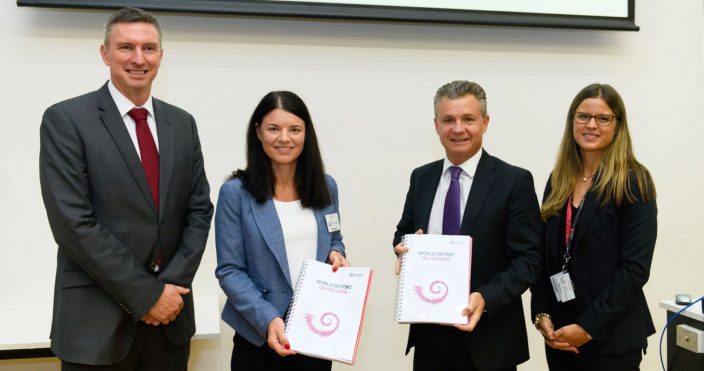 In recognition of the University's international research standing in hearing, the World Health Organisation's first ever World Report on Hearing was officially launched at Macquarie on 3 March, World Hearing Day.
Professor Cath McMahon (pictured, far right) was joined at the report launch by dignitaries including the Hon. Fiona Martin MP and the Hon. Matt Thistlewaite MP, along with cricketer Brett Lee (whose son Preston has hearing loss), research colleagues in the Department of Linguistics and representatives from the Australian Hearing Hub.
---
Community strong…
Walanga Muru means 'follow your path' in the language of the local Dharug people, and Walanga Muru's recent Orientation and Culture Camp for new students demonstrated the powerful positive impact of support and community connection in helping Macquarie students along their path to success.
Thirty six Aboriginal and Torres Strait Islander students participated in the three-day camp, participating in a range of orientation, team building and cultural activities. They left with a strong sense of belonging, having been warmly welcomed as valued members of the Walanga Muru community, forming important connections with peers and staff and benefiting from mentoring and advice from experienced students.
If you want to find out more about Walanga Muru student engagement, you can contact the team on askwm@mq.edu.au. 
---
… and getting stronger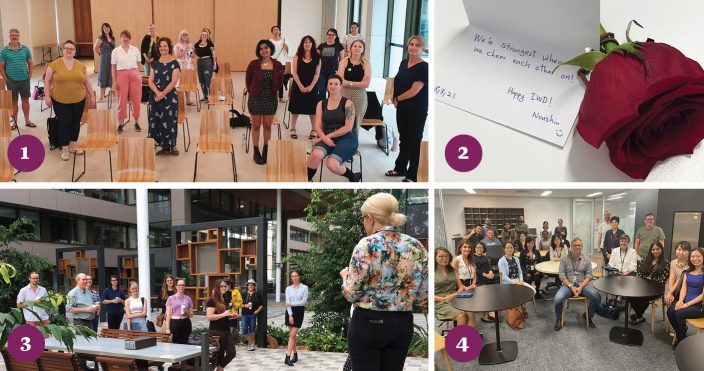 Macquarie marked International Women's Day 8 March with a range of faculty and department-hosted events. Here are just a few of the highlights:
The Faculty of Arts hosted a screening of Brazen Hussies, a documentary celebrating the Women's Liberation Movement in Australia (1). Read Professor Michelle Arrow's review of Brazen Hussies in The Lighthouse >>
Professor Ronika Power was also joined by Faculty of Arts colleagues at a multimodal Speakers Corner (3) exploring the #choosetochallenge theme.
The School of Engineering heard from many of their accomplished women at their morning tea, including Superstar of STEM Noushin Nasiri, who was recently interviewed on SBS News about the gender barriers that discourage females from pursuing STEM careers.
14 Macquarie women shared one-minute perspectives on leadership as part of the Australian Institute of Health Innovation's Women in Leadership event, which can be viewed on YouTube.
Perhaps Noushin put it best when she said "we're strongest when we cheer each other on".
---
Former PM joins Macquarie's fight against CTE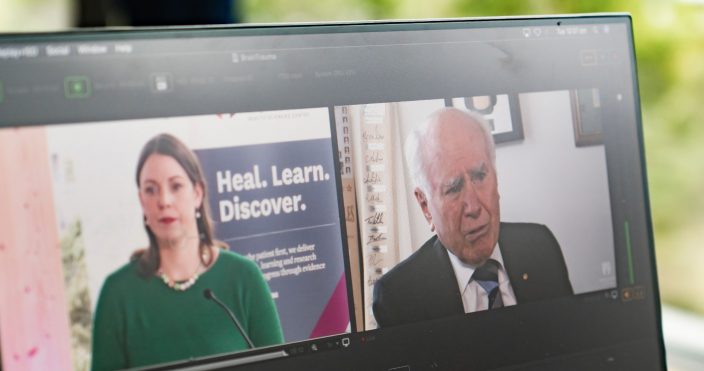 Macquarie neurologist Dr Rowena Hobbs was joined by rugby union player Dean Mumm in hosting a live seminar during Brain Awareness Week, highlighting the impacts of repetitive head trauma. Among the guest speakers was former Prime Minister John Howard, who said it was his love of sport that made him get behind the work of researchers and safe sport advocates like Dr Mobbs.
"I want parents to feel that participation of their children in body contact sport is as safe as it can possibly be," said Mr Howard.
You can watch the seminar on YouTube. (Parents, don't miss Professor Gary Brown's segment on concussion in children, which commences 48:00.)