As an urban ecologist, Dr Lizzy Lowe says she's "fascinated by the ability of some species to thrive in highly modified environments". So, who better to test out the Sport and Aquatic Centre's children's gymnastics program with her own cute little critters, Andrew (age four) and Riley (age two).
Here's the Superstar of STEM's review. You can also find her latest article on The Conversation: It's getting hotter, so spiders are emerging. Should I be alarmed?
---
"We signed up for gymnastics classes for the exact opposite reasons for each kid. Andrew was very timid and reluctant to try things and Riley would throw himself into everything, frequently jumping off the highest places possible with no regard for his abilities. So, we were hoping the kids would meet somewhere in the middle! We wanted them to gain confidence in their abilities and to learn the limits of their little bodies.
Both kids were very excited to start the classes. We started just after lockdown, so there were not too many kids in the class and both kids settled in really quickly. I was actually very surprised that Andrew was confident to do things without me in the first session, and he tried everything from the word go.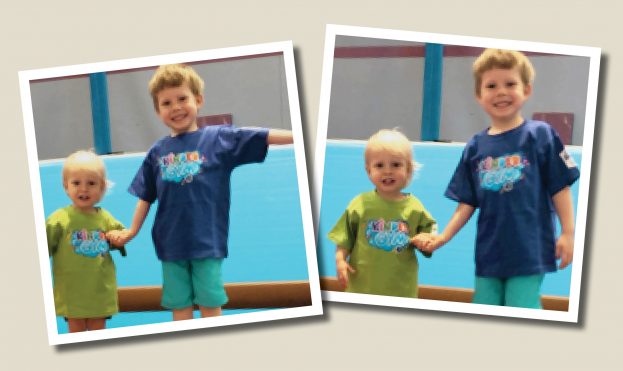 Progress was a bit slower with Riley. He just ADORED the classes but had trouble listening (which is pretty normal for a two year old!) and would mostly run around exploring.
But after the first few sessions, Coach Maddy and I started noticing a real change. He got better at watching the circuit instructions and would try really hard to do the allocated activities. Within a few sessions he went from completely free play to completing around 25 per cent of the instructions and after one full semester is listening and paying attention for over half the time, so I think that is amazing!
Andrew often tells his friends about things he has learnt in gymnastics class and I've noticed that he is much more confident in trying more adventurous things at the playground, and in trying things more than once if it doesn't work the first time.
We really love the environment of the gymnastics classes, from the activities to the music and the great teachers and we hope to be attending classes for many years to come!"
---
The Sport and Aquatic Centre runs a variety of children's gymnastics programs during school terms and in the school holidays. And why should kids have all the fun? There's evening adult classes too.