Macquarie University maintains strong global ranking
16 August 2016
Macquarie University has again been ranked as a leading institution in the 2016 Academic Ranking of World Universities (ARWU).
The pioneering research discoveries and acclaimed academic programs at Macquarie have led the University to be recognised as one of the top universities in Australia.
Macquarie joins other leading universities in the Asia-Pacific that appear within the top 500 in the world.
Published annually since 2003, the ARWU is a widely referenced ranking of the world's research universities.
More than 1200 universities worldwide are assessed by ARWU every year, and the best 500 universities are published.
ARWU adopts six objective indicators to rank world universities, including the number of alumni and staff winning Nobel Prizes and Fields Medals, the number of Highly Cited Researchers, the number of articles published in the journals Nature and Science, the number of articles indexed in Science Citation Index – Expanded and Social Sciences Citation Index, and per capita performance.
Filed under: Campus news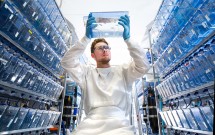 Media contact
02 9850 1055
View by category