Main image: The inspiring presenters at the Educating for Success event, with Pro-Vice Chancellor (Learning and Teaching) Professor Dominique Parrish (fourth from left) and event organiser Asimo Krizan (sixth from left).
Ideas and inspiration galore at Educating for Success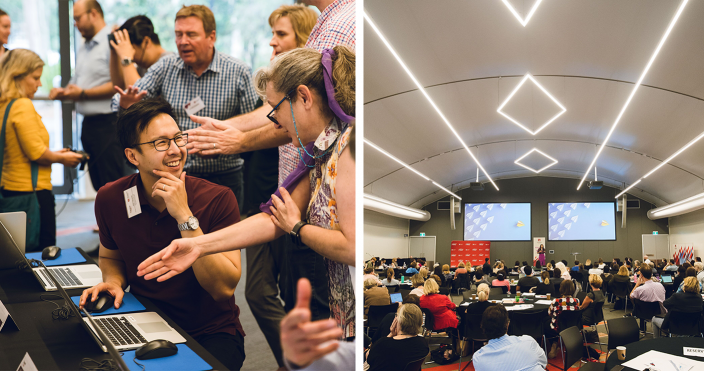 We all know how passionate and enthusiastic Macquarie teachers are. So, when almost 150 staff from across the Learning and Teaching community came together at last Friday's 'Educating for Success' event, the collective energy was almost enough to lift the roof off the Marquee.
Professor Dominique Parrish, Pro Vice-Chancellor (Learning and Teaching), says it was 'tremendous' to see how engaged attendees were throughout the entire event.
"Staff have told me how stimulating, exciting, inspiring and useful all the presentations were," she says. "The innovations and practices that were shared are certainly a testament to the amazing teaching that is transpiring across our University and I look forward to the future events that will be presented in this series."
---
Stronger through science
A shared love of science saw 60 high school students from all over New South Wales travel to the University for the ConocoPhillips Macquarie Science Experience, held from 20-22 January.
Now in its eighth year, the event is a collaboration between Macquarie staff and the National Indigenous Science Education Program (NISEP), which received the 2019 Eureka Award for STEM Inclusion.
Participants were exposed to a wide range of scientific fields – drawing from both Indigenous and Western science – with Macquarie students and academics providing the students with a taste of life as a university student studying STEMM.
Among the attendees were 13 student leaders from NISEP partner schools (Casino, Maclean, Mt Austin and Kooringal), with students from these schools supported to attend by Macquarie's Ignite platform.
The event also ran alongside Walanga Muru's Camp Aspire program, where Year 11 and 12 Indigenous students got to share STEM experiences.
If you would like to support NISEP activities, contact Associate Professor Joanne Jamie (joanne.jamie@mq.edu.au) or visit the NISEP website.
---
DHH kids get a very special STEM experience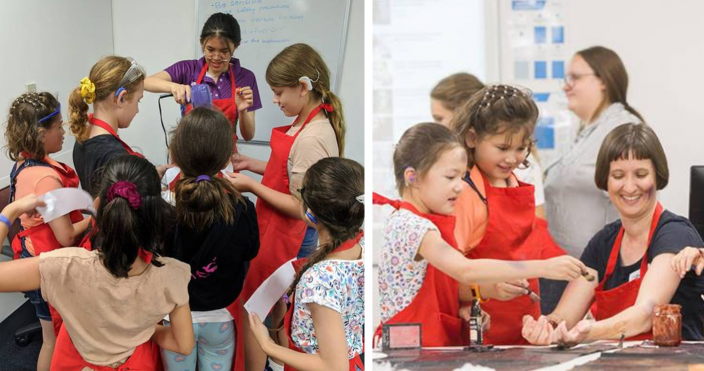 Deaf and hard-of-hearing (DHH) budding scientists were given a unique opportunity to flourish at January's Inclusive Junior Science Academy – a bespoke science camp hosted by Macquarie and focused on accessible communication for its participants.
With most DHH students enrolled in mainstream schools, it was the first time that some participants had met other DHH peers – allowing them to bond over shared experiences as DHH students, as well as their mutual love of STEM.
Support for the Academy was generously provided by the community through the Ignite platform, with funding matched by the Vice-Chancellor's Fund.
A parent of one of the participants shared her child's joy in having participated in the camp, in a letter the child had written to her:
"Dear mum, thank you for such a wonderful school holiday! I loved it when you signed me up for science camp! Do you remember when I told you about the chemistry rockets? I love it. My favourite part was when I got to meet all the deaf people. Thank you mum."
---
Not your average holiday activity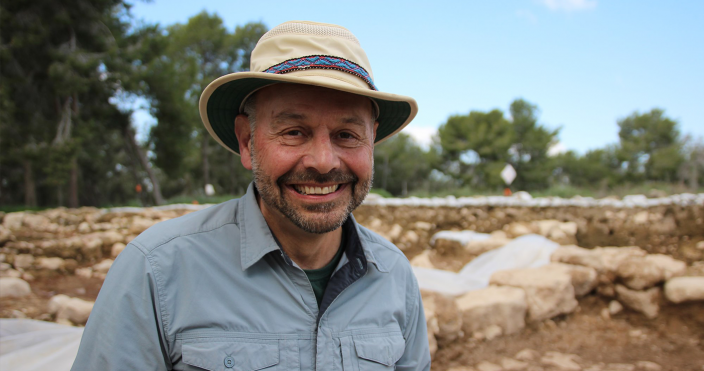 While many Macquarie students might be spending their last week of holidays relaxing on the beach, 32 students from Ancient History will be spending it lugging heavy axes, sifting through dirt and painstakingly uncovering ancient artefacts.
The students are participating in a three-week joint excavation at Khirbet el-Rai in Israel, led by Dr Gil Davis (Director of Macquarie's Ancient Mediterranean Studies program, pictured) along with Dr Kyle Keimer and Honorary Research Fellow Dr Sophia Aharonovich, in collaboration with the Hebrew University of Jerusalem and the Israel Antiquities Authority.
Sophie Gidley, from the University's Communications team, is also travelling with the group and is posting updates from the dig on the University's Facebook page. University photographer Joanne Stephan documented last year's dig, and reflected on her experience in This Week.
---
Celebrating 10 years of Psychology's PACE unit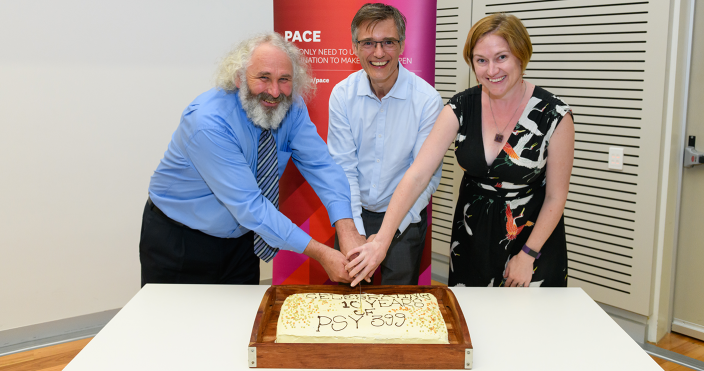 L to R: Associate Professor Wayne Warburton (Unit Convenor for PSY399), Professor Simon Handley (Executive Dean, Faculty of Human Sciences) and Niree Kraushaar (Assistant Convenor and Head Tutor for PSY399).
While This Week was on its summer publishing break, staff in the Department of Psychology gathered to celebrate 10 years of their PACE and capstone unit PSY399 – Psychological Science: Putting Theory into Practice. 
Outstanding Placement Awards were presented to 2019 participants, with students presenting 3-minute-thesis style presentations outlining what they learned and how their placement will inform their practice of psychology in the 'real world'.
---
Staff give generously for hamper drive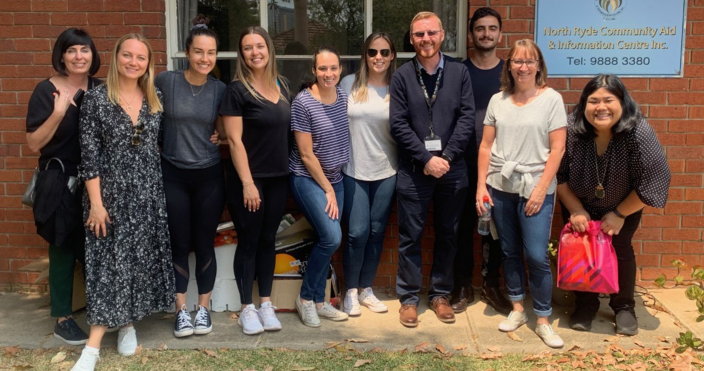 Macquarie staff on hamper delivery day.
In other good news during the summer break, the University's hamper drive for North Ryde Community Aid (NRCA) in December resulted in our biggest donation to date, and NRCA's largest donation from any one organisation.
A large number of Macquarie staff pitched in to donate, pack and deliver food hampers to local residents in need, supported by the University's community volunteering leave scheme.
Thank you to all the staff who gave so generously.