Macquarie University representatives with Director of the Export Council of Australia, William Hutchinson, at the NSW Export Awards.
---
Macquarie's global success recognised at NSW Export Awards
Macquarie University has been recognised for its strong global partnerships, winning a Premier's New South Wales Export Award in the category of International Education and Training (main picture).
The International Education and Training Award highlights outstanding innovation and international success in the field of education and training services, expertise and curriculum.
Macquarie's success in the awards was based on the University's holistic approach to building research, corporate and study partnerships across the world.
---
Macquarie receives record funding for student mobility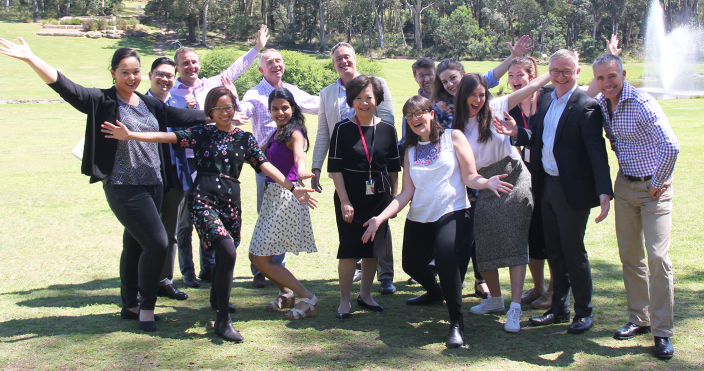 Macquarie University New Colombo Plan Project leads and support staff.
Macquarie University students will have more opportunities than ever to study and complete internships in the Indo-Pacific region in 2020, after projects totalling $2.4 million were awarded funding under the New Colombo Plan Mobility Program.
The 2020 funding outcome was announced by Senator the Hon Marise Payne, Minister for Foreign Affairs, Minister for Women, and the Hon Dan Tehan MP, Minister for Education last week.
Find out more about Macquarie's New Colombo Plan funding.
---
ELC turns 30!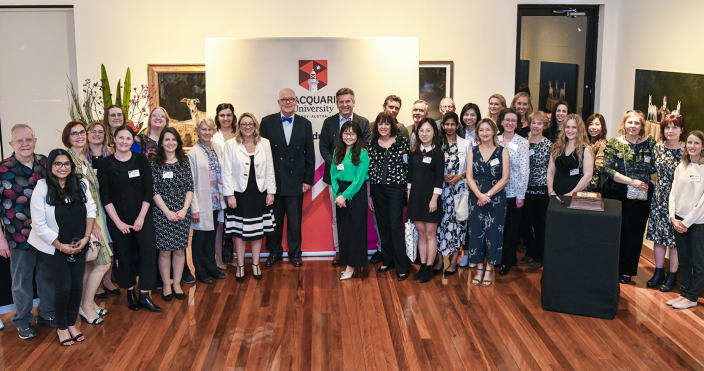 On 30 September, the Macquarie University English Language Centre (ELC) celebrated its 30th anniversary. Held at the Macquarie Art Gallery, the event was attended by the Vice Chancellor and other senior staff along with MUIC and ELC current and former staff, ELC alumni, and industry partners.
Professor S Bruce Dowton gave the welcome address around the importance of student success. Dr Pamela Humphreys, Director MUIC-ELC, provided a summary of the 30-year history and ongoing commitment to high quality English language provision at the Centre.
An ELC alumnus, Peace Cai, described his student journey from the ELC to completing his Master of Applied Linguistics, and a poem was written and delivered by Phil Radmall, Senior Teacher. This was a great opportunity to catch up with former colleagues, to acknowledge staff and to celebrate an important milestone.
---
International students meet their Mate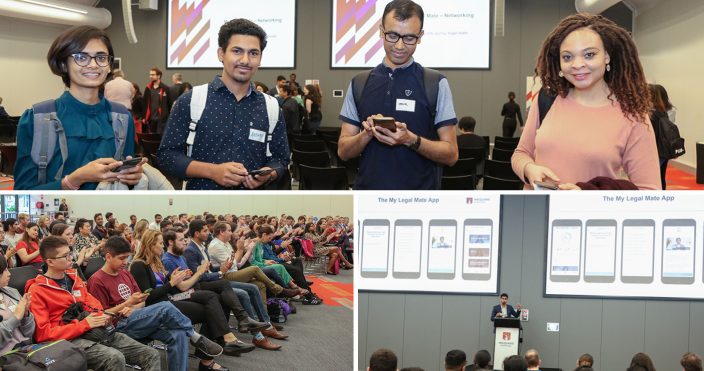 Professor Kevin Jameson, Deputy Vice-Chancellor (Academic) joined staff and students on 8 October for the launch of My Legal Mate – an innovative, multilingual app created by the Redfern Legal Centre.
The app – which provides international students at Macquarie with free legal advice and information – is the first of its kind at New South Wales, and is one of the many initiatives being driven by the University's Student Success Strategic Framework.
---
Fujitsu chooses Macquarie for first Australian digital transformation centre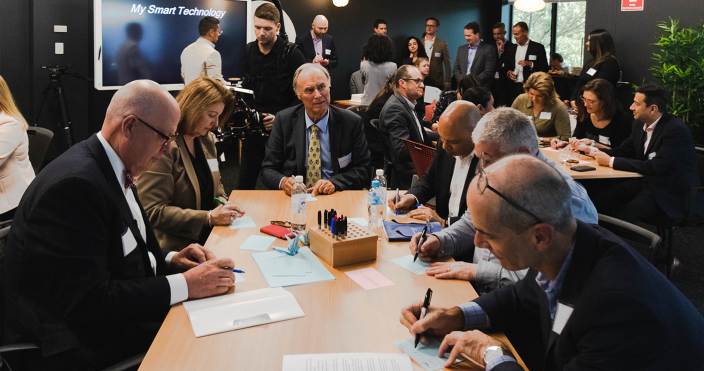 Japanese IT equipment and services multinational Fujitsu has chosen Macquarie as the location for its first Digital Transformation Centre (DTC) in Australia. The Centre was officially launched earlier this month, with Federal Member for Bennelong John Alexander OAM MP joining distinguished guests for the event.
The workshop space will see Fujitsu customers working with Macquarie researchers and students to create digital solutions.  Other DTCs are located in Tokyo, Osaka, Munich, London and New York.
Bernard Mans, interim Executive Dean of Science and Engineering says the collaboration will allow Macquarie's "talent and know-how" to help organisations create a clear roadmap to digital transformation success.
---
Clinical Education Building works progressing
Progress on the University's Faculty of Medicine and Health Sciences' new facility continues. The four-level Clinical Education Building will provide dedicated teaching, learning and study space from the first half of 2020 when completion is due. As evident from the images or by viewing from Innovation Road or Research Park Drive, the structure is taking shape. Works started in April this year and due to a construction method that uses on-site assembly of pre-fabricated timber and glass, the building is going up before our eyes.
Partners delivering the development include Architectus, Buildcorp and Arup in conjunction with the University's Property team.
For recent images and details about this project head to the project page.