Record funding for student mobility opportunities in the Indo-Pacific
22 October 2019
Macquarie University students will have more opportunities than ever to study and complete internships in the Indo-Pacific region in 2020, after projects totalling $2.4 million were awarded funding under the New Colombo Plan Mobility Program.
The 2020 funding outcome was announced by Senator the Hon Marise Payne, Minister for Foreign Affairs, Minister for Women, and the Hon Dan Tehan MP, Minister for Education last week.
The New Colombo Plan is a key initiative of the Australian Government aiming to enhance knowledge and engagement with the Indo-Pacific region in Australia by supporting Australian undergraduates to study and undertake internships in the region.
Macquarie received a record amount of funding totalling $2,403,450, more than double the funding received in 2019.
The funding will enable 481 students to travel to Asia for semester exchange or short-term programs between 2020 and 2023.
Destinations include India, South Korea, Philippines, Taiwan, Fiji, Singapore, Vietnam, China, Cambodia, Indonesia, Malaysia, Japan, New Caledonia and Thailand.
A total of 24 single- or multi-year projects were approved in the 2020 funding round, including:
Engineering exchange and internship in Japan, Thailand and Vietnam
Environmental studies and natural resources management in New Caledonia
Speech, hearing and research collaboration in the Philippines
Teacher education professional practicum placements in India and Fiji
Business Innovation Challenge in Singapore
Business semester exchange in Vietnam, India, Fiji and the Philippines
Security Studies semester exchange and language training in Taiwan and the Philippines
Korean Culture short term study in South Korea
India semester exchange and study tour for Arts students
PACE International mobility projects in Malaysia, Cambodia, China, Fiji, India and Indonesia
Global Leadership Program China Symposium
Pro-Vice Chancellor (International) Nicole Brigg says the grants provide opportunities for students to give themselves a global edge.
"Students will immerse themselves in the Indo-Pacific region, undertaking studies, gaining industry experience and learning about other cultures," says Ms Brigg.
"We are grateful for the Government's support in our efforts to nurture our students' global awareness and employability, while fostering Macquarie's strong ties across our region."
Filed under: Featured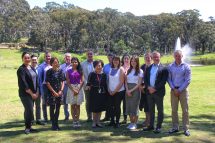 Media contact
02 9850 1055
View by category