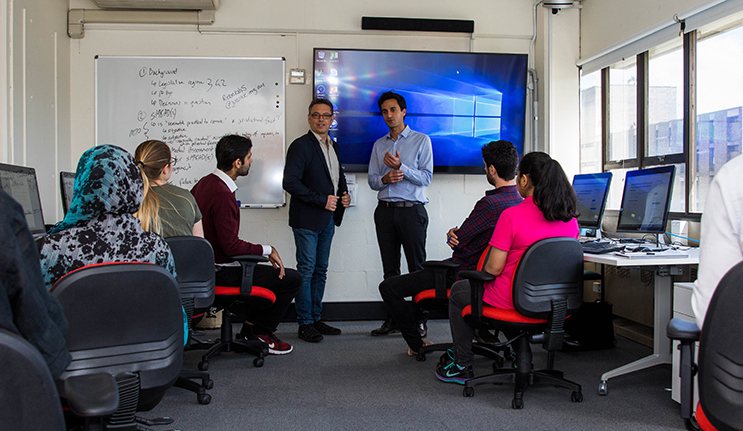 Macquarie Law School Social Justice Clinic
UNIVERSITY NEWS
The Macquarie Law School has a proud tradition of serving the wider community. Through the new Social Justice Clinic, law students partner with public interest legal practices to service pro bono cases.
The Macquarie Social Justice Clinic is a platform that allows the clinic to sustainably expand the legal services to those most vulnerable in society. Already, the clinic has assisted with successful challenges on behalf of refuges on Nauru and Manus Island to secure medical treatment and other facilities. The clinic has also assisted coronial inquests relating to aboriginal deaths in custody and medical negligence.
Macquarie Law School's commitment to social justice as a key component of legal education provides a US-style education experience for Macquarie law students through a satellite office at the Law School tied to partner public interest and social justice legal practices.
The Social Justice Clinic was founded by Dr Daniel Ghezelbash, who is Director of International Engagement at Macquarie Law School, and Adjunct Professor George Newhouse (Principal Solicitor at the National Justice Project) who have a long history of working together on pro-bono human rights cases.
"I want students to be able to critically engage with what it means to do social justice legal work," Dr Ghezelbash says. "Students must think about all the competing ethical considerations that come into play in this sort of work, where you've got the interests of the broader cause up against of your client."
History of the Social Justice Clinic
The Social Justice Clinic builds on the tradition that began in 1978 with the Macquarie Legal Centre – a community legal centre for low income earners. Since 2002, Legal Clinic and Access to Justice units in our law degrees has seen students partner with such groups as the Public Interest Advocacy Centre, the Aboriginal Legal Service and NSW Land and Environment Court.
Launched in October 2017, the Social Justice Clinic drew inspiration from the Harvard Law School, where Harvard's immigration law clinic is a legal practice set up by the university with a lawyer on staff running cases with students.
"Our Social Justice Clinic has many of the benefits of the Harvard model but instead we partner with institutions and, for just one day each week, we employ solicitor–teachers as academics who teach our students, in the context of the cases that they are running." says Dr Ghezelbash.
Social Justice is a key theme for the Macquarie Law School to address the issues we face as a society as they become more complex, and the need for justice and the rule of law will become even more pressing.
Mission
The Macquarie University Social Justice Clinic has the three-fold mission of:
1. Teaching law students lawyering and advocacy skills through practical experience in the provision of legal assistance to vulnerable groups and broader advocacy for issues concerning the public interest;
2. Providing legal assistance to those who may otherwise have no mean assessing it; and
3. Acting as a vehicle for progressive social, political and legal change through the running of test-cases and broader advocacy and policy work.
Benefits to students
Students who gain acceptance to the Social Justice Clinic work under the close supervision of solicitor-teachers on real world social justice cases, undertaking a range of activities including legal research and writing, client interviewing, and legal and non-legal advocacy.
Working face-to-face with their solicitor-teacher for one day a week in the clinic on campus, students also undertake an additional day of independent work per week outside the setting to complete online modules that deliver the knowledge and skills needed to participate in a clinical legal environment, such as confidentiality and privilege, ethical and reflective practice and research and writing skills.
Social Justice Clinic in action
The clinic partnered with the National Justice Project (NJP) with Professor George Newhouse, the supervising solicitor, working on campus each Friday with a group of eight students.
Their achievements during the inaugural 2017 semester include:
- assisting with a successful challenge to the government's ban on detainees having mobile phones in immigration detention
- advocating on behalf of numerous refugees and Nauru and Manus Island to secure adequate medical treatment, with students interviewing clients on Nauru and Manus Island using WhatsApp
- assisting with a number of coronial inquests relating to Aboriginal deaths in custody and medical negligence
- developing CopWatch, an advocacy campaign in train vulnerable communities with respect to the laws in relation to filming police offices as a way of documenting possible misconduct
- eventually the Clinic plans to scale to five groups, with a different partner organisation coming on campus each weekday, and forty students catered for in the clinic unit each semester.
The growth of the Social Justice Clinic provides our students with top learning opportunities while extending the services we offer and allowing Macquarie champion the vulnerable in our community, those unable to afford legal representation in times of great need.
For more information and to support the Macqaurie Social Justice Clinic
The Macquarie Law School is undertaking a major redevelopment of our University campus that will provide the Law School with a once-in-a-generation opportunity to accelerate decades of excellence in education and scholarly research for even greater impact on the complexities of law and society.
The Macquarie Law School campaign will raise funds to enable the University to increase its work with the wider community and educate a new generation of graduates with highly capable legal minds, well prepared with the adaptive skills to help society adjust to the upheaval caused by rapid social, economic and environmental change.
For more information and to support the Macquarie Law School Campaign
Matched: T9ZrN3rr7XU