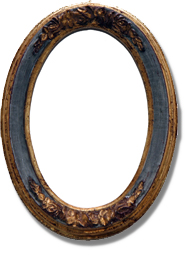 MOORE, Nancy [nee FLAHERTY]
(c.1798-1871)
Servant to the Macquaries. Wife of John Moore (c.1796-1877).
Ann ('Nancy') Flaherty was the daughter of a 'John Flaherty' of Dublin. [see: NSW Death Certificate: 16 January 1871]. The date of her arrival in NSW is unknown, and similarly there is currently insufficient evidence to fully identify of her parents, the details of their passage to Australia, or the name of the vessel.
At the age of 19 Ann Flaherty married John Moore (aged 21 years) at St. Philips, Sydney on 5 August 1817. Their first child, William, was born on 2 May 1818 and a daughter, Elizabeth, was born on 25 December 1820.
Nancy and her husband accompanied the Macquaries on board the Surry during the return voyage to England in 1822, however, there is no mention of their children William and Elizabeth in the listing of passengers in Macquarie's journal. Presumably they were left in the care of friends in the Colony.
In a letter addressed to Charles Whalan on 18 August 1823 Elizabeth Macquarie wrote:
"I hope that John & Nancy Moore are nearly arrived with you. I was never more shocked than when I heard of her having the Small Pox, do let me know if she be still marked, & if so, whether it is thought the marks will ever go off."
Nancy and her husband returned to Sydney on board the Mary on 19 October 1823.
There were 10 children from their marriage, though at least two (2) children died in infancy.* All the Moore children were born at Parramatta, with the exception of William, who was born in Sydney:
(i) William (1818-c.1890), christened at St Philips, Sydney.
(ii) Elizabeth (1820-1863), christened at St Philips, Sydney.
(iii) Henrietta (1825-1882), born on 31 January 1825 and christened a year later on 29 January 1826 at St Philips, Sydney; she died on 6 August 1880. She and her husband, Charles Bethel Lyons, were both buried in St John's Cemetery, Parramatta.
(iv) Mary Ann Jane (1827-1890), christened at St John's, Parramatta.
(v) John (c.1829-1856), christened at St John's, Parramatta.
(vi) Ann (c.1831-c.1859), christened at St John's, Parramatta.
(vii) Charles James Bennett (b.1834)*
(viii) Margaret Bennett (1836 -c.1904), christened at St John's, Parramatta.
(ix) James Bennett (1839-1920), christened at St John's, Parramatta.
(x) Thomas Bennett (b.1841)*
Family life centred around business interests in the Parramatta district and their daughter, Elizabeth, subsequently married George Rouse (1816-1888), son of Richard Rouse (1774-1852), Superintendent of Public Works (under Bligh and Macquarie).
Nancy Moore died at Phillip Street, Parramatta on 9 January 1871, and was buried in St John's Cemetery, Parramatta. Her tombstone and her Death Certificate [dated: 16 January 1871] record her age as 72, while the Burial Register for 11 January 1871 lists her age as 73. She predeceased her husband, John, by six (6) years.
NOTE: It is clear that 'Nancy' was NOT the daughter of Phoebe Flarty [also listed as 'Phebee Flartee', or 'Flarherty'(c.1772-1817)], who was transported to NSW in 1787 on board the Prince of Wales and step-daughter of Richard Podmore, a private in the NSW Corps. There has been a widespread assumption in most of the major secondary biographical sources that she was linked to this couple who were married at St. Philips, Sydney on 30 July 1810 after at least 10 years of co-habitation. Phoebe's children by Podmore were Ann (1799), Sarah (1803), Richard (1808-1887), Elizabeth (1813-1818), and George (1815), and a female child unnnamed and unidentified. Phoebe Podmore died on 27 January 1817. Richard Podmore was employed as a shoemaker in 1828, though his death date is currently unknown.
However this is a case of mistaken identity. Ann and her sister Sarah Podmore travelled between Sydney and Hobart on several occasions in the period 1817-1820. More importantly, the real Ann 'Nancy' Podmore was, in fact, killed in mid-December 1839 by her de facto partner William Curry (Currey or Currie), in Sorell, Van Diemen's Land. He was indicted for murder in January 1840, but only found guilty of manslaughter and sentenced to transportation for life. He was subsequently pardoned in May 1840.
[Revised version: March 2010]
References:
Primary Sources:
Whalan Family Papers 1791-1861. Mitchell Library, Sydney. [ML Ref: ML MSS 6].
Newspapers: Colonial Times (Hobart); Hobart Town Courier & Van Diemen's Land Gazette [1840: February 7]; True Colonist.
Secondary Sources:
Census of New South Wales November 1828. (eds.) Malcolm R. Sainty and Keith A. Johnson. Sydney: Library of Australian History, 1980. p.303.
Dunn, Judith The Parramatta Cemeteries St John's. Parramatta: Parramatta and District Historical Society, 1991 pp.149-150.
Gillen, Mollie The Founders of Australia: a biographical dictionary of the First Fleet. Sydney: Library of Australian History, 1989 pp.128-129.
The 1788-1820 Association's Pioneer Register (compilers) Dr. C. J. Smee and J. Selkirk Provis. Sydney: The 1788-1820 Association, 1981. [2nd ed.] see Vol. 1. [Entries for: 'John Moore' and 'Richard Podmore']
Parramatta Pioneer Register: Foundation to Federation. Parramatta: Parramatta & District Historical Society, 2000 p.161.
Personal Communications:
Carol Brill, Melbourne [2009-2010]
Alison Meldrum, Sydney [2010]
Return to: Profiles | Biographical Register