Tuesday 8 March, International Women's Day, is an opportunity to acknowledge the contributions made by Macquarie women to our University, the economy and our communities.
With this year's theme being "Planet 50-50 by 2030: Step It Up for Gender Equality", it is also a time to look at how women are progressing at Macquarie, especially in terms of positions of leadership and influence.
There is much to celebrate in this regard. Figures published in The Australian last month rank Macquarie as the third best university in Australia in terms of female representation in management.
The broader picture is also encouraging, as this snapshot – prepared with the assistance of the Equity and Diversity Unit – shows.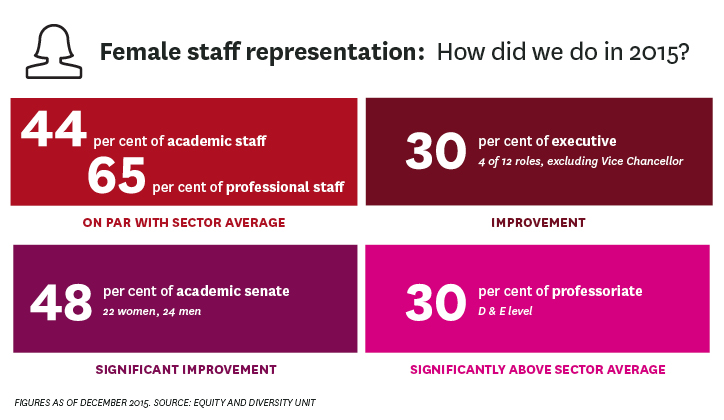 Kate Wilson, Director of Equity and Diversity says that while these are excellent results, there is always more to be done.
"The top areas of concern right now are the need to attract and keep women in the sciences (STEMM – Science, Technology, Engineering,  Mathematics and Medicine); the need for flexible workplaces which appreciate the complexity of women's lives; and the need to address the perennial issue of the gender pay gap."
"Macquarie continues to take action on all of these and gender is now explicit in the Vice-Chancellor's Key Performance Indicators and in high level University plans."
Kate encourages all University staff to join tomorrow's festivities, where they can find out how to support these initiatives and gender equality more broadly.
"I'd like to wish everyone a fabulous International Women's Day tomorrow. It's a day to celebrate, a day to reflect and a day to take action!"
__________________________________________________________________________________
International Women's Day at Macquarie
Date: Tuesday 8 March
Time: 12pm to 2pm
Location: Central Courtyard