Apple has identified in very rare cases, the two prong Apple AC wall plug adapter designed for use in Continental Europe, Australia, New Zealand, Korea, Argentina and Brazil may break and create a risk of electrical shock if touched. These wall plug adapters were shipped from 2003 to 2015 with Mac and certain iOS devices, and were also included in the Apple world travel adapter kit.
Identifying wall plug adapters
An affected wall plug adapter (pictured below) has four or five characters, or no characters on the inside slot where it attaches to an Apple power adapter.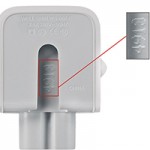 Safe adapters (pictured below) have a three letter regional code in the slot (EUR, KOR, AUS, ARG or BRA).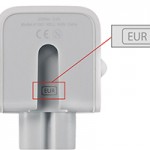 Exchange process
Apple are recalling all affected plug adapters and replacing with free new AUS redesigned adapters, in exchange for those impacted.
Note: This only applies to University purchased equipment.
For personally purchased affected equipment, contact your local Apple store directly.
If you are affected
Advise your Faculty/Office IT team and they will help facilitate this exchange. If you do not have an IT contact, contact the IT Service Desk at onehelp@mq.edu.au, or call 9850 1539 (HELP).