[Pictured above] On Sunday 4 October, teams of firefighters from Fire and Rescue NSW climbed the 1504 stairs of Sydney Tower to raise funds for our Motor Neurone Disease (MND) Research Centre. The fundraising teams smashed all expectations, with more than $170,000 raised to date. The fundraiser – which is hoped to be an annual event – was the result of efforts by NSW firefighter Matt Pridham, whose best friend Adam Regal was diagnosed with MND 18 months ago. Adam Regal is a patient of MND Research Centre's Dr Dominic Rowe.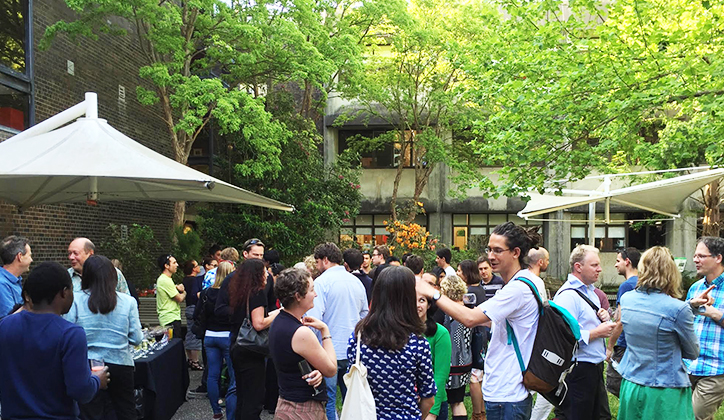 [Pictured above] A well-attended seafood soirée launched the Macquarie University Marine Research Centre (MQMarine) earlier this month. The new centre aims to enhance the University's current global leadership in marine research by uniting the existing strengths of its 15 marine-focussed research groups. The centre, headed by Professor Simon George, Dr Leanne Armand, Associate Professor Ian Goodwin and Dr Martin Ostrowski, includes rotating positions for Early-Career Researchers as representatives on the committee. "I am delighted by the large turn-out of Early-Career Researchers, who are a major force in the centre and are also a driver behind the centre's objectives that enable interdisciplinary connections with the purpose of developing innovative research initiatives," said Professor George.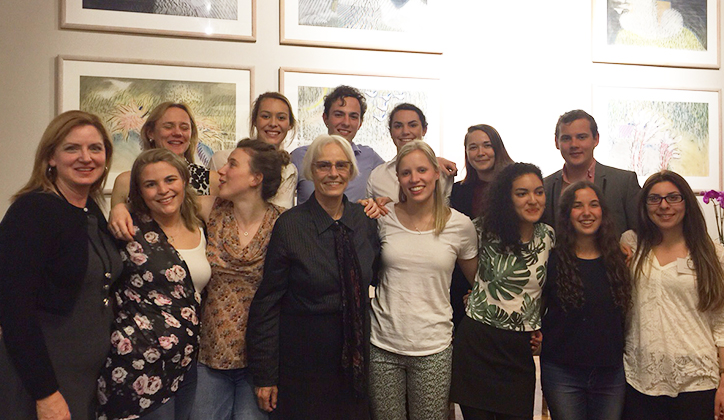 [Pictured above] Professor Angela Brew with students Chloe Bickersteth, Simone Ferrante, Trudy Green, Jack Klein, Emma Lawson, Zoe Purcell, Kristie McDonald, Aprill Miles, Natasha Parnian, Anthony Westenburg, Julianne Pascoe, Hannah Rapaport, Emma Williams and Jie Zhu – taken at the Fourth Annual Australasian Conference of Undergraduate Research (ACUR) held at the University of Western Australia in Perth recently. Professor Angela Brew, from the Learning and Teaching Centre says the standard of the group this year representing Macquarie was high-quality both in terms of the research presented and their presentation skills. "One supervisor said to me our students' presentations were better than many given by academics in disciplinary conferences," she says. "For the participating students, the experience was a huge stimulus to their own research and encouraged many to continue into further research and higher degrees."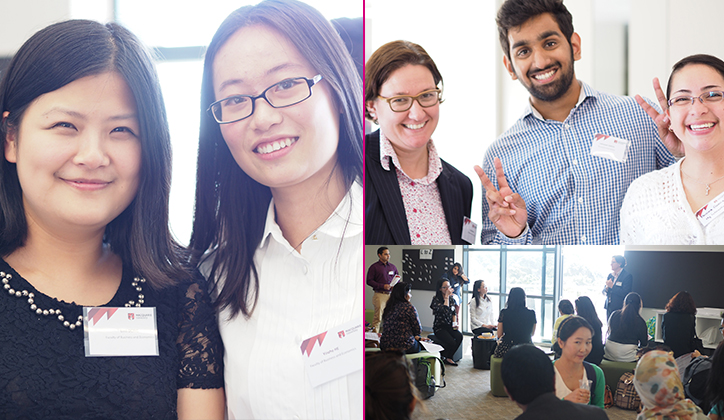 Following the successful Macquarie Scholars Connect Reception held earlier this year, Macquarie International recently hosted afternoon tea for more than 60 elite scholars, and staff. Kate Roth, Associate Director of International Academic Programs, Macquarie International, welcomed the scholars who commenced their studies in Session 2. The group, who represent some of the top one per cent of students on campus had the opportunity to network and learn more about all of the support services Macquarie provides.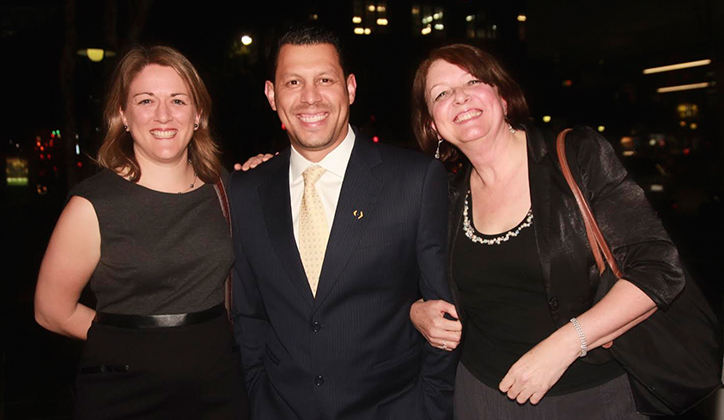 [Pictured above] Last week teachers and senior staff from the English Language Centre (ELC) attended the annual English Australia Conference in Brisbane. Congratulations to Jose Lara (centre) and Lesley Speer (right) with Sandra Pitronaci, who were presented with awards for Innovation, and Gamze Sayram and Mary Ann Chehade for being Highly Commended in the same category. Jose and Lesley also accepted the very prestigious award for Professional Practice. All four teachers were closely mentored and extremely well supported by Professor Phil Benson from the Department of Linguistics.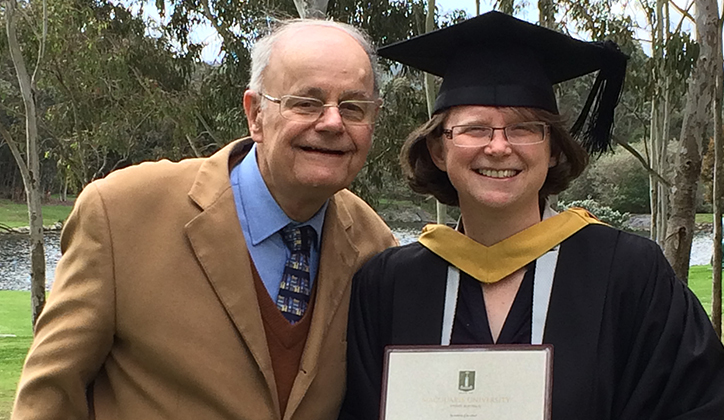 Dr Ken Meldrum, who was the first student to gain a PhD in Statistics at Macquarie in 1977, is pictured above with his daughter and Macquarie staff member Alexandra Meldrum from the Department of Marketing and Management. Alexandra was awarded Masters of Economics with a specialisation in economic analysis and policy during the recent September graduation series. Ken joined Macquarie as a member of staff in 1971 and lectured in statistics in the School of Economic and Financial Studies until his retirement in December 1994.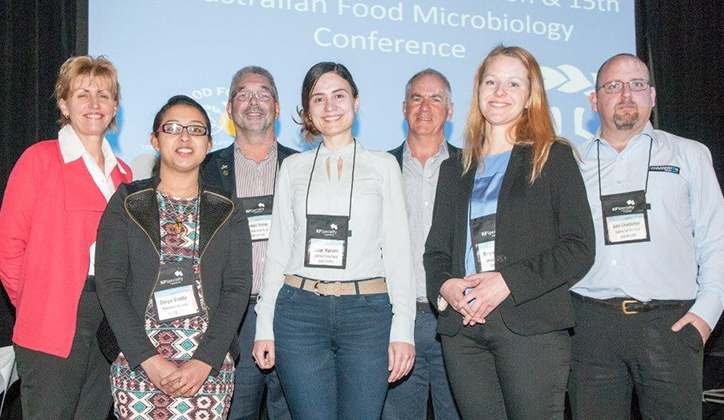 Congratulations to final year PhD student Hilal Varinli (pictured centre), who won the Young Professionals in Science Competition for her outstanding oral presentation at the Australian Institute of Food Science and Technology Convention. Hilal received the award in recognition of her outstanding presentation about the cost of high sugar diets on our fat cells, in which she explored prolonged high sugar exposure changes the way our fat cells function by changing the tiny chemical marks on our DNA. Hilal found epigenetics plays a role in manifesting how diet impacts our fat cells and her findings could lead to changes in the clinical management of obesity and diabetes.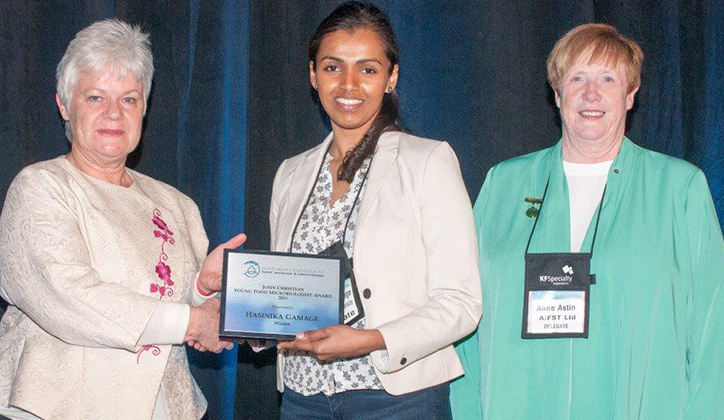 Congratulations to second year PhD student Hasinika Hewawasam Gamage (pictured centre) from the Department of Chemistry and Biomolecular Sciences on receiving the John Christian Young Food Microbiologist award (2015) at the 48th Annual Australian Institute of Food and Science Technology Convention. The award was presented based on an oral presentation of her research studying the impact of a fibre-rich nutraceutical named NutriKane on the gut microbiota and on host health.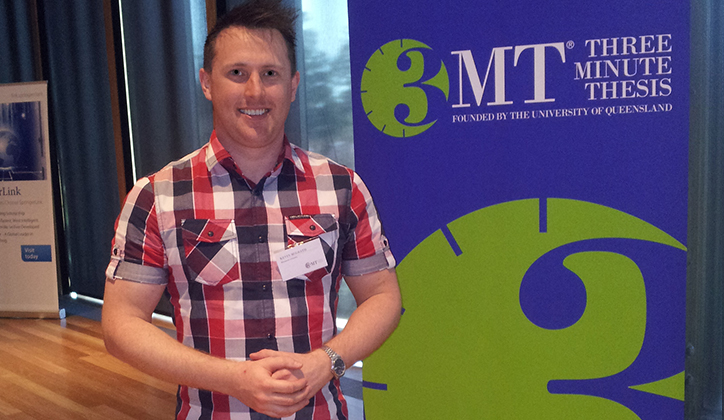 Kevin McGrath from the Faculty of Human Sciences presented his Macquarie 3MT-winning thesis "Will you be good!" Drawing connections between students and teachers at the Trans-Tasman 3MT event at University of Queensland on Friday 2 October. Kevin is currently completing a PhD in Education, with his research looking at primary school student-teacher relationships, with a particular focus on disruptive students and how their views compare to those of their teachers.