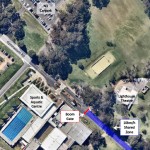 The installation of a boom gate on Gymnasium Road, past the Lighthouse Theatre driveway, will commence on Monday 19 October to establish a 'shared zone' for pedestrians and restrict vehicles into the campus core area, to create a safer, more pedestrian friendly and pleasant environment in the centre of campus.
Access to the 'shared zone' will be restricted to:
emergency vehicles
vehicles displaying disability permits (issued by the University or the Roads and Maritime Service)
service vehicles with University issued permits
utility authority vehicles
waste collection vehicles
delivery vehicles (food and beverage, courier services etc).
The boom gate will operate for approved users via their Campus Card or via call button (audio-video link) to the Security Office. The 'shared zone' will be signposted and line marked accordingly with a posted speed limit of 10km/hr. There will be no access to the 'shared zones' for the purposes of drop-off and pick up.
For more information contact Robert Alcock (robert.alcock@mq.edu.au) or call ext. 1362.