It's been a while since This Week featured a recipe, and given Easter, for some, is a time of over-indulgence, we thought we'd start with a healthy (but delicious) salad! This salad is one of Staff Café Head Chef, Housien Koussan's personal favourites. "It's always a crowd pleaser," said Housien.  "You can serve this salad as a healthy option for lunch or as a side with a roast dinner.  I currently have a very similar salad on the menu at Staff Café and it is a great hit!"
Roast butternut pumpkin and baby beetroot salad with pear and feta 
Serves: 10
Cooking time: approx. 45min
Ingredients
800g diced butternut pumpkin
400g whole baby beetroots (tin)
2 beurre bosc pears
400g feta cheese, diced
150g wild or baby rocket leaves
100g parmesan cheese, shaved
50g walnuts
Balsamic vinegar
Extra virgin olive oil
Brown sugar
Honey
Salt
Cracked black pepper
Method
Pre heat oven to 180°C.
Peel and dice the pumpkin in to 2cm chunks. Toss pumpkin in a bowl with olive oil and a pinch of salt and pepper. (You can also add thyme or sage as a tasty alternative).
Bake in the oven for about 15 minutes, or until the pumpkin is cooked through and is nice and soft. Allow to cool after cooking.
Drain the whole baby beetroots and slice in half. Toss in a bowl with a pinch of brown sugar, a teaspoon of balsamic vinegar and some salt and pepper. Place the beetroot on a baking tray and bake in the oven for about 15 minutes. Allow to cool after cooking.
Place the walnuts on a baking tray, drizzle with honey and bake for two or three minutes. Allow to cool after cooking.
Meanwhile, dice your feta cheese the same size as the pumpkin. Cut the pear into quarters (allowing for easy removal of the seeds), then slice the pear quarters into thin slices.
Balsamic dressing
In a bowl, combine 50ml balsamic vinegar with a pinch of brown sugar and a pinch of salt and pepper. Pour in 100ml extra virgin olive oil and whisk vigorously until it emulsifies. Taste, and season again if necessary.
To construct the salad, gently place your rocket on a platter and add the ingredients one by one in layers. Make sure the pumpkin, beetroot and walnuts have been left to cool for at least ten minutes before plating up the salad.
Top with the balsamic dressing and serve.
Tip: You can cook the pumpkin and beetroot up to three days in advance as they will keep in the fridge and still make a lovely salad. The walnuts can also be pre-roasted and kept in an airtight container at room temperature.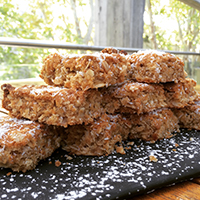 Have you dropped by the Staff Café lately?
During April, the Staff Café is running a great coffee deal: get a small coffee and an ANZAC slice for only $4.50. The Café as also open until 6pm on Thursday evenings, with an expanded beverage list and rustic bar menu including buffalo chicken wings and pizza fries. With this in mind, the Staff Café terrace is a great place to meet and mingle with colleagues on a Thursday afternoon. Definitely worth the walk to W5A!