Over the past year, staff and students have had the opportunity to be involved in setting the University's new strategic direction and celebrate our first 50 years of achievement. Last Thursday evening it was the turn of Macquarie's wider community to come together to hear about these developments and to re-engage with the University.
Held at Mrs Macquarie Point, the Jubilee Gala Reception involved key government and industry representatives, alumni and patrons, donors, honorary doctorate recipients and past University leaders.
"Tonight is an opportunity for us to be among friends old and new, to reminisce and to show you how far our University has come, how different we are, and how bright our future is," said Vice-Chancellor Professor S Bruce Dowton.
Guests were introduced to the Shared Identity brand project and encouraged to spread the word about Macquarie's bold vision for the future. They were also treated to a range of creative performances showcasing the depth of talent within our community. These included jazz from well-known Australian musician and Macquarie PhD alumnus Sandy Evans, as well as a lyrical contemporary dance, video and music piece – composed, produced, choreographed, directed and performed by Macquarie staff and students.
The event was deemed a great success in reconnecting with many influential supporters and in laying a platform for future fundraising campaigns.
Jubilee Trendsetter Panel and Alumni Reception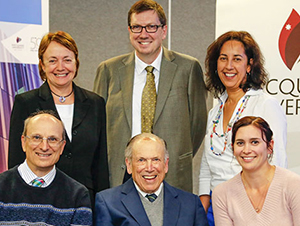 Over 130 guests from of the School of Education and Institute of Early Childhood (IEC) celebrated Macquarie's Jubilee recently with a special revival of the 'trendsetter' panels of the 60s and 70s. Find out more.