Spring is the perfect time to add a healthy salad to your repertoire. Staff Café Chef Manager Housien Koussan's delicious Mediterranean red quinoa and feta salad can be served as a side dish, or as the main event at a light lunch.
Wine recommendation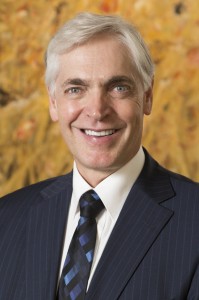 Thanks to an excellent suggestion from one of our regular readers, Professor Sakkie Pretorius, Deputy-Vice Chancellor (Research) has enthusiastically agreed to wine match all of our future recipes. Sakkie has a distinguished background in wine research and is an internationally recognised expert in the field, having held the positions of Director of South Africa's Institute for Wine Biotechnology at Stellenbosch University, and Managing Director and CEO of the Australian Wine Research Institute (AWRI) in Adelaide.
Sakkie says: "To best complement the dominant flavours in this week's recipe I'd choose a Pinot Noir. Ideally grown in cooler climates, top Pinot Noir wine regions in Australia are Tasmania, Adelaide Hills, Mornington Penninsula (Victoria) and Orange (NSW), so pick a bottle or two from these regions and enjoy your meal!"
Staff Café's Mediterranean red quinoa salad with feta

Ingredients
Serves 10 (as a side salad)
2 cups red quinoa
4 cups of vegetable stock or water
2 tbsp red wine vinegar
3 tbsp extra virgin olive oil
4 spring onions, chopped
1 punnet cherry tomatoes, quartered
1 cup feta, crumbled
2 cups baby spinach
1 cucumber, diced
1 bunch chopped parsley
Salt and pepper to taste
Method
In a pot, dry fry the quinoa on medium heat until you hear it make a popping sound (will take just a few minutes).
Add the vegetable stock or water and a pinch of salt and bring to the boil. Turn down and simmer uncovered for about 15 minutes until the liquid is completely dissolved and the quinoa has popped open and almost sticking to the bottom of the pot.
While your quinoa is simmering away, start preparing the rest of your salad ingredients ready to toss into your salad.
Place the cooked quinoa into a mixing bowl and fold all the ingredients through, keeping some feta aside.
Add the red wine vinegar and extra virgin olive oil to dress the salad and season with salt and pepper to taste.
Serve your fresh and healthy quinoa salad in a bowl and garnish with remaining feta.
Request your favourite Staff Café meal recipe for an upcoming edition: thisweek@mq.edu.au.