On a chilly afternoon last Tuesday, Professors Dominic Rowe AM and Gilles Guillemin took the Motor Neurone Disease (MND) #icebucketchallenge – a stunt that has gone viral globally and resulted in record fundraising for research into Motor Neurone Disease (also known as ALS or Lou Gehrig's Disease). Dom heads up the MND service in the Macquarie University Clinic, and Gilles is one of the leading researchers in the Macquarie MND Research Centre, the largest Australian research hub for this cruel disease.
Former Presidents, A-list celebrities, sports stars, business leaders, researchers and the general public have dumped a bucket of icy water on their heads, filmed it, and passed on the challenge to the next participant. Nominees have 24 hours to either accept the challenge or make a donation to MND/ALS research. Most choose to do both, creating a fundraising and promotional snowball that has seen donations flowing in to MND causes all over the world, including Macquarie's MND Research Centre.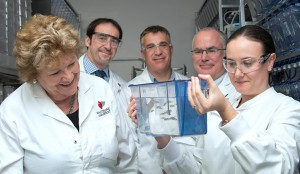 The Hon. Jillian Skinner, Minister for Health and Minister for Medical Research toured the MND research laboratories last week and was impressed by the pipeline between Dom's clinical service and the research facilities located a level below, including over 5,000 zebrafish, who hold the key to examining the progression of MND in motor neurones.
Minister Skinner also met with MND patients Kirsten Harley and Kon Vazouras, who were thrilled by the impact that the ice bucket challenge has had so far, with their children's schools getting involved and huge momentum within their local communities talking about the disease. Patients, friends and family have all been posting their ice bucket clips to the Macquarie team's Facebook page, where their respect for the team and support for their work is obvious.
With Australia's MND incidence increasing from 1 in 500 to 1 in 280 in the last 25 years, the team are investigating environmental factors, genetics and other 'clues' in the disease, as they hunt for a biomarker and new treatment discoveries.
Want to help the fight against MND? Donate or find out more about this research now.