Our biological sciences team have a decade-long tradition of taking time out in May to celebrate Eurovision, with an annual department morning tea.
They also maintain a blog on the topic – "The evolutionary paradox of Eurovision".
As the blog explains, "We are a group of evolutionary biologists who like to tackle paradoxes….and what is more paradoxical than Eurovision?? Every year in May, we dedicate ourselves to the cause, and review all the songs, make predictions and most of all, wonder why this event exists in the first place. The highlight of our research activity is the Eurovision sweepstakes culminating in the departmental morning tea, where winners and losers (often difficult to distinguish) are announced."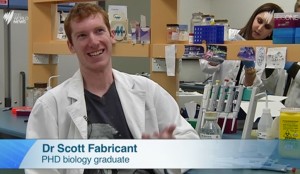 This year, SBS World News came out to interview the group, taking a light-hearted look at their animal sound analysis lab and the insight it offered into mating rituals and sex in songs. Airing the week before Eurovision finals, it showed Dr Scott Fabricant, Professor Marie Herberstein and Caitlyn Smith having a bit of fun in the lead up to the final results. Unfortunately copyright restrictions mean that the video is no longer online, but some screenshots reflect the fun had by all!