Staff and students from the Faculty of Science and Engineering have held their first Mudang Dali workshop to explore how Aboriginal and Torres Strait Islander Learning and Teaching content can be embedded in the University's natural sciences curriculum.
The full-day workshop saw attendees from the faculty treated to insights from Dharug Country Elder Uncle Chris Tobin and Wiradjuri woman Renee Cawthorne, a Macquarie alumni who is Project Manager of the Aboriginal Strategy and Programs at the Royal Botanic Garden Sydney.
Uncle Chris spoke vividly of his relationship to Country and encouraged the attendees to acknowledge respectfully the Dharug people as the traditional owners of Wallumattagal land when teaching or hosting events on campus. Renee shared outcomes from her own MRes research on Indigenous content inclusion in Australian university curricula and spoke about how to build long-term relationships with Aboriginal and Torres Strait Islander collaborators in teaching and research.
Participants had the rare opportunity to hear from four Macquarie students – Tahnee Bentley and William Frazer, both Indigenous, Mia Ferguson and Belinda Araghi. They spoke frankly about how they have experienced Mudang Dali at Macquarie, and why greater representation of Indigenous content and ways of learning, knowing, being and seeing is important to them and their peers.
The workshop was immeasurably enriched by the feedback and context provided throughout the day by Pro Vice-Chancellor (Indigenous Strategy) Dr Leanne Holt and Academic Director, Indigenous Learning and Teaching, Dr Joe Perry.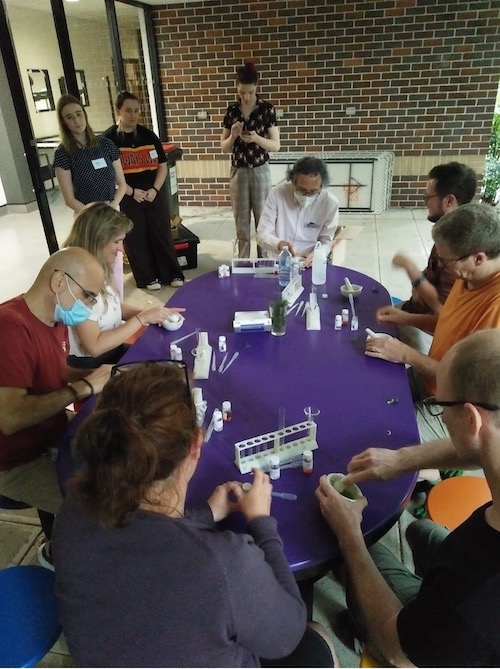 The workshop ended with a fun, hands-on demonstration of Mudang Dali curriculum content previously developed and taught by Associate Professor Joanne Jamie and Dr Fleur Ponton. Participants used New South Wales Aboriginal customary medicinal plants from the Natural Sciences 'bush tucker' garden and learned how a simple antioxidant assay can be performed using plant extract and Betadine.
"Overall, there is a sense that the work being done at the School of Natural Sciences in embedding the Indigenous connected curriculum in our courses is heading in the right direction," explains Jamie.
"However, many of us are still hesitant for fear of making mistakes. The consensus that emerged from this workshop is that nobody should fear mistakes. What matters most is respectful engagement and meaningful steps toward Mudang Dali."
The workshop formed part of a greater initiative by Jamie, as well as Professor Alison Rodger and Professor Anwar Sunna from the School of Natural Sciences, to promote Mudang Dali in natural science undergraduate teaching, and the Master of Biotechnology and Master of Research programs. The faculty supported this initiative through a strategic learning and teaching grant that allowed ARC Training Centre for Facilitated Advancement of Australia's Bioactives (FAAB) Centre Manager Dr Frank Stadler to explore barriers and opportunities for Mudang Dali, and to organise this workshop. It was also supported in part by funding from an Indigenous Learning and Teaching grant provided by the Office of the PVC (Indigenous Strategy).
If you are looking for ways to embed Indigenous content in units and courses, this article has some fantastic advice and practical examples from across the University.