Melanie Lewis, Expert in Residence at the Macquarie University Incubator, helps design and deliver innovative, immersive learning experiences to undergraduate, postgraduate and Higher Degree Research students and startup founders.
She has been part of the Incubator team for two years and is responsible for igniting the creative confidence of those who join the education programs. Program participants leave the Incubator with a design-oriented and entrepreneurial mindset that supports the complex problem solving they may encounter in their futures.
Lewis has a Bachelor of Science in Environmental Biology and a Master of Science in Ecological Research. Her thesis explored life history traits of a Lord Howe Island population of an endangered mainland fish species. As part of her research, she spent time on Lord Howe Island, blowing bubbles with fish and having barbecues with the local community, which "showed me how important it is to consider the human 'social' aspect of protecting nature".
Her current PhD research explores the role of Knowledge Innovation Communities in accelerating climate action. Her goal is to understand how to bring people together, foster diverse thinking capabilities and create responsible innovation that changes the world in a net positive way for a healthy planet.
---
 1. Something you'd like staff to know about
The Incubator hosts the Macquarie University Innovation Fellowship program, which connects students with Stanford University's Hasso Plattner Institute of Design. This month, one of our students will head to Stanford for an immersive learning experience alongside 400 attendees from around the world. It is an unrivalled opportunity for personal development and to represent the Incubator on the world stage. I'd love to hear from the faculties how we might involve their students in the program.
 2. Something you feel proud of
At the Incubator we are building a unique suite of add-on opportunities for Macquarie students. Students can join us to ideate social innovation in the Design Thinking Program and explore value creation in the START Program, as well as learn the art of pitching and extend their abilities to create meaningful change.
Students have told us that they appreciate connecting with people from across campus, learning interactively, building teams and having the creative freedom to develop their own views of the world. Under the Global Leadership Program, our courses help deliver future-fit students who are well equipped to be agents of change.
3. A person you admire at Macquarie, and why
I have many connections at Macquarie who wouldn't even know their impact. From my early days in ecology, Grant Hose taught me how to collect benthic organisms to monitor river health, Rob Harcourt and Jane Williamson inspired my activist side in marine conservation, and Melanie Bishop has shown me the value of persistence and the importance of research commercialisation. I also admire Melissa Ryan, Director, Incubation and Entrepreneurship, for her big vision for the Incubator to play on the world stage of creative and innovative thinking. Her support in developing our student offerings is unwavering.
4. What you need to do your best work
Just like most people, my best work comes from feeling inspired. Working among topics that are complex to solve such as climate change and sustainability transitions can make you weary. I find my inspiration in the stories of people who have thought outside the box. One of my catch phrases is "Think like the box isn't even there!". The way Leonardo da Vinci traversed disciplinary boundaries is my biggest inspiration and provides a beacon of light on dark days.
5. Something people usually ask you when they find out what you do for a living
The most common comment is about how I manage to wear so many different hats every day. All I can say is that I like my hatstand full – it keeps me challenged and moving.
6. Something you've read recently that has had an impact on you
I am currently re-reading the 1972 tome Limits to Growth. It makes me wonder what it takes for people to make the changes they need to do things differently. This motivates me to inspire younger people to design better, innovate more responsibly and consider planetary boundaries that have been ignored for so many decades.
7. A favourite photo from your camera roll
This photo could be from the depths of one of Sydney's urban national parks, however it was taken last week from the bridge outside the Incubator's new scale-up building at 3 Innovation Way on campus.
I spent some time there watching a longfin eel. The eel was roughly one metre long, which would put it halfway through its growth cycle. These eels are born in New Caledonia and migrate to Australia to grow in our freshwater streams. Once they reach about two metres in length, which could take up to 20 years, they migrate back to the oceanic water of their birthplace to spawn. Next time you walk past one of the streams on campus, be sure to keep a look out for these fascinating creatures.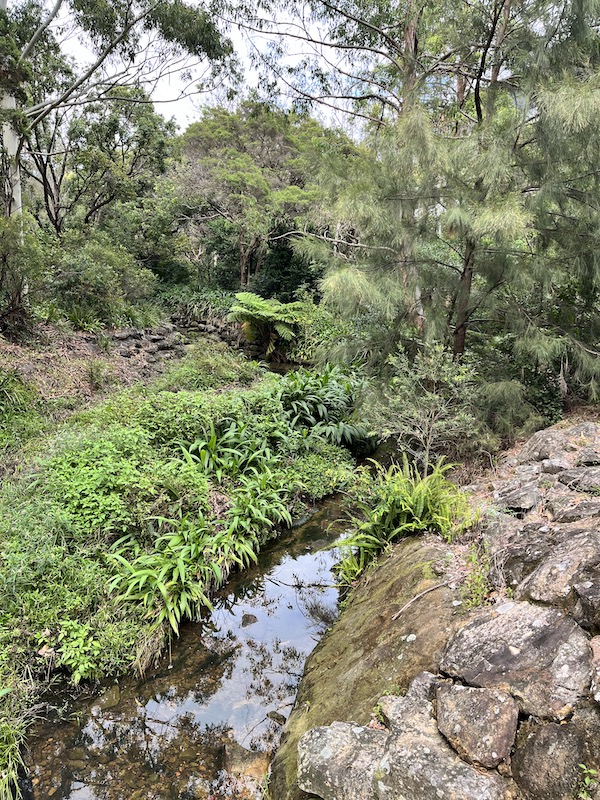 8. Where you live and what you like about living there
Although I love the ocean, I find my roots are regenerated most amongst the trees. I live adjacent to the Lane Cove National Park and get to experience daily visits from wildlife. We have a self-organised menagerie at my house, which reminds me we are part of nature and must not take it for granted, and instead, strive to protect it.
9. A personal quality you value in others
Authenticity is very important to me. I expect to see people true to their word, but also true to themselves. I enjoy seeing people take their journey to find their purpose.
10. I'm happiest when…
…I am solving problems. I love growing my toolkit and whipping out a creative exercise that sparks the imagination. Challenging our current understanding of things by looking through novel lenses and intentionally creating a different view is where true innovation comes from.
I love the quote: "We cannot solve our problems with the same level of thinking that created them." For climate change, past thinking got us in this mess, and future thinking will help get us out of it. That's what I hope to catalyse for the Incubator's students as they are the next generation of problem solvers.