Does your idea have commercial potential?
Join the Incubator's START Program and learn practical skills to validate your idea and market opportunity.
In this three-day highly interactive program, our expert-in-residence will take you on a journey using tools from LEAN startup and design thinking techniques to:
define the problem you are solving
test your hypotheses with end users, beneficiaries and stakeholders
articulate the value proposition of your idea
prototype your idea
build out your pitch deck and pitch your idea to sell to market.
Not only will you emerge from the program with more confidence about where to take your idea next – you'll also meet like-minded people from across the university who are on a similar journey and benefit from their networks, advice, peer support… and hopefully friendship!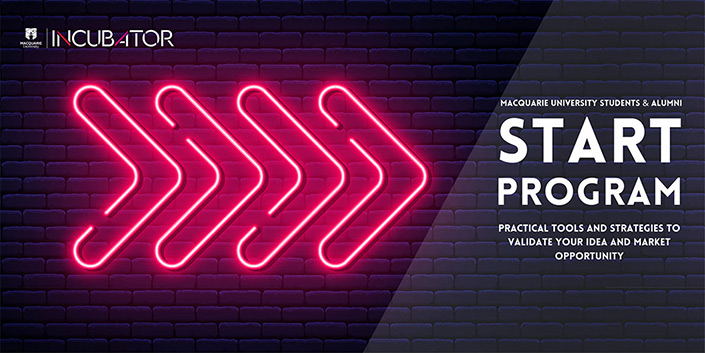 Eligibility
Current students and alumni of Macquarie University are eligible to be part of the program. To gain maximum value from the program, participants should be able to articulate the "idea" they are working on. It doesn't need to be in market, or significantly progressed beyond idea stage. You can work individually, or as part of a team.
This is a face-to-face program (subject to change pending any variation to COVID-19 restrictions). Students must be able to attend the Incubator between 9.30am and 4pm on the dates below.
Dates: Tuesday 13, Wednesday 14 and Thursday 15 July (mid-year student break).
Cost (excluding GST): $50 for Macquarie students or $100 for alumni. A separate payment form will be sent to you following registration.
Prize: $500 of cash prize money is up for grabs for the most appealing idea!
Recognition: Successful completion of the program will be recognised on your Australian Higher Education Graduation (AHEG) Statement upon graduation.