Sophie has been working in the university sector for a decade and has been at Macquarie for five of those years. She describes herself as being deeply devoted to, and passionate about, making positive and systemic changes on campus that create safer, more accessible and equitable access for students and staff.
Her current role at Macquarie as the Diversity, Equity, Inclusion and Belonging Lead for Campus Life sees her committed to challenging areas of the University to expand their capacity to promote diversity and create inclusive environments.
She initiates and advocates for programs that enhance the student experience and understands the positive impacts inclusion creates for student wellbeing and student engagement with university life. She is also the Chair of the Ally Network Steering Committee. This advocacy extends to her life outside of Macquarie as well. Being devoted to helping younger LGBTQIA+ people in their life and careers, Sophie mentors two young people through an organisation called Out For Australia.
Sophie is also on the Board for University Sport Australia and an Advisory board member for Pride in Sport Australia. Prior to joining Macquarie, Sophie was the Manager – Sport Development and Partnerships at Queensland University of Technology.
While sport, student advocacy and wellbeing are Sophie's professional interests, outside of Macquarie she owns and runs two restaurants in her hometown.
Growing up in Forster (also her favourite part of the world) it's no surprise Sophie is also a lifelong and passionate surfer, and while she was on the junior world tour once upon a time, now she just describers herself as a 'regular surfer' (so she is on the board daily at sunrise, of course).
---
1. Something you'd like staff to know about
The Drag Bingo event the Ally Network and Queer Collective have put together to acknowledge and celebrate International Day Against Homophobia, Biphobia, Interphobia and Transphobia –IDAHOBIT. This event is also raising funds for an LGBTQIA+ organisation in Lismore that was decimated by the floods and needs help. The event is on tonight (Tuesday 17 May) and all are welcome. We're also selling rainbow cupcakes at selected Campus Life food and beverage outlets, so look out for them today when grabbing a coffee!
Since the Lismore floods I have been up there twice to volunteer on a 'mud army' crew and having seen the devastation first-hand and having lived in Lismore previously I think about the people up in Lismore and the northern rivers every day. Showing up there to help was the only thing I could imagine doing, I couldn't not go up as I believe a core part of my value is showing up and 'putting boots on the ground' – whenever and wherever you are needed.
Outside of this targeted support at a time in need for the Lismore community, I think it is vital that we amplify the voices of our LGBTQIA+ community and visibly and tangibly support our students and peers. Staff play a crucial role in creating safe places for LGBTQIA+ students on campus, and we own the community our awareness, energy and response when we are called on by our student community.
Now, more than ever we must show up for students and our peers, change behaviours, have conversations and do something you have never done before in order to remove the barriers and discrimination that the LGBTQIA+ community face on campus and in our communities. Our students and peers need us!
2. Something you feel proud of
Macquarie University Sport was recently awarded the Pride in Sport organisation of the year! This is such a wonderful achievement by our Campus Life team, and I am beyond proud of the work we have done to create safe sporting programs and facilities for the LGBTQIA+ community.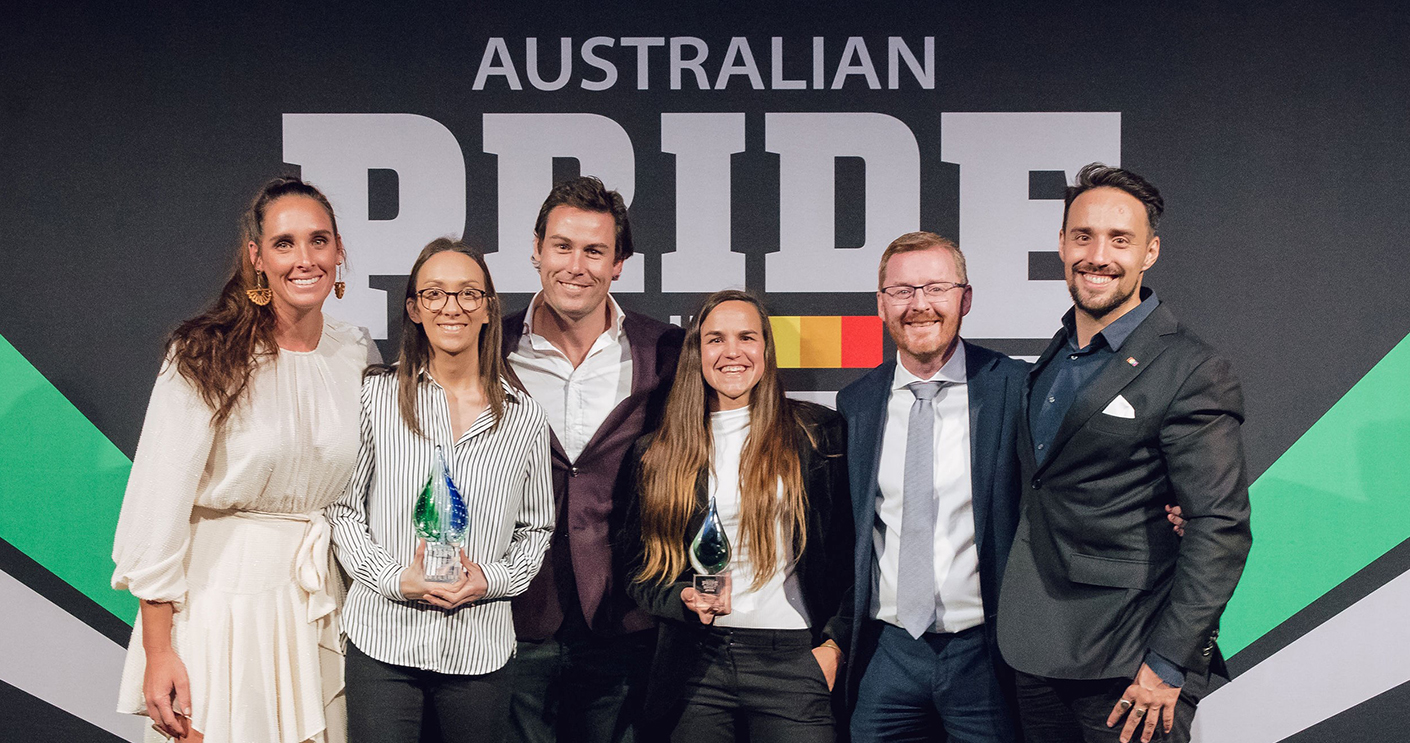 3. A person you admire at Macquarie, and why
Professor Ronika Power. Ronika is unapologetically and authentically herself in every room she walks into. She leads and moves with her values, commits to what is right and true and creates accountability for others along the way. The joy, passion and energy she has for education, Macquarie and most importantly, life is something you feel when you speak and work with her.  As the saying goes, you should always give people their flowers and Ronika deserves the whole florist shop for what she does for our campus community.  She's also the ultimate hype person.
4. Something you've read recently that has had an impact on you
White Fragility – Why it's so hard for white people to talk about racism by Robin Diangelo.
5. A favourite photo from your camera roll
I own two restaurants with my sister, brother-in-law and our friend. This is the one-year birthday party for our first restaurant Isola Riva, something we are incredibly proud of. We love our creations and are proud to be building long-term businesses in our community.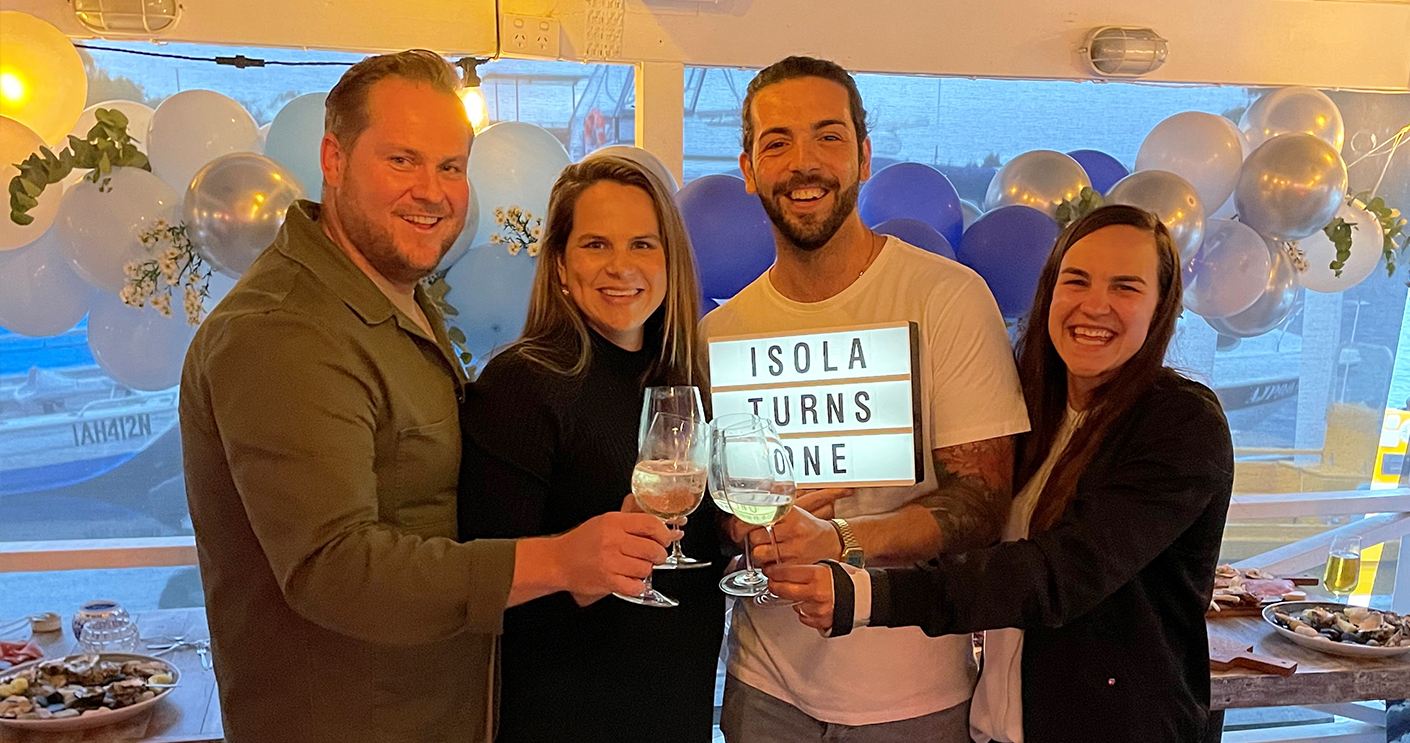 7. Your definition of success
Making decisions and creating behaviours that are driven by and reflect my values, in work and life. This version of success for me is to be truly proud of what I do, how I work with others and how I show up for the people I care about.
8. The first person you go to for advice (and why)
I'm usually the person other people come to for advice in life and at work, so it depends what it's about. However, I did call my dad last year when I found a tick on my leg after a hike, so I guess some things don't change!
9. A website or app you can't live without (and why)
WillyWeather – my daily surf report/forecast for swell, wind, and tides.
10. Where you live and what you like about living there
I live on the lands of the Gayamaygal people – Queenscliff on the Northern Beaches. I love living there because I live right on the ocean and it keeps my small coastal town heart happy, almost as though I don't live in a city.
11. I'm happiest when…
I am in the ocean with my family, partner and loved ones.