Macquarie University Sport was recognised for the second consecutive year at the annual Australian Pride in Sport Awards in Melbourne on 27 April, winning 2022 Sporting Organisation of the Year.
At the Wednesday night event in Melbourne, Macquarie was also one of only five Australian sporting organisations to achieve the Gold Tier in the Pride in Sport Index (PSI), a national benchmarking instrument used to assess LGBTQ inclusion within Australian sport.
"I am really proud that we have won these awards. Universities play an important role in the Australian sporting landscape, especially when it comes to supporting anyone who wants to participate in sport and wants to feel welcome to do so.  We are blazing a trail for other universities to follow," says Campus Life CEO, Pete Boyle (pictured below with fellow staff members, Brett Morley and Sophie Curtis).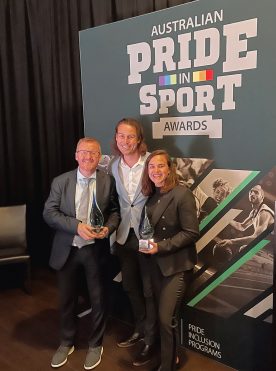 Pete says that Campus Life don't do this work to receive awards, but the recognition validates the efforts of very dedicated staff and students.  The work done over the past two to three years has positively contributed to how the University designs and delivers inclusion strategies across the entire University.
"We are proud to create safe spaces for everyone, but our work isn't done.  We will continue to try and be better and we remain committed to ensuring that sport is available to all. All Macquarie people can lead happy, healthy and active lives, while being exactly who they are," says Pete.
The annual Australian Pride in Sport Awards brings sporting organisations from across the country together to celebrate the work and effort towards ensuring LGBTQ people are more included in all aspects of sport. Pride in Sport is the sport inclusion arm of ACON, and the world's first and only membership and benchmarking program specifically designed to help include people with diverse genders and sexualities in sport.
The Pride in Sport Awards acknowledge sporting organisations' achievements and hard work in increasing LGBTQ inclusivity across all areas of their operations and programs, with a range of sporting endeavours honoured, from individuals and coaches, to media, and community sporting teams, as well as state and national sporting bodies. Sporting Organisation of the Year is awarded to the organisation that records the highest scoring across all sporting bodies that enter. Macquarie University has been an active member of Pride in Sport since 2019 and has now won Gold two years in a row.
Find out more about Macquarie University Sport's LGBTQ+ inclusion, including resources and their inclusion policy.
Macquarie University Workplace Diversity & Inclusion Ally Network intranet resources and information.
Pictured above in main photo: Macquarie University's Brett Morley, Manager – University Sport (at front, crouching), Sophie Curtis, Diversity, Equity, Inclusion & Belonging Lead (behind Brett in black top), and Pete Boyle, CEO – Campus Life (third from right). Photographed with other 2022 winners from around Australia.