There is no doubt, it's been a pretty tough year for research. With many research programs disrupted due to the COVID-19 pandemic, and related financial pressures impacting funding, Macquarie researchers (and the staff who support them) have had to dig deep to continue to produce the quality of research for which our University is renowned.
This perseverance was recognised earlier this month, when the Deputy Vice-Chancellor (Research) Professor Sakkie Pretorius was joined by senior research leaders to deliver the University's annual Research Weather Report.
Acknowledging the continuing challenges facing the research sector, Professor Pretorius said there was much hope and optimism to be gained from the success of Macquarie's Strategic Research Framework over the last five years, and thanked Macquarie staff for their contribution to this success.
"Our publications have increased by 35 per cent, 100 per cent of our research is now rated as world class or above at two-digit level, our HDR completions have increased 89 per cent and our external research income by 76 per cent, and we're now one of the top 200 universities in the world. These are remarkable achievements."
Among the many highlights shared by Professor Pretorius was the University's outstanding grant success achieved to date in 2021 (as shown in the YTD summary below). He noted that despite the difficulties of the past 18 months, the University was on track to exceed $85 million in annual external research funding for three consecutive years – demonstrating the teamwork and commitment of Macquarie academics and professional staff to nurture shared research aspirations through adversity. 
"We have a culture of consilience across Macquarie where we work very well together – it's what differentiates us as a distinctive university," he said. "Multidisciplinary' and 'interdisciplinary' are not just catchphrases here – we live and breathe it."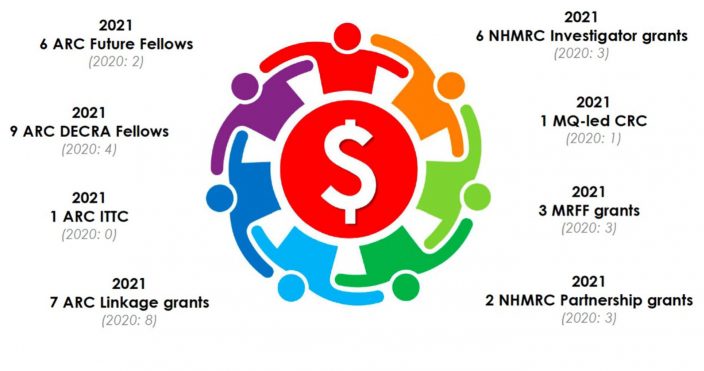 Although some research targets have been adjusted to accommodate the impacts of COVID-19, and a number of challenges still lie ahead, Professor Pretorius emphasised that Macquarie's strong culture of consilience and innovation – supported by strategic initiatives within the Focused Investment in Research stream of the Operating Plan and the targeted use of COVID recovery support funding – would help keep the University's research on an upward trajectory.
Ensuring learning and teaching and research imperatives are synchronised and complementary will ensure both financial sustainability and academic excellence for Macquarie moving forward, Professor Pretorius argued.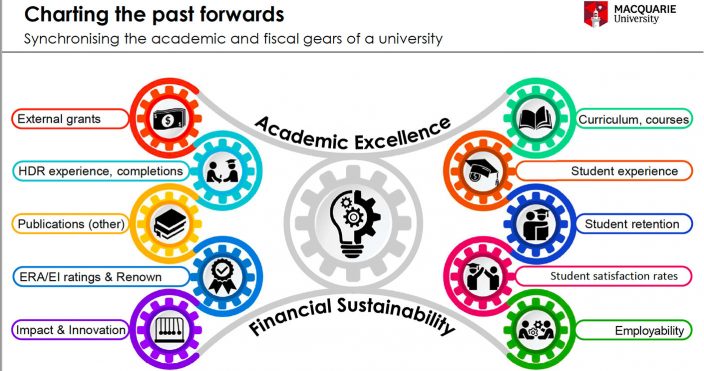 "So, we don't have to fear the future. We are that future. We can build back better."
---
Watch the full Weather Report presentation, including the Q&A session with senior research leaders: