Macquarie's moot team joins Cambridge in the world's top 16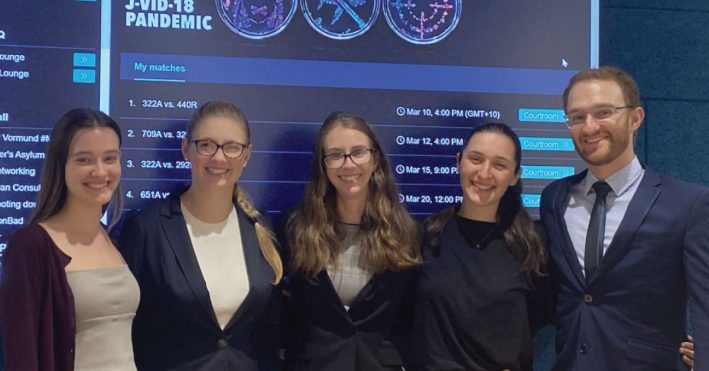 L-R: Abbey Cooper, Caitlyn Hoffmann, Cara Boljevac, Madison Cotton, and Paul Kaletsis.
Congratulations to the Macquarie Law School team which made it to the global final 16 of the Philip C. Jessup International Law Moot Court Competition – the world's largest moot competition with 576 teams from 90 countries competing this year.
The team – who are coached by Macquarie law alumnus Fareed Qureshi and Dr Shireen Daft –  performed remarkably well across the competition with a 5th place for Combined Memorial Scores, 6th place for Best Individual Oralist and 5th for Best Overall Respondent Slide. Other universities in the top 16 included the University of Cambridge and the National University of Singapore.
---
A global top 20 for the Global MBA
Macquarie's Global MBA has been ranked #2 in Australia and #19 worldwide in the QS 2021 rankings of online MBA programs.
"We're delighted that the Global MBA has been listed in the top 20 online MBA programs globally, and we are particularly proud to be ranked number one for class experience," says Executive Dean of Macquarie Business School, Professor Eric Knight.
---
Clinical ethics pioneer honoured
Flinders University has recognised the pioneering work of Professor Wendy Rogers with a Distinguished Alumni Award for her distinguished leadership, advocacy and commitment to the field of medical ethics.
---
Grants
The Ian Potter Foundation will support a new project led by Macquarie University and the Sydney North Primary Health Network to address the under-identification and under-treatment of mental disorders in older adults and to tackle the growing problems related to loneliness and social isolation in this population.
Professor Viviana Wuthrich of the Centre for Ageing, Cognition and Wellbeing will receive $587K from the Foundation to lead the five-year project, working closely with colleagues including  Professor Simon Willcock, Professor Mike Jones, Dr Henry Cutler and Dr Carly Johnco.
---
Congratulations to Professor Dali Kaafar, Director of the Optus Macquarie University Cyber Security Hub, and Dr Muhammad Ikram from the Department of Computing who have secured a $1.1 million grant in the Defence Science Partnership Program. They will be looking at automated systems to deal with malware threats.
---
Macquarie School of Education's Associate Professor Fay Hadley with Professor Linda Harrison and colleagues at QUT and ECU, have won a tender bid for the ACECQA National Quality Framework Approved Learning Frameworks Update. The tripartite partnership team was awarded $669,763 from ACECQA to lead the revisions of the two Early Childhood frameworks – The Early Years Learning Framework (for prior to school settings) and the My Time Our Place Framework for outside school hours care services. This 13-month project will capture all stakeholders' views across Australia, including children and young people's voices on these frameworks.
---
If you have an award or achievement to share with the Macquarie staff community, let us know.