Partnering for success: Vice-Chancellor Professor S Bruce Dowton and Asutralian National University Vice-Chancellor Professor Brian Schmidt, with senior leaders from both institutions.
Macquarie and ANU team up on international engagement
On Monday 12 April, Vice-Chancellor Professor S Bruce Dowton hosted a senior delegation led by Professor Brian Schmidt, the Vice-Chancellor of the Australian National University (ANU) to establish a collaborative partnership for international marketing, recruitment and engagement.
The two universities will work together to share insights and develop strategies for enriching the international student experience and extending the global reach and influence of the two universities. While the collaboration is being led by the respective international offices, academic and research opportunities are also being explored as part of the partnership.
---
Connecting the dots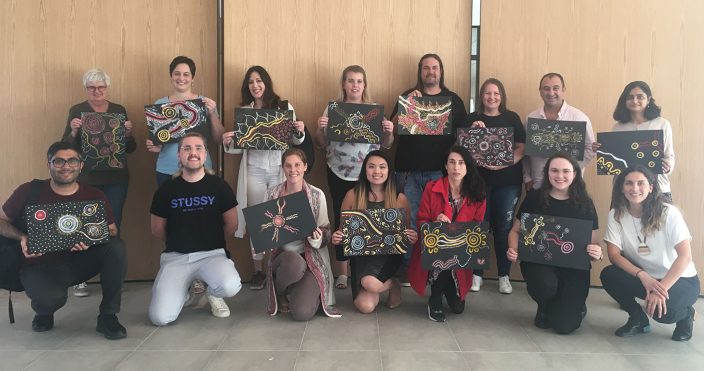 Always a hugely popular activity in Macquarie's staff wellbeing program, Sarah Halwani's drawing workshops give staff a chance to come together for creative activities that encourage mindfulness, self-awareness and better mental health.
The March workshop was particularly special, with Macquarie student and indigenous artist Dylan Barnes facilitating a session focused on Indigenous symbols, with the group reflecting on ideas around connection, identity and belonging.
"The participants came to the workshop with open hearts and minds, and the works that emerged were so vibrant and full of depth and meaning," says Sarah. "These workshops have such wonderful benefits for staff."
The Macquarie University Art Gallery is hosting a Creativity and Wellbeing Workshop on Wednesday 26 May, facilitated by artist Rhonda Dee. Visit the Art Gallery webpage for more information.
---
A very hairy (but definitely not scary) encounter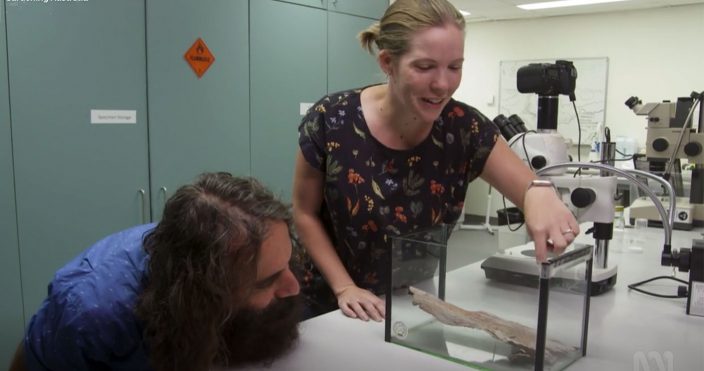 Australia's favourite bearded gardener Costa Georgiadis paid a special visit to campus recently for a lesson in all things arachnid from urban ecologist Dr Lizzy Lowe.
You can watch the episode on ABC iView (the segment commences at approximately 25 minutes).
---
RRRaring to go
Last month saw the launch of My Town, a moving collection of personal narratives shared by Macquarie students from regional, rural and remote (RRR) backgrounds who have left their hometowns to pursue higher education. 
The collection includes videos and podcasts created by the Widening Participation Unit in collaboration with community radio station 2SER and Macquarie PACE and Media students. 
"My Town highlights the stories, achievements and challenges of our RRR students," explains Carolina Morison, Senior Evaluations Officer in Widening Participation. "It's a celebration of their learning journey, as well as a source of inspiration and motivation for younger students from RRR backgrounds considering higher education."