AAO-Macquarie's Dr Ángel R. López-Sánchez is one of 11 inaugural residents of Sydney Observatory (Photo: Sydney Observatory)
International honour for pioneering biologist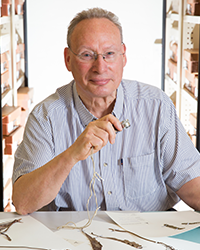 Emeritus Professor Mark Westoby from the Department of Biological Sciences has been jointly honoured in the BBVA Foundation Frontiers of Knowledge Award in the Ecology and Conservation Biology category for "expanding the concept of biodiversity," through "pioneering work to discover, describe and coordinate the measurement of plant functional traits."
In congratulating Professor Westoby on the award, Deputy Vice-Chancellor (Research) Professor Sakkie Pretorius pointed to the outstanding quality of his science, and the extent of his impact and global thought leadership.
"Macquarie is fortunate that Mark has invested his career here –I know that he is a towering figure of inspiration to many biologists," says Professor Pretorius.
Read more about Mark's work and the award >>
---
Macquarie astrophysicist selected for Sydney Observatory's inaugural residency 
program
Dr Ángel R. López-Sánchez (main picture) from AAO-MQ was announced as one of 11 residents for the program which launched last year. Over 700 applications were received from established and emerging academic researchers, artists, scientists and creative organisations.    
The program offers space in-kind at the Observatory and will see the residents collaborate with the Museum on projects that engage audiences with the Observatory's disciplines, collection and program. 
Join Ángel at the Observatory's February Southern Sky Livestream event on 20 February.
---
The Oceanography Society's 2021 ECR Award goes to….
Dr April Abbott, from the Department of Earth and Environmental Sciences, for contributions to chemical oceanography, providing a new view of the marine rare earth elements (REE) cycle, and training the next generation of ocean scientists.   
The Selection Committee highlighted, in particular, April's research on the cycling of REE in the ocean identified major benthic fluxes of REEs, which if integrated to basin scale are of sufficient magnitude to balance the global budget – a breakthrough for a longstanding puzzle in the field. 
---
A 
precinct 
we can be proud of
Our stunning Arts Precinct has won the Association for Learning Environments Australasia (LEA) 2020 NSW Award for best New Construction/New Individual Facility-Over $8 Million. The LEA judges praised the redevelopment, describing it as "contemporary and responsive to the educational needs of now and in the future". 
---
Australia Day honour for historian
Emeritus Professor John Melville-Jones – an Associate Member of Macquarie's Centre for Ancient Numismatic Studies – was awarded Member (AM) in this year's Australia Day Honours list for his significant service to tertiary education in Greek, Roman and Byzantine history and numismatics.  
Professor Melville-Jones received the honorary degree of Doctor of Letters at Macquarie University in 2016.
---
Grants
Professor David McAlpine, Director of the Department of Linguistics, Professor of Hearing, Language and The Brain, and Australian Laureate Fellow has been awarded £118,000 by the British Tinnitus Association for a study that aims to develop a reliable measure of the hearing condition, tinnitus (more commonly experienced as 'ringing in the ear') using artificial intelligence (AI).
The three-year research project will involve a team of international researchers that will use recordings of brain waves to investigate the causes of tinnitus. 
Findings from the study have the potential to guide new treatment options for people with tinnitus.
---
Dr Nan Xu Rattanasone, Research Fellow in the Department of Linguistics, has been awarded a $172, 430 NSW Government education grant for an inter-faculty collaboration with the Macquarie School of Education, titled "Enhancing the learning outcomes of children from diverse language backgrounds: Building evidence on bilingual education." The team includes Jae-Hyun Kim (Linguistics), Sue Ollerhead (Education), Scott Barnes (Linguistics) and Shirley Wyver (Education). 
Dr Rattanasone's research focusses on language acquisition in children and those with hearing loss, as well as adult second language learners. Her work has helped develop language assessments especially designed for bilingual preschoolers.   
---
If you have an award or achievement to share with Macquarie staff, let us know.