As our Strategic Research Framework 2015-2024 reaches "half-time", Deputy Vice-Chancellor (Research) Professor Sakkie Pretorius outlines the University's refreshed set of research goals in response to a much-changed external landscape.
Almost 600 staff joined Professor Pretorius at his first virtual annual Research Weather Report, where he thanked staff for making the first five years of the Framework such a success and outlined the University's roadmap for research excellence over the next half-decade.
With the Operating Plan's Focused Investment in Research priority informing key elements of the refreshed Strategic Research Framework (Research Strategy 2025), the goal of the update is to make sure Macquarie stays on track to achieve its research aspirations despite "the arrival of a virus that turned the world upside down" and other changes in the research environment.
He pointed to the major achievements of the strategy at the halfway mark and thanked "every single academic; every single HDR student and their supervisors; and all of the support staff" for their individual contributions to this success.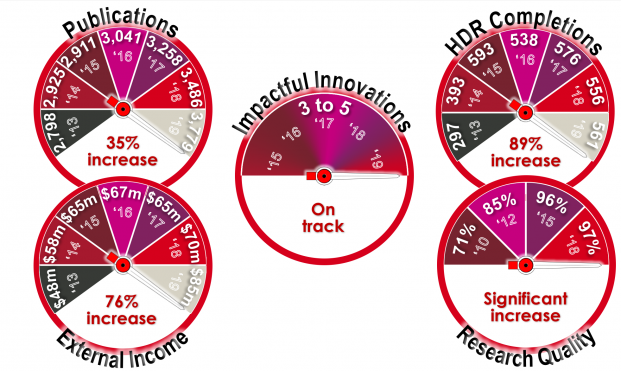 Moving from success to significance
Looking ahead to the next five years, Professor Pretorius said the ultimate goal remained unchanged: "world-leading research with world-changing impact". But he acknowledged that workforce and funding changes across the sector called for a revision of some 2024 Research Targets, with a 20 per cent reduction in publication, research income and HDR completion targets.
"But quality targets have not changed," he emphasised. "I am confident of achieving a rating of 'world-standard' or above for 100% of our research at 4-digit level in ERA 2023 and we're still aiming for a sustainable position in the top 200 in terms of international university rankings. I believe we can do this."
Professor Pretorius said he was also excited to be on track for achieving our target for major research innovations, pointing to the successful Modular Photonics spinoff as a standout example, as well as the recent neurodegenerative gene therapy breakthrough which is expected to become "a major spinoff with major global impact."
FOCI – a new approach to internal research funding
Professor Pretorius outlined the new FOCI [Focus, Opportunity, Consilience, Impact] approach to internal research investment, noting that cultivating multi-disciplinary research was key to achieving impact in the emerging research landscape.
"We will collaborate more. And we will fund that collaboration," Professor Pretorius said.
The bid-based FOCI mechanism will see faculties submitting cases for investment in near-term, mid-term and longer-term research opportunities, with clear principals guiding investment decisions.
Professor Pretorius made it clear that the University would continue to support research excellence wherever it occurs, but FOCI investments would be made with an increased strategic focus on multi-disciplinary research in areas of strength, and stronger accountability around quality, productivity and outcomes.
Watch the 2020 Research Weather Report (Q&A commences at the 58 minute mark):
This video is hosted on Microsoft Stream – part of the Office 365 application suite, available free to Macquarie staff.  To turn captions off, click on the 'CC' icon on the bottom right of screen.
---
The refreshed Strategic Research Framework (Research Strategy 2025) will be available for viewing before the end of the year.