Debbie Haski-Leventhal is a Professor of Management in the Macquarie Business School.  Her book The Purpose-Driven University explores how institutions like Macquarie are moving beyond traditional teaching and research missions towards being a broader 'force for good'.
Here she explains how the University's new Operating Plan has helped us reconnect with our shared purpose as a university of service and engagement.
---
It was about four years ago that I was inspired to look at how Macquarie University can become a purpose-driven university or a "transformational university". Working with a wonderful team of leaders around the institution, we have put together ideas on what can be done.
These efforts led me to start diving into the concept of a purpose-driven organisation and to seek inspirational examples of universities that are strongly led by purpose. I was contemplating at the reason for which universities were created and about the similarity between the words 'university' and 'universe' (defined as 'combined into one, whole'). Universities were established to create universitas magistrorum et scholarium – a whole community of scholars combined into one to enhance knowledge and impact the world. This inspired me to develop this idea and a framework for implementation that can be shared with the world.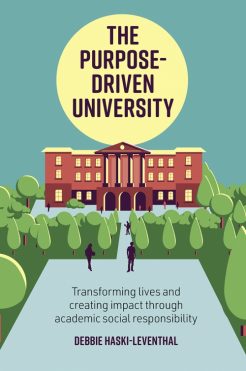 In June, my book The Purpose-Driven University was published. I define a purpose-driven university as one that utilises its resources, knowledge, talent and people to continuously and intentionally contribute to the communities and the environment in which it operates: through research, education and service. Last year I also delivered a TED talk on this topic.
Macquarie's mission
I was delighted to have recently seen the University's Operating Plan 2020-2024. Despite the global crisis which affects all universities, Macquarie is moving forward with a renewed mission and vision. We are a university of service and engagement – two words that go together so well, as serving others can become such a strong purpose and engage all of us and our stakeholders.
Indeed, a broad set of stakeholders is at the core of this Operation Plan. As a university, we aspire to "deeply connect" with our stakeholders and partners, and to be known for this stakeholder integration globally. Doing this, should also help us achieve our overarching aspiration to be a "destination of choice for students and staff who share our values". A purpose-driven university which works hard to be the best FOR the world, not just the best in the world, can become a destination of choice for purpose-driven people who are intrinsically motivated to achieve and help the organisation achieve its purpose. Macquarie University puts the students at the core of its responsibility, together with "our people" and aims to deliver innovative research and cutting-edge teaching.
To fully become a purpose-driven university, Macquarie can further articulate our purpose (our "Why"), so it is clear and shared by all of us, and our stakeholders. As a university of service and engagement we need to communicate who we serve and how. We should have a very clear purpose to engage our staff and our students in a shared narrative of impact. We can identify the thousand points of light – impact generating projects and programmes in our university – to bring down silos and connect them all so our beacon light and shine brighter and farther.
---
Read more by Professor Haski-Leventhal in The Lighthouse: