The team behind Macquarie's clinical trial of a novel treatment for people with advanced tumours (L-R):  Raymond Yung (Clinical Trial Coordinator), Dr John Park (Oncologist), Dr Dhanusha Sabanathan (Oncologist), Luke Garcia (Clinical Trial Coordinator), Stephanie Arrigo (Clinical Trials Nurse) and Louise Grice (Clinical Trials Manager)

Every month we celebrate impressive achievements and partnerships within the Macquarie community. Got something to share for next month? Tell us.
---
Clinical trials begin for new tumour therapy
(Main image) The reputation of Macquarie University's Clinical Trial Unit continues to grow, with the team currently overseeing the trial of 60 new medicines, the latest of which offers hope to cancer patients that may have exhausted all their treatment options.
The innovative new medication YBL-006 offers a novel immunotherapy treatment for people with advanced solid cancer tumours such as in the bones, tissues, or organs.
"These patients are treated by a highly specialised cancer care team and closely monitored," says Dr John Park, Medical Oncologist and Senior Lecturer in the Department of Clinical Medicine. "I am extremely proud of my team, and their achievements."
---
$1m grant for Synthetic Biology team
Dr Briardo Llorente, a member of the Macquarie-led ARC Centre of Excellence for Synthetic Biology, will lead research funded by a US$749,000 grant from the Gordon and Betty Moore Foundation, established by Intel co-founder Gordon E Moore and his wife Betty.
The grant is part of the Foundation's Symbiosis in Aquatic Systems research program, which aims to better understand symbiosis (first defined by Heinrich Anton de Bary in 1879 as the "living together of unlike organisms") in aquatic ecosystems.  The research program includes methods and scientists from fields outside aquatic symbiosis – such as nanoengineering and synthetic biology – to bring new perspectives and increase multidisciplinary connections.  
---
Macquarie crowned national champions
For the first time in the competition's 21-year history, the National Enactus Championship has been won by Macquarie.
Enactus is a global student organisation bringing together business leaders and students with the aim to "Enable Progress through Entrepreneurial Action".  The Macquarie Enactus team – comprised of Macquarie Business School students studying a variety of disciplines – battled it out against 10 other universities to be crowned national champions and will now move on to compete in the Enactus World Cup in September.
Professor Daryll Hull, who has advised the Macquarie team for the last six years, says it's a privilege to see Enactus students come together and create social enterprises that make a difference in the community.
"They are passionate, committed, and smart," he says. "To represent Macquarie University at the Enactus Global Cup is a powerful symbol of 'You to the Power of Us'. I'm so proud of them."
Watch the team's reaction to the winner announcement on Facebook (1:29) >>
---
A first for School of Education
Macquarie is the first NSW institution to have its new teaching performance assessment (MQTPA) for graduating teachers endorsed by the Federal Government.
Under ongoing government reforms all teaching students need to demonstrate their impact in the classroom before they can graduate. Macquarie School of Education decided to develop its own bespoke TPA to fit into its well-embedded course logic of the "5 Rs" (responsiveness, resilience, reflexivity, readiness to learn, research engaged) and it is currently the only individual university in Australia to have a TPA endorsed. The team from the School of Education who were involved were Professor Mary Ryan, Associate Professor Fay Hadley, Dr Rebecca Andrews, Dr John Ehrich, Dr Iain Hay, Associate Professor Michael Cavanagh, Susan Caldis, Darcy Le Raye and a number of other staff as TPA markers.
---
One for the ages
A new five-year partnership with Hunters Hill Council and the Touched by Olivia organisation will bring together young and old Australians to learn more how Australian culture, history, and identity are passed down through generations.
Alongside colleagues, lead researcher Associate Professor Penny Van Bergen from the School of Education will work with residents over 60 to share memories and historical knowledge with local adolescents, and investigate the benefits of these conversations for both groups in reducing social isolation and creating community connections.
---
 Macquarie researcher wins book Prize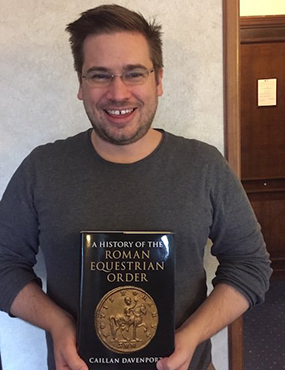 Dr Caillan Davenport from the Department of Ancient History has been awarded the prestigious Gladstone Prize for his book A History of the Roman Equestrian Order.
The prize is awarded by the Royal Historical Society (UK) for a work of history on a topic not primarily related to British history that is the author's first sole book publication.