Main picture: Kim Terrell, Managing Director, Hearing Australia (left) with Professor David Wilkinson.
Last week Macquarie and Hearing Australia announced an expansion of our Collaborative Agreement to advance hearing health. The agreement, which commenced in 2010, sets out how the two organisations will work together on several activities.
"Our renewed partnership will strengthen the impact of both parties in the community through improved interactions around hearing research, training, clinical education, outreach and public policy," says Professor David Wilkinson, Deputy Vice-Chancellor (Engagement). "The expanded partnership will support new graduates in achieving clinical excellence in their audiology practice. It will also encourage current students to fulfil their potential through a range of scholarships, internships and a targeted regional workforce program."
---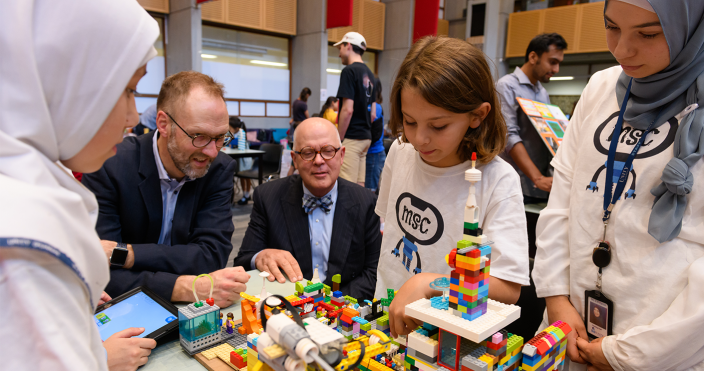 Vice-Chancellor Professor S Bruce Dowton welcomed Mr Thomas Kristiansen – great-grandson of the founder of LEGO, deputy chairman of the board of LEGO, and chairman of the board of the LEGO Foundation – to the University to attend a FIRST Robotics LEGO League Junior event.
FIRST LEGO League Junior is for school students in Years 1-3.  The purpose of the program is to inspire students in STEMM. Macquarie hosted 21 teams at the national event last week.
Professor Dowton was delighted to witness first-hand the positive impact the program is having. "The partnership with FIRST and LEGO is a great way to get children engaged from an early age. It was clear from the fantastic projects presented by the schoolchildren that it is never too early to start nurturing their interest in STEMM. In 15 years, some of these students will be graduating with a Macquarie University engineering degree," he said.
---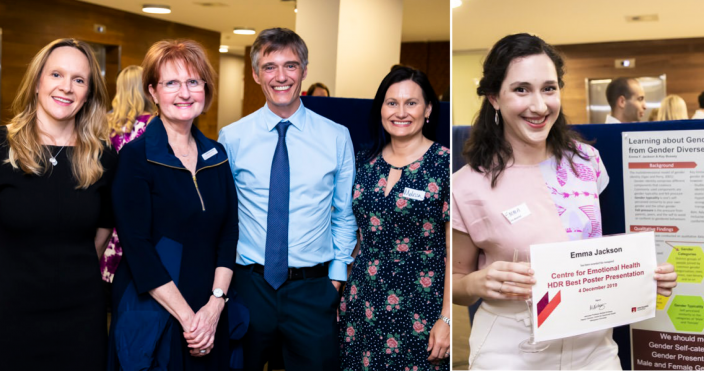 L-R: Professor Jennie Hudson, NSW Mental Health Commissioner Catherine Lourey, Executive Dean of the Faculty of Human Sciences Professor Simon Handley, Associate Professor Melissa Norberg | HDR student Emma Jackson.
The NSW Mental Health Commissioner was special guest at the launch of The Centre for Emotional Health 2020-2022 Strategic Plan. Originally established as a Macquarie Centre for Research Excellence in 2007, the Centre has become a renowned clinic, providing front-line treatment to families across the state and uncovering new insights into mental health with their ground-breaking research. HDR students also had the chance to professionally present their research at the launch event.
---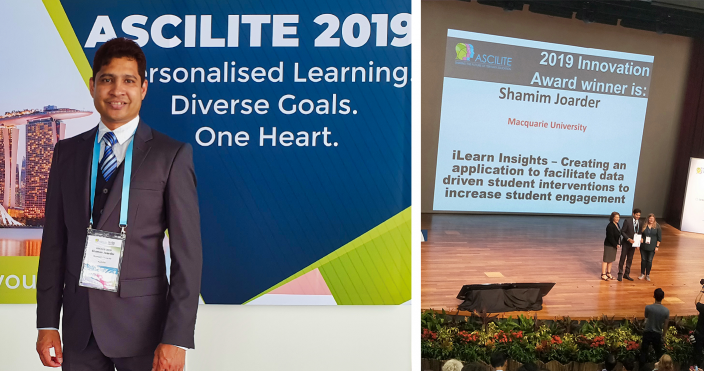 An application developed by staff from the Learning Innovation Hub (LIH), lead by Shamim Joarder, has won an Innovation award at the annual 2019 Australasian Society for Computers in Learning in Tertiary Education Conference in Singapore.
The team (which includes Shamim, Amanda Parker, Jeremy Hind and Michael Mendoza from LIH) was recognised for their development of iLearn Insights – an application that assists staff in understanding levels of student engagement on iLearn units and allowing them to take action by sending targeted messages with personalised content directly to students. The app has resulted in distinct improvements in student engagement on iLearn, including re-engagement with the unit, improvement in the submission of assignments and completion of the Academic Integrity Module (AIM).
---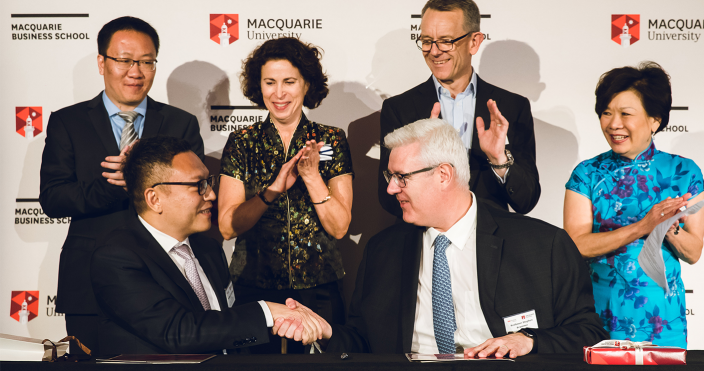 Macquarie Business School and the Guangzhou-based Sun Yat-sen University have formed a strategic alliance to provide expertise and thought leadership in the sustainable development of the Guangdong-Hong Kong-Macau Greater Bay Area. 
The alliance agreement was officially signed by Professor Stephen Brammer, Executive Dean of Macquarie Business School and Professor Fan Wang, Dean of the School of Business, Sun Yat-sen University, at a thought leadership event hosted Macquarie Business School, in partnership with Asialink. Read more > 
---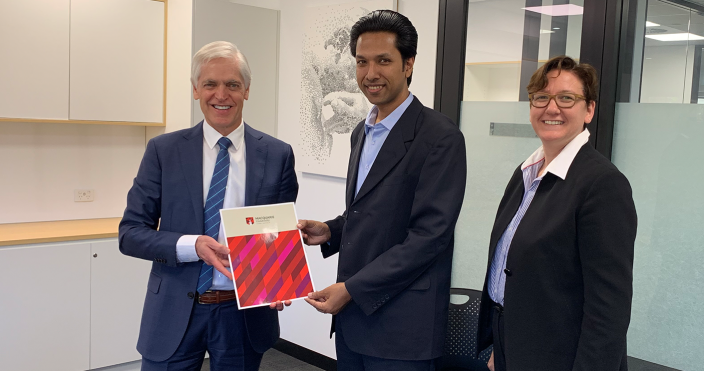 L-R: Professor Sakkie Pretorius, IITM's Professor Boby George and Kate Roth (Deputy Director, HDR Partnerships and Scholarships)
Macquarie University has signed a significant new Memorandum of Understanding with the Indian Institute of Technology Madras (IITM), enabling the two institutions to develop further research links and collaborations including research training
The Deputy Vice-Chancellor (Research), Professor Sakkie Pretorius, signed the agreement on his recent visit to India, where he toured the IITM campus and met with his counterparts.