L-R: Nicole Brigg, Pro Vice-Chancellor (International); Dr Pamela Humphreys, Deputy Director of MUIC and Director of the English Language Centre; Vice-Chancellor Professor S Bruce Dowton and Professor David Wilkinson, Deputy Vice Chancellor (Engagement)
---
Following its recent unveiling, last month marked the official opening of the stage one refurbishment for Macquarie University International College and the English Language Centre.
Guests were given a 'before and after' tour of ELC spaces on level two and three, the new Independent Learning Centre, classrooms, and Student Hub with the official speech delivered by the Vice-Chancellor.
Dr Pamela Humphreys, Deputy Director, Macquarie University International College and Director, English Language Centre said the brief was to create a friendly place for international and local students to study, socialise and connect as well as unwind in modern spaces that can accommodate wear and tear. "We asked for furniture, paint colours and design features that reflect the college's vibrant and interactive approach while at the same time made sure access to power outlets and quiet spaces was readily available," said Dr Humphreys.
---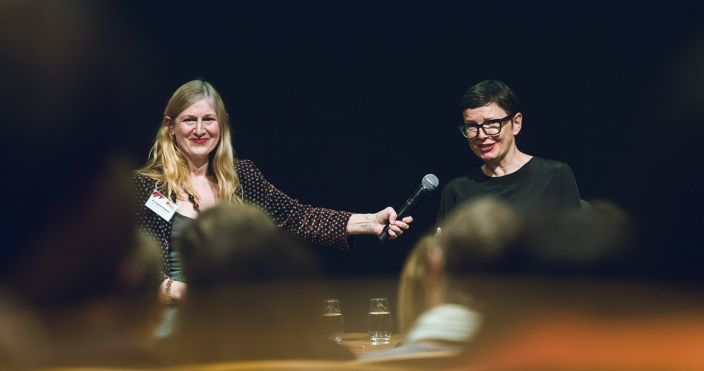 At the Centre for Media History's annual Brian Johns Lecture at the State Library of NSW, Australian Centre for the Moving Image CEO and Director Katrina Sedgwick argued that with countless digital technologies and creative tools at our fingertips, the lines between creators, audiences and institutions are being blurred, and that these technologies have unlimited potential to transform arts and culture. Hear Katrina on Radio National Late Night Live.
---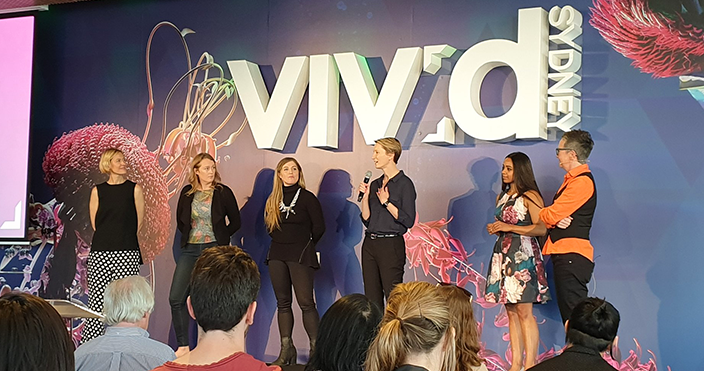 Macquarie's own stellar astrophysicist (and current Superstar of STEM) Dr Devika Kamath was among five brilliant young scientists invited to speak at Vivid Sydney's event 'New Horizons: ABC's Ockham's Razor – Live!', a live recording of the popular radio podcast.
Dr Kamath (pictured, second from right) won the audience over with emotive stories of 'burning stars'.
'We share a profound connection with our Universe because the elements that make up our bodies and everything around us are all forged inside burning stars. And, just like you and me, stars have a lifecycle too – they are born, they age, and they die. While some stars, like our Sun, journey through their life in solitude, 60 per cent of Sun-like stars are locked in relationships, some of which can alter their ultimate fate.
"The new class of binary stars that I discovered through my research are very interesting because they have their lives prematurely terminated as a result of their relationship with a partner star. Early on in their lives they indulge in what you can think of as a 'cosmic tango' and dance to their death".
---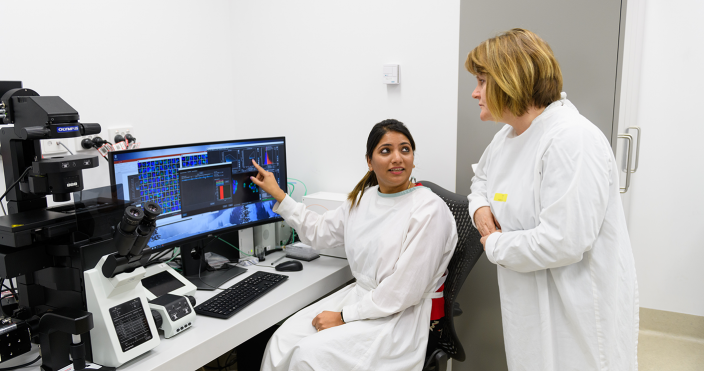 An innovative drug screening system recently purchased largely through donations, could bring Macquarie University Centre for MND Research closer in its pursuit of an elusive treatment for Motor Neurone Disease (MND).
The new machine, used for the first time in Australian MND research, is reducing drug test result times from months to just days. Pictured, from Macquarie's Department of Biomedical Sciences, Neurobiology – Professor Julie Atkin and Post Doctoral Research Fellow, Dr Sonam Parakh.