As part of Macquarie's commitment to keeping pace with changing student needs and teaching methods, Property, faculties and offices are constantly collaborating to deliver spaces that inspire transformative learning and support student success. Here we take a look at one of the latest projects to be completed. 
Reinvigorated teaching, study/breakout and outdoor courtyard areas were recently unveiled at 8 Sir Christopher Ondaatje Avenue, the home of Macquarie University International College (MUIC) and the English Language Centre (ELC). Hundreds of students occupy these buildings each term and the spaces are in use almost year round.
Dr Pamela Humphreys, Interim Director, Macquarie University International College and Director, English Language Centre, said the brief was to create a friendly place for international and local students to study, socialise, connect as well as unwind in modern spaces that are conducive to learning .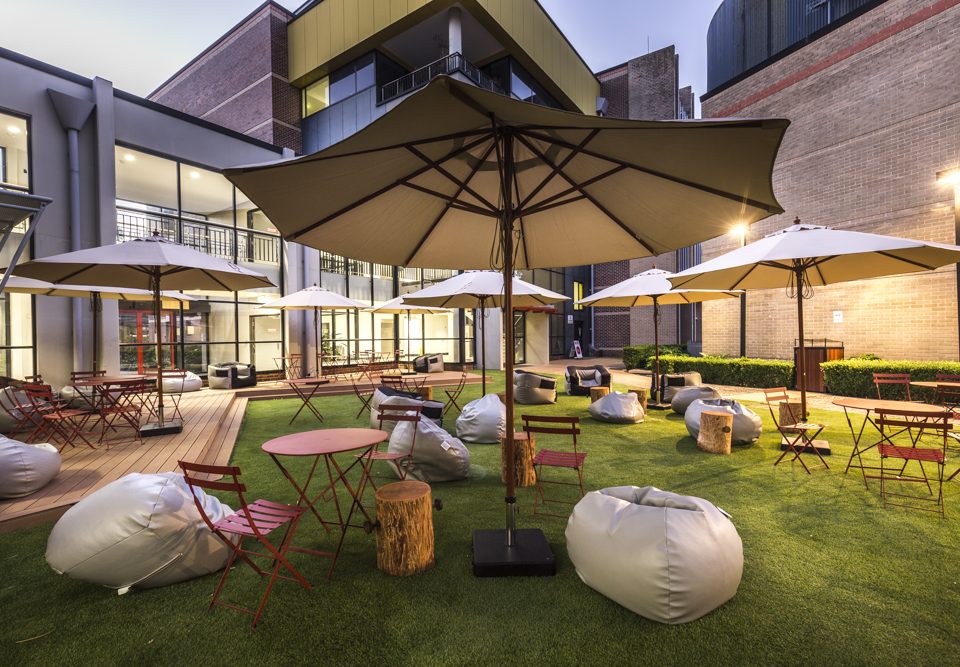 "We asked for furniture, paint colours and design features that reflect our vibrant and engaging approach while at the same time made sure access to power outlets and quiet spaces was readily available," says Dr Humphreys. "We are delighted by the design and our students clearly agree. The new spaces have been very well-patronised since we re-opened."
The teaching spaces are equipped with operable wall panels and state-of-the-art audio-visual technology. The Independent Learning Centre (pictured) offers opportunities for independent study, individual academic language and learning advice and workshops. The addition of a Computer-Delivered (CD) IELTS Test Centre brings Macquarie right up to date with the latest English language proficiency testing.
Macquarie University International College and English Language Centre staff and guests will be joined by Professor David Wilkinson, Deputy Vice Chancellor (Engagement), at the offical building reopening on 23 May.