At a conference at Macquarie University, primatologist and conservationist Dr Jane Goodall DBE inspired students with her approach to leadership and advocacy, calling on them as future leaders to take action on environmental and humanitarian issues. And, as she proved last visit, she never misses a good opportunity to discuss Deputy Vice-Chancellor (Research) Professor Sakkie Pretorius' tie!
---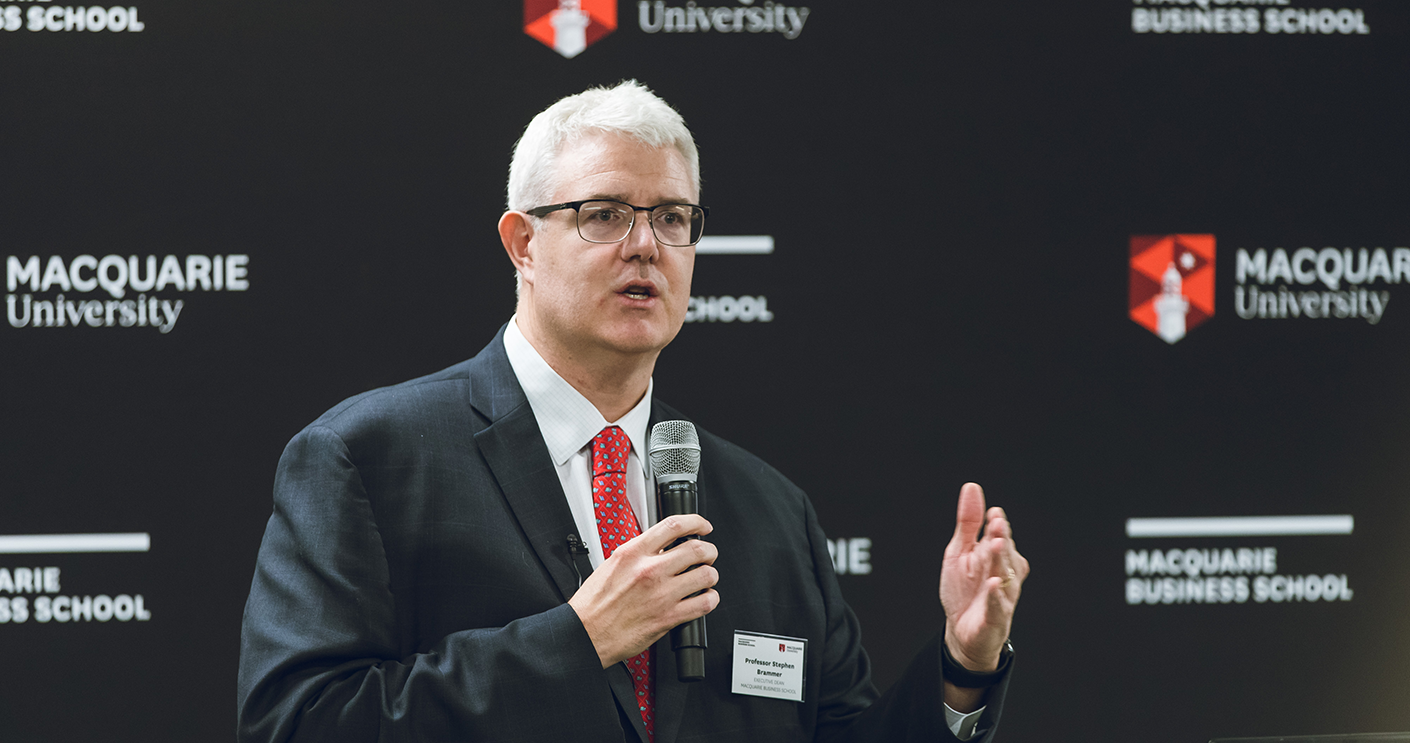 Reimagining the MBA for a future, global workforce
Earlier this month the Macquarie Business School launched its Global MBA to industry partners and the public at an event at our City Campus. The first session with 60+ Global MBA students commenced this month with the cohort representing a talented group of professionals from all over the world who want to future-proof and accelerate their careers.
The exciting new program features an innovative model that is stackable, affordable and future-focused to address tomorrow's workplace. Structured around six key future-focused capabilities, the discipline knowledge and skills integrated into every capability will equip students to meet challenges head on.
The launch event included engaging addresses from Dr Stephanie Fahey, Austrade CEO; Warren Bingham, founder and Executive Chairman of MedTech International; and Professor Stephen Brammer, Executive Dean of Macquarie Business School. Find out more about our Global MBA.
---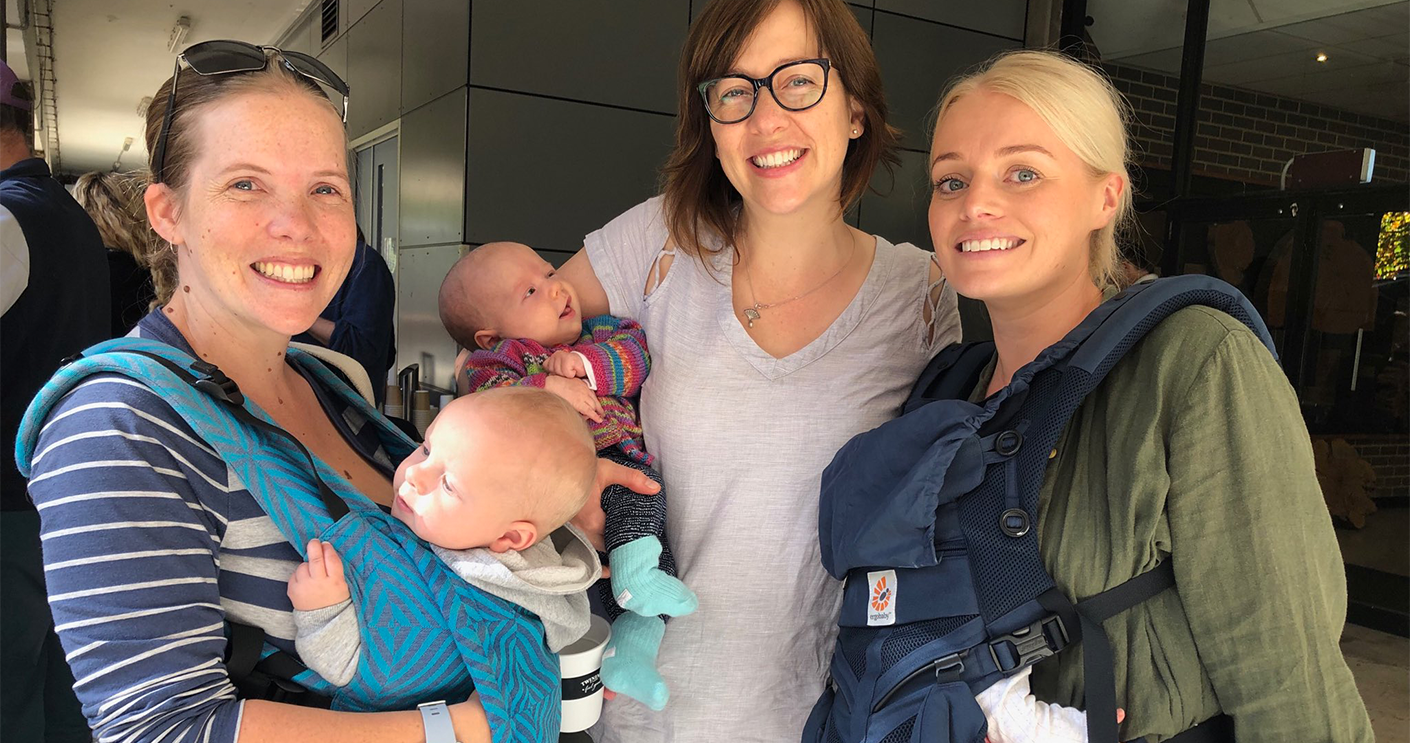 Scientists and mothers (L-R) : Dr Lizzy Lowe and baby Riley, Dr Alex Carthey and baby Stella, Dr Jemma Geoghegan and baby Zephy.
Having kids in STEM: staff praise Macquarie for its support of new parents
The Faculty of Science and Engineering Women in STEM group regularly organises events to promote and support the women in STEM in the Faculty.  Recently, the Department of Biological Sciences hosted a morning tea with the theme: STEM and having kids.
Specifically invited were colleagues who are currently on parental leave. The guest speakers were Dr Lizzy Lowe and Dr Chris Reid who both had recently taken parental leave (and Lizzy is still on it). They told of their experiences of being a parent of a newborn, of the support they received from the University in taking leave, and how to maintain contact with colleagues during leave. The morning tea was also enhanced by some delicious baking by the biologists.
The faculty committee is chaired by Professor Judith Dawes and Professor Rob Harcourt, who captured this beautiful photo.
---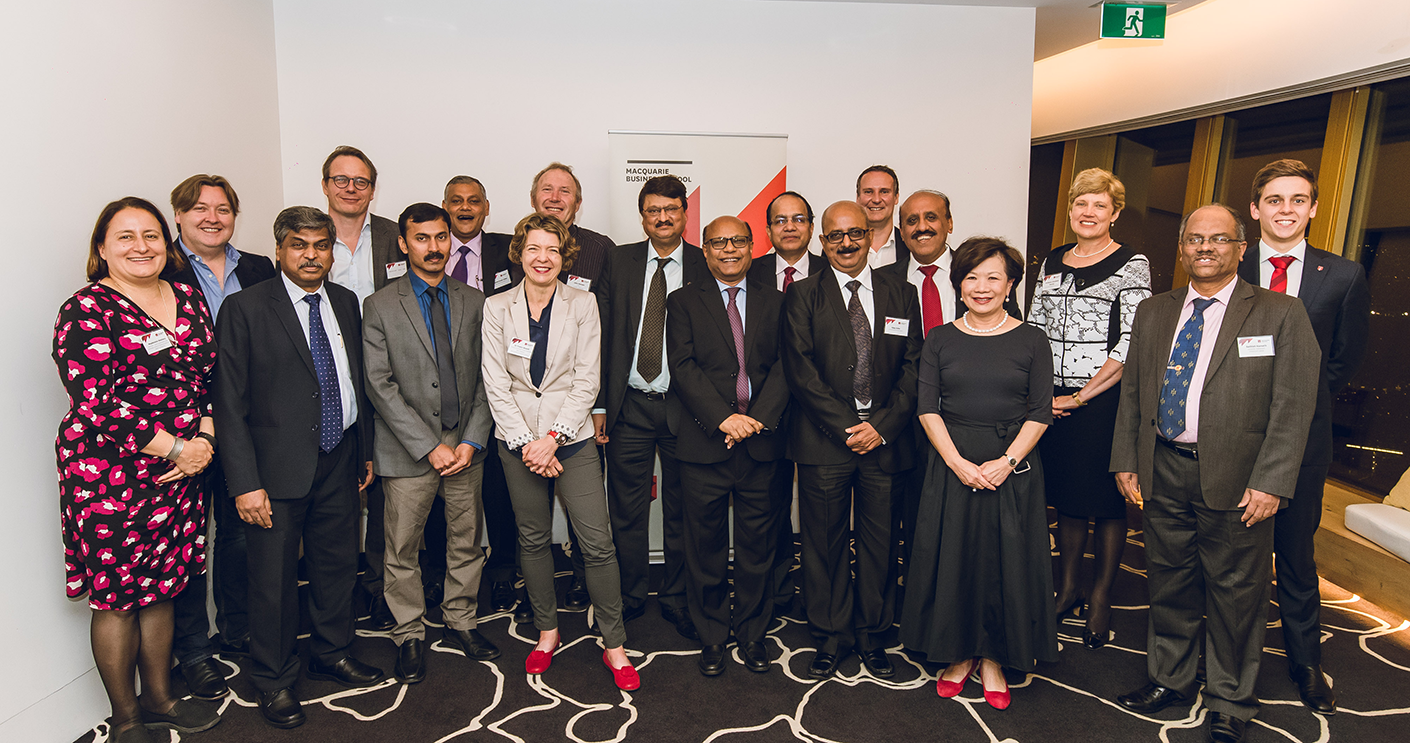 Another successful CAFRAL program concludes

Strategy and Leadership in the Digital Age was the focus for Macquarie Business School's annual professional development program in partnership with the Reserve Bank of India's Centre for Advanced Financial Research and Learning (CAFRAL) earlier this month.
The week-long event saw the School host a delegation of senior officers and executives from India's major banks and financial institutions. The program focused on the fast-developing Australia-India relationships between governments, entrepreneurs, financial services and banks. The week of intensive dialogue has set the scene for further engagements between the Business School, its experts in banking and finance, and the Indian banking sector.
"This is a very important opportunity for Macquarie Business School to work on strategic issues with senior bankers in India," says Professor Philomena Leung. "We were thrilled to receive very positive feedback on the timeliness and relevance of the topics and the quality of the content."
---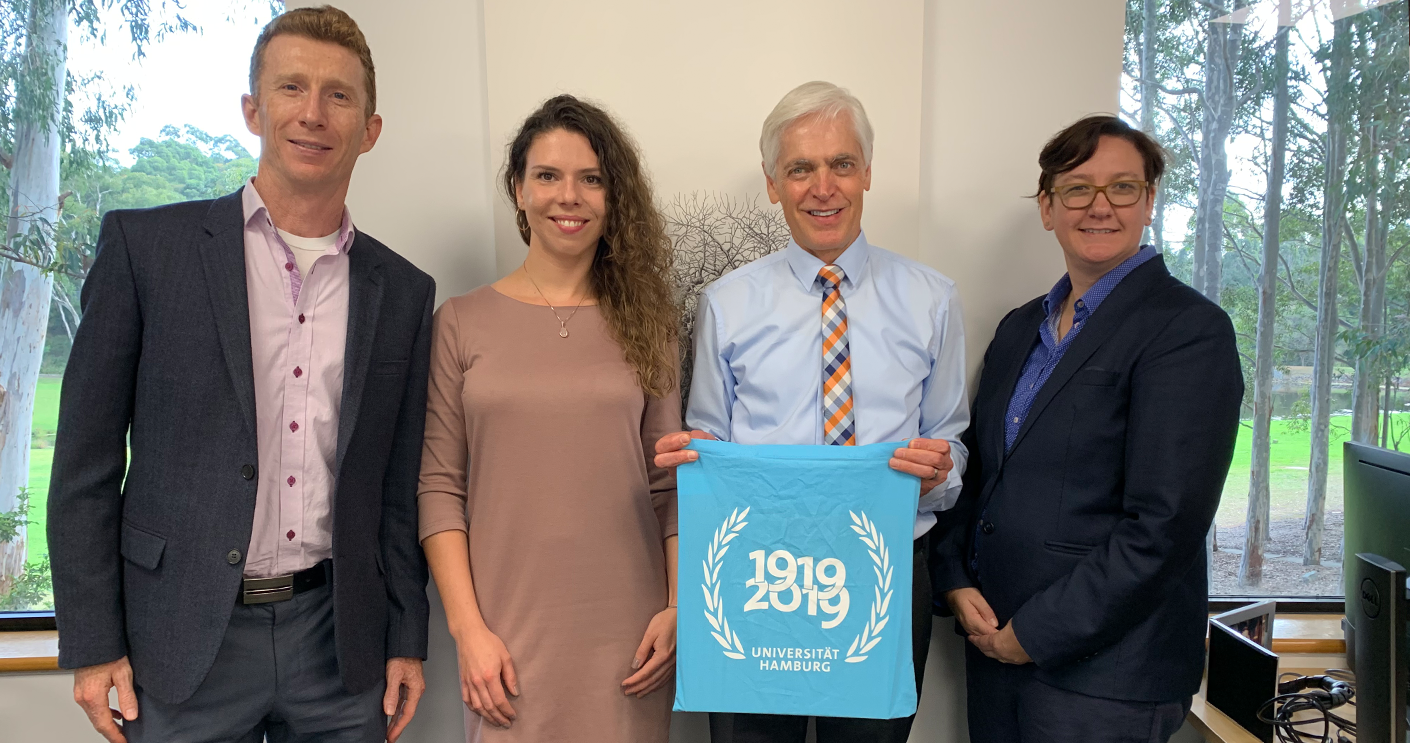 L-R: Professor Matt Bower, Dr Anja Augsdörfer, Professor Sakkie Pretorius (Deputy Vice-Chancellor Research) and Kate Roth (Deputy Director, HDR Partnerships and Scholarships)
German Visiting Research Fellow explores teacher education through technology
Macquarie is currently hosting Dr Anja Augsdörfer from the University of Hamburg as a Joint Post-doctoral Research Fellow. Associate Professor Matt Bower and Anja are working on a project sponsored by Google to increase the understanding and utilisation of video in the training and development of teachers.
This project links areas of research strength in education at Macquarie University and the University of Hamburg and contributes to world-leading research in linking educational pedagogy to computational language.
---
Macquarie stars shine at Global Young Academy
The University was represented by two honoured staff members at this year's Global Young Academy – Professor Anina Rich and Dr Shima Taheri.
The Global Young Academy (GYA) was founded in 2010 with the vision to give a voice to young scientists around the world. The GYA empowers early-career researchers to lead international, interdisciplinary, and intergenerational dialogue by developing and mobilising talent from six continents.
During the week, delegates met with many distinguished parties including the Secretary General of the German National Academy of Sciences Leopoldina and senior Members of the German Parliament.
Professor Rich participated in many activities across the itinerary such as acting as a mentor/facilitator during new member training, moderating member talks, and facilitating interactive sessions on the panels.
Congratulations to Anina who was also re-elected to the Executive Committee.
(Photo credit: Markus Scholz)
---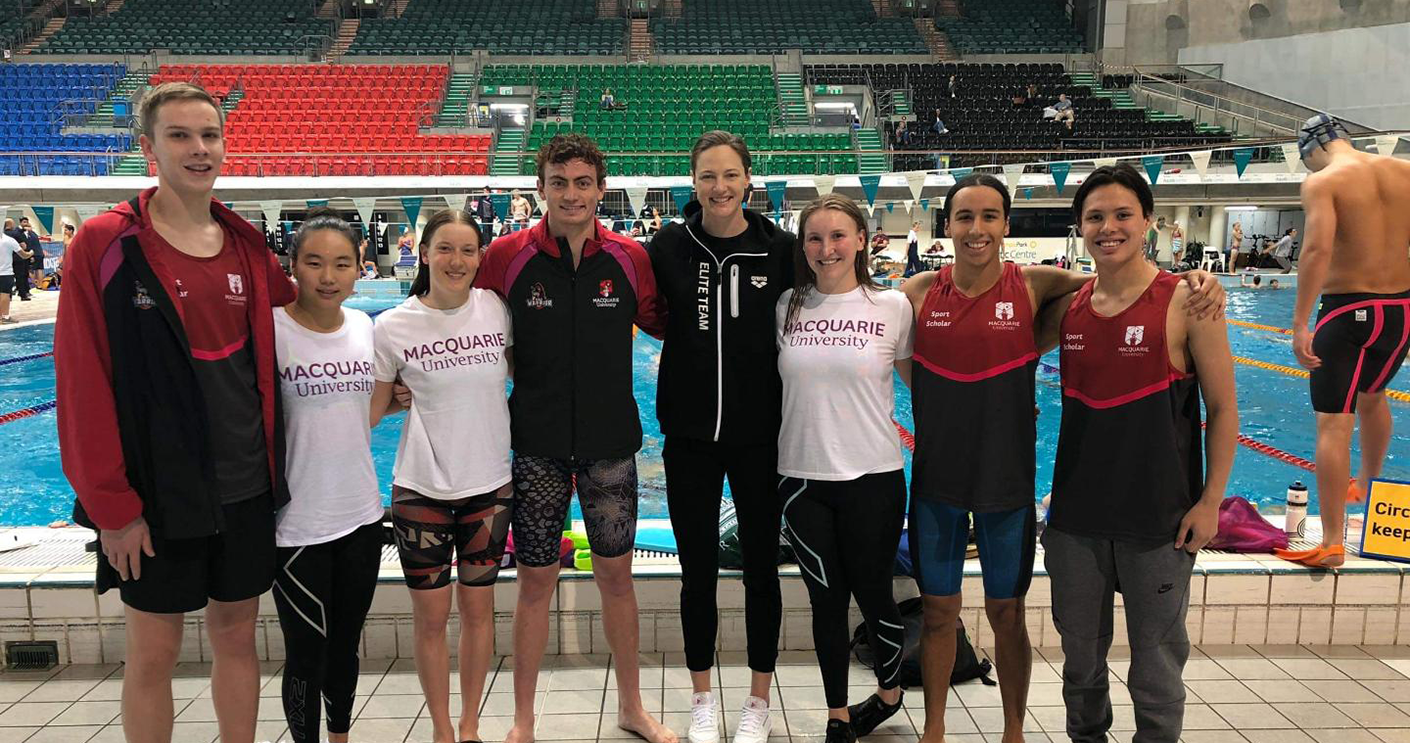 MQ swim team competes with the best!

Twelve Macquarie University students recently competed in the UniSport Swimming Nationals which was run as a combined meet with the Sydney Open. This meant the team competed against the top clubs and universities in Australia as well as an invitational team from Japan.
In a spectacular three days of swimming, the team made the finals for 19 events, coming away with two silvers and one bronze medal:
Thomas Peregrina (400IM, Bronze)
Natasha Ramsden (50m Freestyle, Silver)
Finn O'Connor (200m Breaststroke, Silver)
---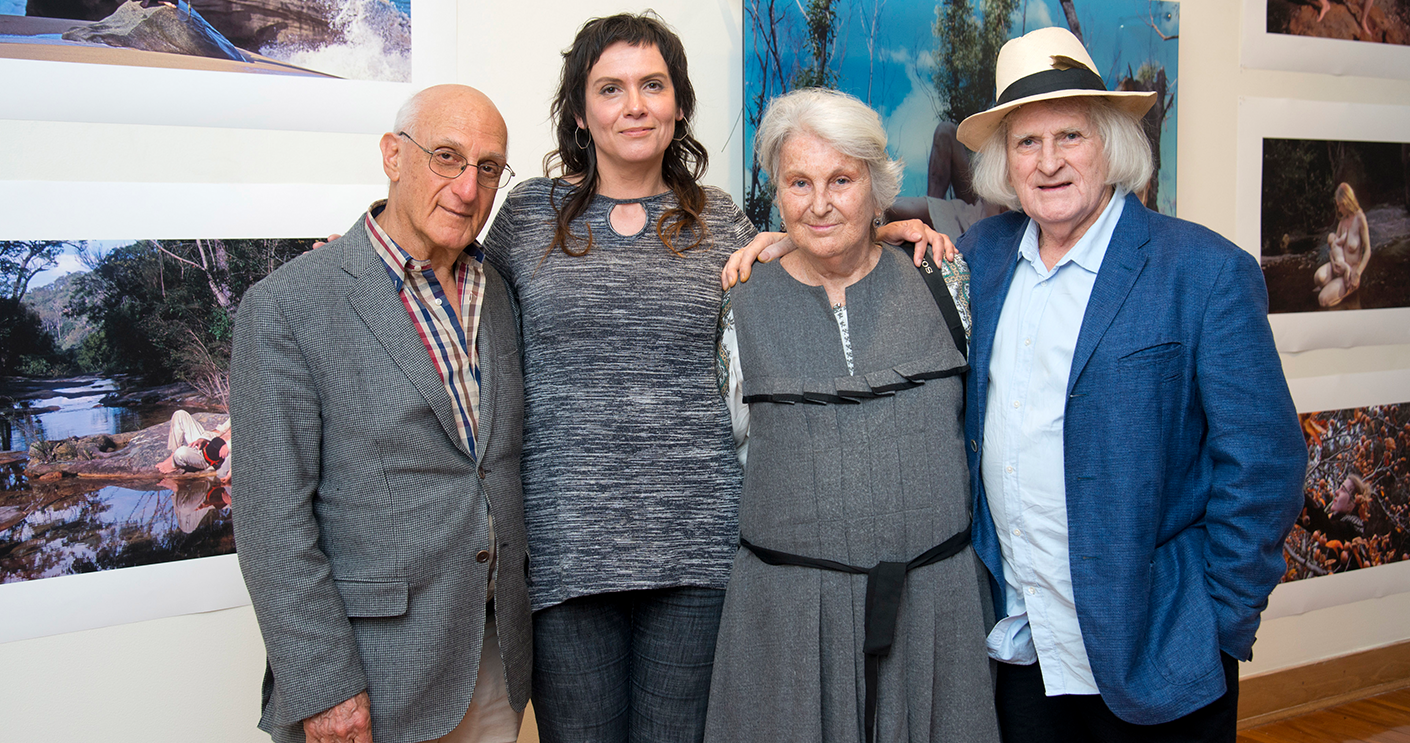 (L-R): David Malouf, Judith Crispin, Juno Gemes and Robert Adamson. Photo: Effy Alexakis, photowrite.
Renowned authors open Macquarie University Art Gallery's latest exhibition
Three of Australia's most eminent authors made a special visit to the Macquarie University Art Gallery earlier this month for the opening of the Gallery's latest exhibition celebrating photographer Juno Gemes.
David Malouf, Judith Crispin and Robert Adamson performed special readings in honour of the Hungarian-born photographer, who is known for her literary portraiture and works exploring social justice.
Juno Gemes: The Quiet Activist A Survey 1979-2019 is open at the Macquarie University Art Gallery until 28 June 2019.