Biology's magnificent temporary artwork
Main image: The leaves of the Biology Courtyard Garden's magnificent tulip tree (Liriodendron tulipifera) became the raw materials for an ephemeral artwork entitled The Kraken Awakes. An annual ephemeral artwork is now something of a tradition in the courtyard, with different installations appearing every year for at least the last decade.
What is ephemeral art? Professor Michael Gillings explains in The Lighthouse >>
---
Astronomy's night of nights

Over 100 volunteers helped make Macquarie's Astronomy Open Night a success, with over 2500 visitors treated to planetarium shows, telescope stargazing, an illustrated talk by guest speaker Sarah Brough from UNSW (pictured, right), short talks by Macquarie astronomers and students, a kids' activities room, laser maze challenge and many other exciting activities.
---
Ancient History Teachers' Conference a resounding success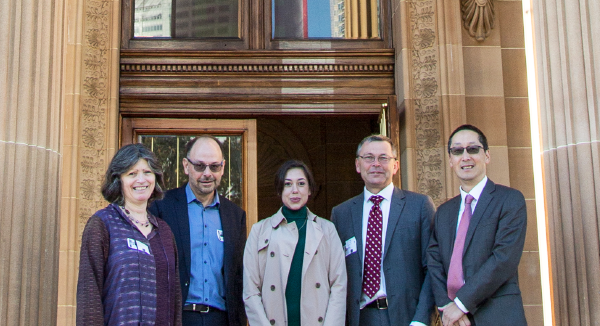 Left to right:  Conference co-convenors Dr Lea Beness and Dr Gil Davis; Neenah Gray an indigenous Ancient History student who gave the conference's Acknowledgment of Country; Dr Ian Plant (Head of the Department of Ancient History); and Professor Sherman Young (Pro Vice-Chancellor, Learning and Teaching).
The Macquarie Ancient History Teachers' Conference – a major outreach initiative for the University's Ancient History department – saw 190 Ancient History and Studies of Religion teachers gather at the Art Gallery of New South Wales to learn from experts from both Macquarie and other eminent universities. The event was opened by the Hon. Rob Stokes, Minister for Education – a Macquarie alumnus. The Minister wistfully recalled his experience at Macquarie and spoke fondly of the stalwarts of the Ancient History department who taught him.
---
Macquarie shines bright at Vivid
A number of Macquarie staff lent their expertise to events at the Vivid Sydney Light Music and Ideas Festival.
Dr Mauricio Marrone of the Department of Accounting and Corporate Governance (pictured) spoke at a sold-out event on managing technology-induced stress.
Professor Enrico Coiera of the Faculty of Medicine and Health Sciences discussed the impact of Artificial Intelligence on health at the Vivid Ideas Exchange.
Associate Professor Craig O'Neill, Director of the Macquarie Planetary Research Centre, delivered a lecture on Mars as part of Vivid's Chatswood event hub.
---
Macquarie talks technology at CeBIT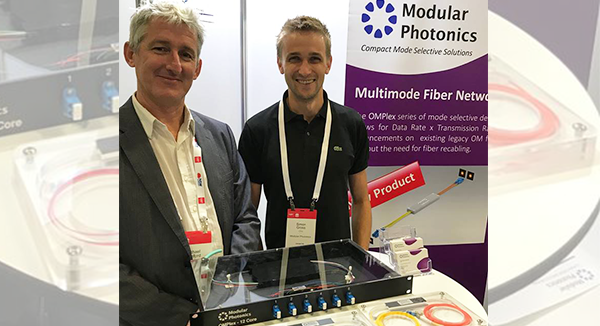 Distinguished Professor Michael Withford (left) and Simon Gross present their innovative technology at CeBIT, Australia's largest business technology event.
May saw thousands of technology professionals come together at the International Convention Centre Sydney for CeBIT – one of the leading business technology events in the Asia Pacific. Macquarie's CeBIT delegation included researchers from the Department of Computer Sciences (led by Professor Jian Yang) and the Faculty of Business and Economics, as well as representatives from Corporate Engagement.