If you visited the cinema over the weekend, you may have seen some familiar faces pop up on the big screen, with some of Macquarie's notable researchers featuring in the University's new advertising campaign.
Discover (You)us on the campaign landing page.
Focusing on the power of human collaboration to achieve outcomes and impact, the campaign launch is a major milestone in the University's ongoing 'Shared Identity' project, which aims to improve Macquarie's distinctiveness in the higher education sector.
The brand campaign highlights Macquarie's research impact, particularly how the collective power of business, research and academia can solve real-world problems. The research stories that feature in the brand campaign demonstrate how Macquarie is a place of collaborative innovation: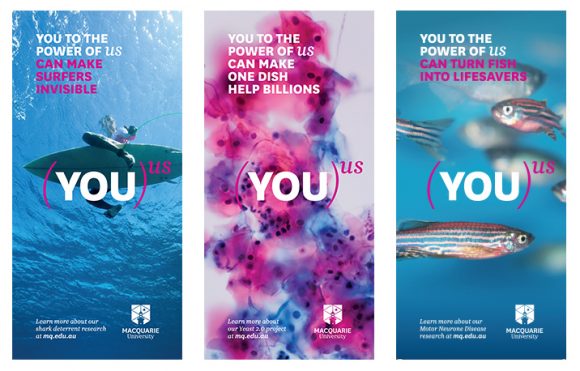 A specific student recruitment campaign will also highlight unique elements of the Macquarie learning experience, including PACE and the global exchange program:
Both campaigns will be running across cinema, digital and outdoor for the remainder of the year, with activities ramping up during key recruitment periods. Course-specific digital and lead nurturing campaigns will drive interest in priority programs, starting with the mid-year intake.