Left to right: Philip Lincoln (representing the Lincoln family), Margaret Rush (who has left a bequest to support Indigenous scholarships), Nicole Keene (guest and granddaughter-in-law of Margaret) and Vice-Chancellor Professor S Bruce Dowton.
Lincoln Legacy Society hosts annual lunch
Last month the Lincoln Legacy Society (LLS) held their annual lunch in the University Art Gallery. The LLS (formerly the Joan and John Lincoln Society) was established by University Council to honour the members of the University staff and alumni community who have been connected since the early years of the University, and those who have made it known they have left a bequest to the University in their will. Launched in 2009, the Society was named after the late The Hon Dr John Francis Lincoln AM, and his late wife Joan. The Society currently has 48 members (including three Emeritus Professors) who between them represent more than $15 million dollars in future funding for the University. Find out more about the Society or about workplace giving here at Macquarie.
---
New scholarships and exchange agreements announced in India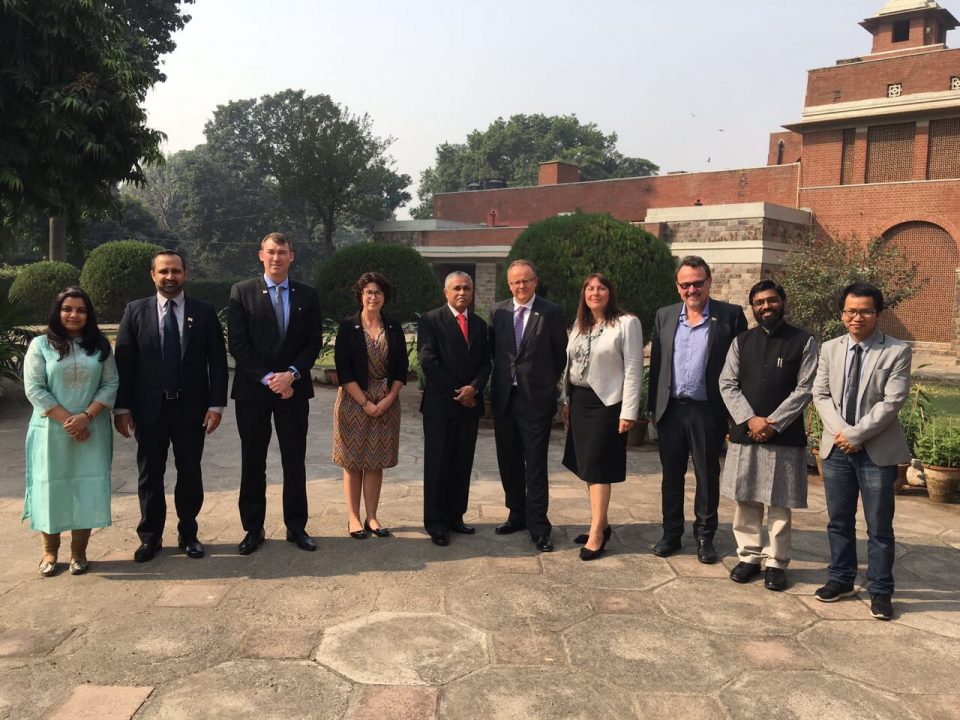 Macquarie University has announced scholarships valued at more than $1.8 million for outstanding students in India. These new scholarships will focus on support and opportunities for postgraduate female students and undergraduate students across all Macquarie courses. Macquarie has also recently joined hands with three leading Indian universities to offer scholarships and grants valued at more than $200,000 to exchange and postgraduate students.
"As a leading international university it is important for us to partner with and foster stronger ties with key institutions around the globe. Students from India represent a significant portion of our international student intake bringing with them valuable insights and perspectives that add even more diversity to our already vibrant campus," said Tim Beresford, Chief Operating Officer and Deputy Vice-Chancellor.
---
Macquarie University International College marks anniversary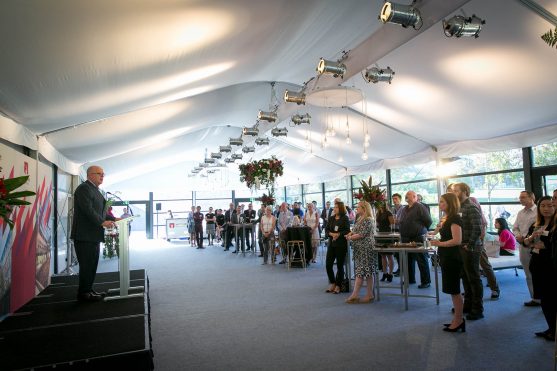 To mark the successful first year of operation of the Macquarie University International College, the University hosted a celebration for staff and key external stakeholders on 16 November in the Lakeside Marquee.
Vice-Chancellor Professor S Bruce Dowton spoke of the importance of the University taking ownership of its own pathway College to ensure the quality of curriculum, learning and teaching needed for students to articulate into Bachelor programs at Macquarie. Professor John Simons, Deputy Vice-Chancellor (Academic), congratulated the College on the quality of the students who had already progressed to the Faculties and highlighted the importance of continuing to build a diverse student body through connections with other key university initiatives including the Indigenous Strategy and Widening Participation Strategy.
---
Big History on your coffee table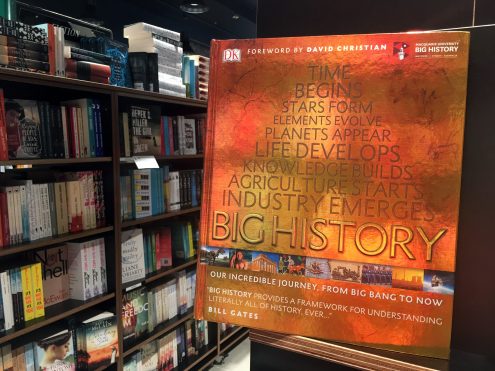 In 2015, educational publishing powerhouse, Dorling Kindersley (DK) approached the Big History Institute (BHI) to partner together to develop a Big History book. After more than 18 months in the making, with hundreds of hours put in by our staff, project consultants and the publishers, the final product is something BHI is very excited about, and thrilled to share with the University community.
While most staff out there are probably familiar with the Big History project, it's possible to forget the magnitude and impact of it. "Sometimes you can fall into the trap of thinking that you know the Big History story. It's nice to be reminded that what makes this narrative so exciting and engaging is there is always something new to learn, a new way to look at things and a place to dive deeper," says Tracy Sullivan, BHI Education Leader and consultant for the book project.
Big History: Our Incredible Journey, from Big Bang to Now, is in bookstores now such as Harry Hartog in Macquarie Centre (pictured) as well as online.
---
White Ribbon Day recognised at Macquarie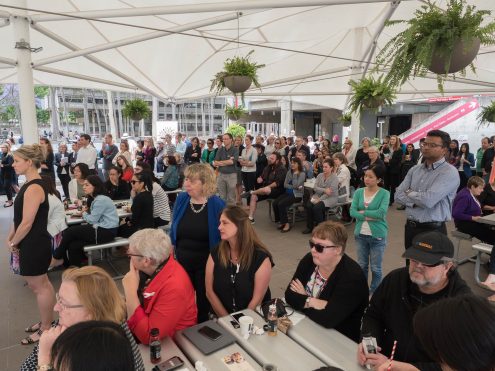 The University hosted a White Ribbon Morning Tea on 15 November, with all staff invited to show their support and learn more about being an active bystander. Guest speakers included Vice-Chancellor Professor S Bruce Dowton, Professor Catharine Lumby and former Rabbitoh's footballer Dean Widders. Domestic violence can affect anyone, regardless of age, gender, socioeconomic status, or cultural background. As an accredited White Ribbon Workplace since 2013, Macquarie has taken a stand to raise awareness of domestic violence and encourage positive action to prevent it.
---
Staff celebrates retirement of John Simons, Deputy Vice-Chancellor (Academic)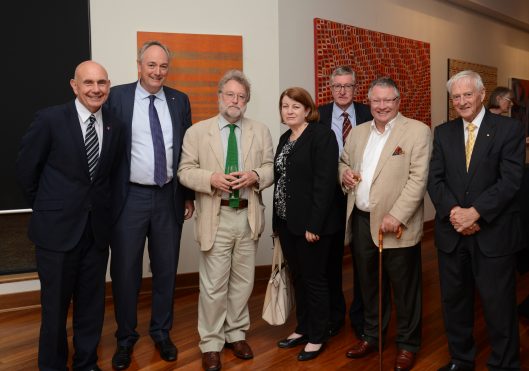 Staff came together recently to celebrate the retirement of John Simons, Deputy Vice-Chancellor (Academic). Professor Simons' retirement marks the closing of a distinguished career in academia in both the UK and Australia spanning almost 40 years. He joined the University in 2009 and became Deputy Vice-Chancellor (Academic) in 2014. Read more in our previous story.
---
Bachelor of Commerce – Professional Accounting launched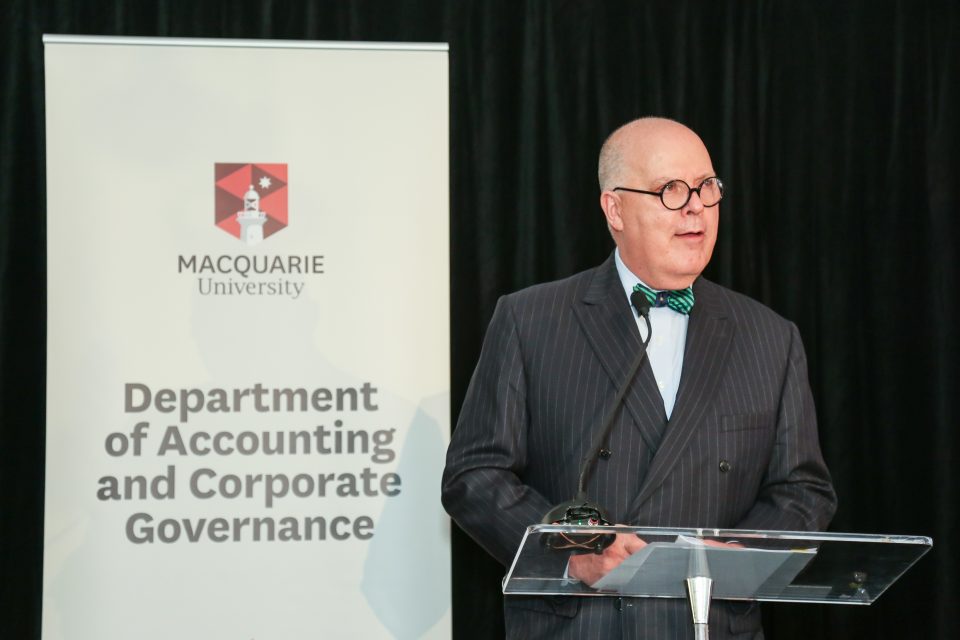 The reinvigorated Bachelor of Commerce – Professional Accounting was officially launched at a ceremony at Macquarie University on 30 November.
Head of the Department of Accounting and Corporate Governance at Macquarie University, Associate Professor Rahat Munir, said, "The accounting profession is undergoing a fundamental transformation and accountants are increasingly expected to possess tacit knowledge to inform business decisions. We need to 'unlearn' current teaching and learning practices and do things differently."
The review uncovered six core areas in which accounting graduates were lacking: teamwork, ethics, sustainability, problem solving, critical thinking and communications. These will be integrated into Macquarie University's Bachelor of Commerce – Professional Accounting degree for 2017.