Complexity science in healthcare: A white paper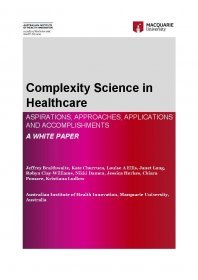 Resource type: Reports and monographs
As you may be aware, the Institute has had a long-standing interest in the science of complex systems and its potential applications to healthcare in Australia and worldwide. Our Founding Director, Professor Jeffrey Braithwaite, and the Complexity Science Team in the Centre for Healthcare Resilience and Implementation Science have been leading some work in this area.
This exciting work and research interest has now culminated in our production of a White Paper, entitled Complexity Science in Healthcare – Aspirations, Approaches, Applications and Accomplishments. Comments are invited to Professor Jeffrey Braithwaite
Please download the complete White Paper here.
Centres related to this resource