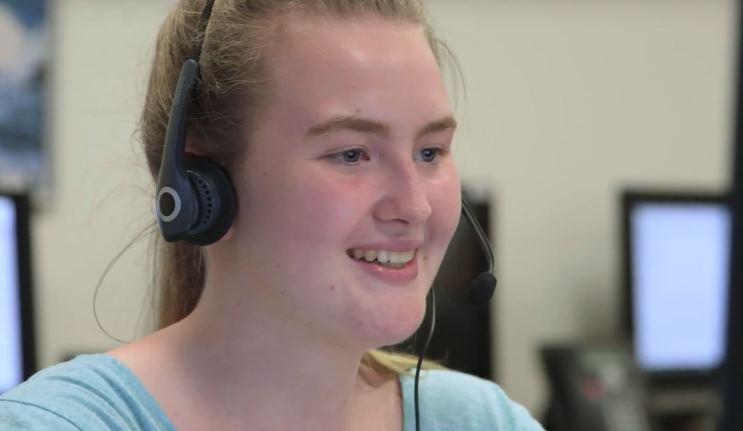 Macquarie Calling…..
UNIVERSITY NEWS
Have you recently had a telephone conversation with a Macquarie University student?
If so you are one of nearly 5,000 alumni who chatted with a student caller as part of the annual Alumni Calling Campaign to reconnect with alumni.
In having a conversation with a current student, alumni shared their unique stories and experiences and offered their thoughts on study options and career choices.
465 alumni chose to make a donation to the Vice-Chancellor's Fund to support scholarships, research, special projects, and areas of greatest need and opportunity across the University.
But the Alumni Calling Campaign is about far more than financial support.  The students love chatting to alumni to find out more about their unique Macquarie experience through the ages, and enjoy hearing about where a degree from Macquarie can take you.  It's also an opportunity to update contact details and let alumni know about the great alumni events, communications and benefits that are available.
The calling team is specially selected to include students from a range of different courses, backgrounds, clubs and societies, to give a broad view of what it's like to be a student at Macquarie today.
"For me the highlight of the campaign was hearing amazing stories from alumni who got to travel the world or become a boss of their own company.  I met potential long-term friends – students that were as passionate as I was about Macquarie."- Jessica
There's still time to donate to the Vice-Chancellor's Fund before the end of the year.
Students Quotes from the Alumni Calling Campaign
 Here's a story I don't get to hear every day! I was discussing an alumna's time at the university on the topic of exams when she mentioned that while she sat for her exams she went into labour. Luckily she had anticipated this happening and requested in advance that the examiner allows her to take her exam at home. She had to leave about 50% of the paper but she still managed to get a B!  (Tharusha)
Today I spoke to Sarah. Sarah works with elderly patients with dementia to stimulate cognitive activity using different games and activities. My grandmother suffered from dementia so it was interesting to talk about some of the symptoms and what kind of therapy has the most impact. She said the most rewarding part of her job is making people smile and laugh.   (Caitlin)
During the campaign I spoke with an alumna who does a lot of community work, making a positive difference to people's lives. She also gives generously to charities. It gave me the confidence that there are people making a difference out of the goodness of their hearts. She loves the positive contribution the University is making to community groups and to society in general.  (Jason)
I had an engaging phone call with an alumnus who had recently transitioned into a career path in government policy, which is very similar to my own aspirations after graduating. He was incredibly encouraging and shared his interests of incorporating support for community into his career. He was really encouraged in supporting the scholarship framework at Macquarie.   (Morah)
I talked with an alumnus who studied here in the 70s. She did my degree and was also a former professor at the University. I had a great conversation asking her advice on what I should do for Honours, and strategies to maximise my marks. The line was poor so she asked me to call her on a different phone and we continued to talk. In total our conversation was over an hour and she kindly donated $100 to MND research.  (Michael)
This week I talked to an alumna who has kept in contact with the University after graduating. During her studies she finished her Masters in 10 years as she was a full-time history teacher. It was inspiring to listen to her dedication and interest for completing her studies while teaching. She has now retired, and currently is involved with the University on excavation projects in Egyptology.  (Jamal)